AP Ban of using Guides and unauthorized/Private study Material in schools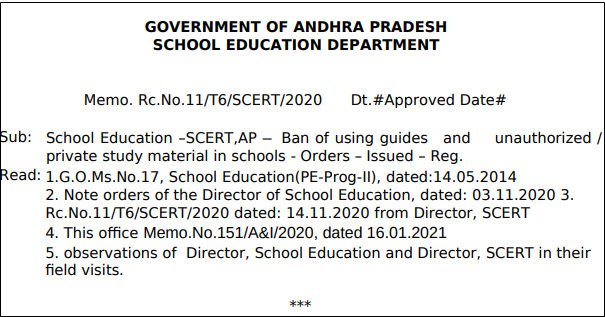 The attention of all the Regional Joint Directors of School Education, District Educational Ofcers and Principals of all Teacher Education Institutes in the State are is invited to reference 1st cited, wherein the headmaster is the first level supervisory ofcer to ensure proper implementation of curricular and cocurricular activities, teacher preparation, lesson plans, teaching learning process and conduct of exams properly by all the teachers.
2. Further informed that the New Education Policy-2020 emphasises that education should be aimed at developing children's thinking, creativity, physical, mental and social behaviour. Learning objectives are given to each lesson with the intention of learner centred learning with which the student should be able to read with comprehension, can read and understand anything, and given the activities needed to accomplish learning objectives. All of our textbooks are designed on activity based methodology so that the student can read and understand himself.
3. Therefore, teachers are to be encouraged to let students enjoy the textbooks, understand and practice the new teaching methods which are in present textbooks and to bring out the children's thinking and creative energies for fulfilling the objectives of NEP, 2020. The exercises given under each unit/ lesson are analytical and thought provoking in nature and children should think and write on their own. Question banks and guides are to be strictly discouraged which, if unchecked may turn the students into mechanical practitioners. Using of guides and study material and byhearting the answers would adversely influence the childrenss thinking capacities and self-expression. Hence, Headmasters / Teachers are to be instructed not to encourage purchasing and using of guides, study materials etc., by the students.
4. It is observed that, certain schools in the state are still recommending / utilizing guides and unauthorized study material of private publishers, which is against to the spirit of efective implementation of Child Centred Learning approach.
5. Further informed that certain instructions were issued vide reference 4 th cited above, regarding following the Govt. published textbooks, work books, hand books only and not to use guides, unauthorized study material for various classes.
6. Hence all the RJDSEs, District Educational Ofcers, Principals of Govt. IASEs /CTEs/DIETs in the state are once again requested to instruct the HMs/ MEOs/ Dy.E.Os under their jurisdiction to strictly implement the guidelines issued in the references 1st and 4th read above and to take necessary stringent action for avoiding the usage of guides, unauthorized private study material in all schools under all managements in the State
Download the Official Notification Here: Click Here