AP Degree Courses in English Medium: The Board of Higher Education has decided to teach all degree courses in English medium from the next academic year (2021-22) in the state of Andhra Pradesh. It has decided to implement English medium in all non-professional degree courses like BA, BCom, BSc. The decision was taken with a view to improving job and employment opportunities for the better future of the students. The AP Higher Education has started the groundwork for this.
AP All Degree Courses in English Medium from A.Y 2021-22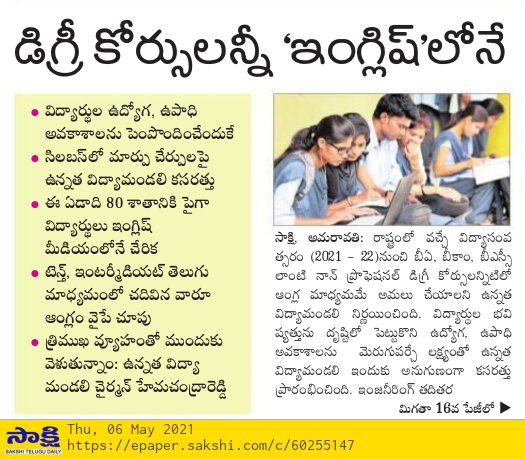 All undergraduate professional courses such as engineering are taught in English while non-professional degree courses are not fully English medium. Those who have studied in the Telugu medium cannot get a proper job and employment opportunities compared to those who have completed degrees in the English medium. Because of this students are remaining unemployed though they completed the Degree course. However, in the current competitive world, students tend to read in English. Those who have studied in Telugu medium till 10th or Inter are also showing interest to join degree non-professional courses in English medium.
There are 4,24,937 seats in degree colleges in the state and 2,62,805 students are enrolled this year. Of these, 65,989 are Telugu medium and 1,96,816 are English medium students.
Andhra Pradesh State Higher Education Council Chairman Professor K Hemachandra Reddy announced that the English medium studies for all non-professional degree courses will be introduced from the academic year 2020 – 21. He said that a three-pronged strategy would be implemented to educate students in all ways and improve job and employment opportunities.
He said that there will be full-fledged training in three areas namely Skill Development, Language and Communication. We are designing specialized training programs to improve English speaking and writing skills while teaching the curriculum to students joining degree courses.
The Chairman of the Board of Higher Education said that bilingual (Telugu, English-medium) textbooks have been made available in degree courses for the convenience of students studying in Telugu medium. The textbook will contain both English and Telugu lessons. This makes it possible to learn the curriculum very quickly in English. It was clarified that changes will also be made in the syllabus of degree non-professional courses as the English medium will be fully implemented.