AP EAMCET Exam Date 2020: APSCHE has released Andhra Pradesh EAMCET 2020 Revised Examination dates 2020. As per the Schedule AP EAMCET Exam 2020 to be held from July 27 to 31.
AP EAMCET Exam Date 2020 (Revised) – Date of AP EAMCET Exam
Engineering, Agriculture and Medical Common Entrance Test-2020 (APEAMCET-2020) of Andhra Pradesh will be conducted through computer based test by Jawaharlal Nehru Technological University, Kakinada for entry into the first year of the following professional courses offered for the academic year 2020-2021.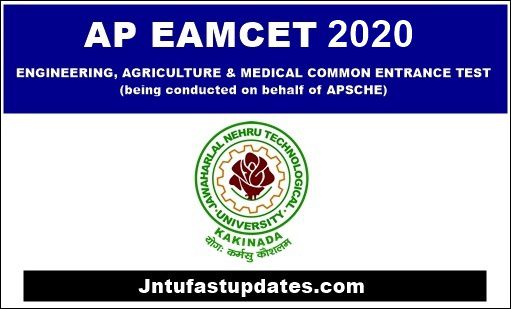 రాష్ట్రంలో ప్రవేశ పరీక్షల తేదీలు ఖరారయ్యాయి. ఏపీ ఎంసెట్‌ను జులై 27 నుంచి 31 వరకు నిర్వహించనున్నట్లు ఉన్నత విద్యా మండలి కార్యదర్శి సుధీర్‌ ప్రేమ్‌కుమార్‌ తెలిపారు. అన్ని ఉమ్మడి ప్రవేశ పరీక్షలకు దరఖాస్తు గడువు మే 20వరకు ఉంది. ఇప్పటి వరకు ఎంసెట్‌కు 2,48,614 దరఖాస్తులు వచ్చాయి. ఇందులో ఇంజినీరింగ్‌కు 1,69,137 మంది, వ్యవసాయ, వైద్య విద్యకు 78,959 మంది, రెండింటికీ 518 మంది దరఖాస్తు చేశారు. 3 వేల మంది రుసుము చెల్లించినా దరఖాస్తులు సమర్పించలేదు. ఇంజినీరింగ్‌ను ఎనిమిది విడతలుగా, వ్యవసాయ, వైద్య విద్య పరీక్షలను నాలుగు విడతలుగా నిర్వహించనున్నారు. ఉదయం, సాయంత్రం పరీక్షలు ఉంటాయి.
AP EAMCET 2020 Important Dates
Last date for submission of online applications without late fee: 20-05-2020
Date of AP EAMCET Examination (Engineering & Agri): 27-07-2020 to 31-07-2020