All AP Entrance Exams has been Postponed (EAMCET, ECET, ICET): Andhra Pradesh Higher Education Council Chairman K Hemachandra Reddy has expressed that the AP EAMCET examination will be held after the JEE Entrance test. Due to COVID emergency, the AP EAMCET examination, which is scheduled to be held on 20th April has been postponed to a later date. The EAMCET Exam date will be announced soon. While the APSCHE has said that the EAMCET examination will be conducted after the JEE Main entrance examination.
All AP Entrance Exams has been Postponed (EAMCET, ECET, ICET)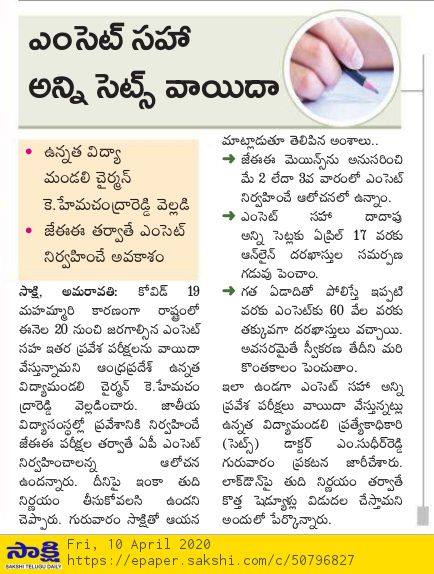 The AP EAMCET examination is expected to be conducted in 2nd and 3rd week in May.
The AP State Higher Education Council has informed that, the application date for all CET examinations will be extended till 17th April.
This year, the APSCHE received 60 thousand less applications for EAMCET examination than last year. In view of this, the organization is planning to extend the last date of application.
In the lieu of COVID Lockdown, all the entrance examinations to be postponed to May. While the APSCHE Officer Dr. M. Sudhakar Reddy has made an announcement on Thursday mentioning that the new entrance test exam dates will be announced only after the lockdown period is completed.