Visakhapatnam: Leaving books and school bags behind, children can now head to school for a day in a week to unlock their creativity and widen the horizons of their imagination.
AP Govt: Come Saturdays, it is time for children to rejoice – Paadukundam, Matladukundam, Abhinayiddham, Srujana
Instead of Science, Mathematics and Social Studies along with other subjects, primary school students will be introduced to new classes such as 'paadukundam' (let's sing), 'matladukundam (let's discuss), 'srujana' (creativity) and 'abhinayiddham' (let's act), all spread over a day.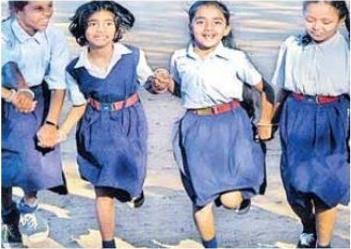 The launch of 'sanivaram sandadi' or 'no school-bag day' by the School Education Department is sure to bring smiles on the faces of the little ones as they can merrily forget bringing their stuffed bags to their schools and unfold new learning modules.
Come Saturdays, students from Classes I to V will have a new timetable filled with music, stories, artwork, theatre art, gardening and field work, among other interesting features. "The initiative aims at unleashing the imagination of students, adopting the concept of joyful learning while reducing the burden of carrying books to the institutions.
"Followed by an orientation programme, teachers will impart creative lessons throughout the day," elaborates TVS Ramesh, academic coordinator of the State Council of Educational Research and Training (SCERT), Andhra Pradesh.
The SCERT has readied a structured module for 'sanivaram sandedi' by ac-cording priority to participatory approach. While learning patriotic and folk songs among other genres form apart of 'paaduktm-dam' session, stories, puz¬zles and games are associated with 'matladukundam' class.
School Education Department introduces new classes 'paadukundam','matladukundam','abhinayiddham' and 'srujana' on 'no-bag days'
Clay-moulding, mask-making and filling the canvas with colours will be taught in 'srujana' workshop.This apart, students can hone their theatrical skills through 'abhinayiddham' period. "The idea is to provide a stress-free environment for students to relax, open up, involve and think beyond textbooks.
"The list of activities designed for the purpose will engage students in an amusing manner and help them spot other areas of interest as well," explains A Satyanarayana, programme coordinator of SCERT. With the roll-out of 'no school-bag day' initiative, the officials concerned say that it would bring joy to approximately 10 lakh schoolchildren studying in about 55,000 primary schools, across Andhra Pradesh. However, a few teachers and parents express concern over challenges pertaining to portion completion as they have to make do with roughly 45 working days of the academic year to be replaced with 'no school¬bag day'.