AP Grama Sachivalayam Syllabus 2023: Andhra Pradesh Government recently announced the grama sachivalayam notification 2023 for various posts. Grama Sachivalayam posts include Panchayat Secretary, MPEO, VRO, Live Stock Assistant, Women Police, and ANM posts. AP Grama Sachivalayam posts. The Government invited applications from eligible and interested aspirants in February 2023. The official notification has been released on January. Candidates seeking to get state government jobs in AP can apply for Grama Schivalayam posts. Candidates applying for the posts will have to prepare for the written test round. Candidates applied for AP Grama Sachivalayam posts can check the exam pattern, syllabus details from this article.
AP Grama Sachivalayam Syllabus in Telugu PDF 2023 – Exam Pattern (Paper 1, 2)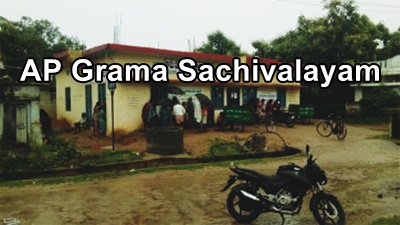 AP State announced a massive number of grama sachivalayam posts recently. As per the notification, 14523 grama sachivalayam posts have been announced by the government of AP. Candidates will be recruited through the written test and interview rounds. Competitors qualifying all the selection rounds will be finally recruited for various posts. Officials of the Panchayati Raj and Urban Development Departments, as well as the top 12 branches of the departments, are gathering to recruit the eligible aspirants for announced posts. Officials estimate that about 20 million people apply for these jobs. Officials estimate that many people who have worked in various government departments on contract and outsourcing so far are applying for jobs in village and ward ministries. As per the updates by the recruiting board, the written test is supposed to be held in March. Candidates who are going to appear for Grama Sachivalayam written test can check the clear details of examination pattern, syllabus information from the following.
AP Grama Schivalayam Syllabus 2022 – Important Details
| | |
| --- | --- |
| Name of the Recruiting Board |  Andhra Pradesh Grama Sachivalayam |
| Job Designation |  Panchayat Secretary, VRO, MPEO, Live Stock Assistant, ANM, Women Police Attendant, Electrical Assistant, Grameena Engineer, Welfare Assistant, Digital Assistant and more |
| Number of Vacant Positions |  14523 Jobs |
| Selection Process |  Written Exam and Document Verification |
| Exam Date |  In April 2023 |
| Notification Release Date |  February 2023 |
| Job Location |  Andhra Pradesh |
| Job Category |  AP Govt Jobs |
| Official Site |  gramasachivalayam.ap.gov.in |
| Category Name |  Syllabus |
AP Grama Sachivalayam Syllabus PDF Download For Paper 1 & Paper 2
రెండంచెల పరీక్ష విధానం..
అన్ని రకాల ఉద్యోగాల భర్తీకి రెండంచెల పరీక్ష విధానం నిర్వహించాలని అధికారులు నిర్ణయించారు. ప్రతి ఉద్యోగానికి 150 మార్కులకు రెండు పేపర్ల విధానంలో రాతపరీక్ష నిర్వహిస్తారు. ఒక్కో ప్రశ్నకు ఒక మార్కు కేటాయిస్తారు. తప్పు సమాధానానికి నెగిటివ్‌ మార్కింగ్‌ విధానాన్ని కూడా ప్రవేశపెట్టనున్నారు. గ్రామ సచివాలయాల్లో పనిచేయడం కోసం భర్తీచేసే వీఆర్వో, పంచాయతీ కార్యదర్శి, డిజిటల్‌ అసిస్టెంట్, మహిళా పోలీసు, వేల్పేర్‌ మరియు ఎడ్యుకేషన్‌ అసిస్టెంట్‌ పోస్టులకు ఉదయం 75 మార్కులకు జనరల్‌ నాలెడ్జిలో, సాయంత్రం 75 మార్కులకు రీజనింగ్, మెంటల్‌ ఎబిలిటీ అంశాలపై పరీక్ష నిర్వహిస్తారు. అలాగే, ఏఎన్‌ఎం, సర్వే అసిస్టెంట్, ఇంజనీరింగ్‌ అసిస్టెంట్, పశుసంవర్ధక శాఖ అసిస్టెంట్, విలేజ్‌ ఫిషరీస్‌ అసిస్టెంట్, విలేజీ అగ్రికల్చర్‌ అసిస్టెంట్, విలేజీ హార్టికల్చర్‌ అసిస్టెంట్, విలేజీ సెరికల్చర్‌ అసిస్టెంట్‌ పోస్టులకు ఉదయం 50 మార్కులకు జనరల్‌ నాలెడ్జిపై.. సాయంత్రం వంద మార్కులకు రీజనింగ్, మెంటల్‌ ఎబిలిటీతో పాటు ఆయా ఉద్యోగానికి సంబంధించిన అంశాలపై పరీక్ష ఉంటుంది.
All the applicants will have to prepare for the written test round with more intention to get the job as the competition is severed for the announced posts. The written test is going to be organized in April 2023 [tentatively]. Hence the exam date is nearing, aspirants must prepare well to clear the written test round. Candidates must have a clear idea of the Panchayat Sachivalayam exam syllabus and exam pattern to clear the examination. A written test round will be conducted for all the applicants. The exam will be held in various examination centers across the AP state.
AP Grama Sachivaalayam Exam Syllabus 2023 with Exam Pattern (Paper 1 & 2)
| S.No | Name Of The Notifications | Download |
| --- | --- | --- |
| 1 | Recritment for the Post of Panchayat Secretary (Grade-V) | Click Here |
| 2 | Recritment for the Post of Village Revenue Officer (Grade-II) | Click Here |
| 3 | Recritment for the Post of ANMs (Grade-III) | Click Here |
| 4 | Recritment for the Post of Animal Husbandary Assistant | Click Here |
| 5 | Recritment for the Post of Village Fisheries Assistant | Click Here |
| 6 | Recritment for the Post of Village Horticulture Assistant | Click Here |
| 7 | Recritment for the Post of Village Agriculture Assistant (Grade-II) | Click Here |
| 8 | Recritment for the Post of Village Sericulture Assistant | Click Here |
| 9 | Recruitment for the Post of Mahila Police and Women & Child Welfare Assistant | Click Here |
| 10 | Recritment for the Post of Engineering Assistant (Grade-II) | Click Here |
| 11 | Recritment for the Post of Panchayat Secretary (Grade-VI) Digital Assistant | Click Here |
| 12 | Recritment for the Post of Village Surveyor (Grade-III) | Click Here |
| | | |
| 13 | Recritment for the Post of Welfare and Education Assistant | Click Here |
AP Ward Sachivalayam Syllabus 2023 (Paper 1 & 2)
| S.No | Name Of The Notifications | Download |
| --- | --- | --- |
| 1 | Recritment for the Post of Ward Administrative Secretary | Click Here |
| 2 | Recritment for the Post of Ward Amenities Secretary (Grade-II) | Click Here |
| 3 | Recritment for the Post of Ward Sanitation & Environment Secretary (Grade-II) | Click Here |
| 4 | Recritment for the Post of Ward Education & Data Processing Secretary | Click Here |
| 5 | Recritment for the Post of Ward Planning & Regulation Secretary (Grade-II) | Click Here |
| 6 | Recritment for the Post of Ward welfare & Development secretary (Grade-II) | Click Here |
| | | |