AP Grama Volunteer Recruitment 2019 Application Link: Mr. YS Jagan Mohan Reddy sown-in as the chief minister of Andhra Pradesh state on 30th May. As promised by CM YS Jagan, the recruitment for 4 lakh village volunteer (Grama Volunteer) posts has been open now at ap.gov.in official website. The recruitments of village volunteers will be completed by 15th August. Selected village volunteers will get a salary of Rs 5,000 per month. Interested aspirants can send their online applications through the AP Government website to apply AP Gram Volunteer (APGV) posts.  Soon, the application dates are likely to be announced by the AP State government officials. As mentioned by CM, one volunteer from 50 families per each village will be selected for the APGV posts. Young and energetic youth with a motive to work hard for empowerment of villages will be given the opportunity as village volunteer. Interested aspirants go through the article to check the details of AP Grama Village volunteer eligibility criteria, the application process, number of posts for each state, and other major details from the following article.
AP Grama Volunteer Education Qualification has announced. Official Notification, Application Link and Apply Online Procedure will be announced very soon.
AP Grama Volunteer Notification 2019 Application Form – Apply Online 4 Lakh APGV Jobs Posts Recruitment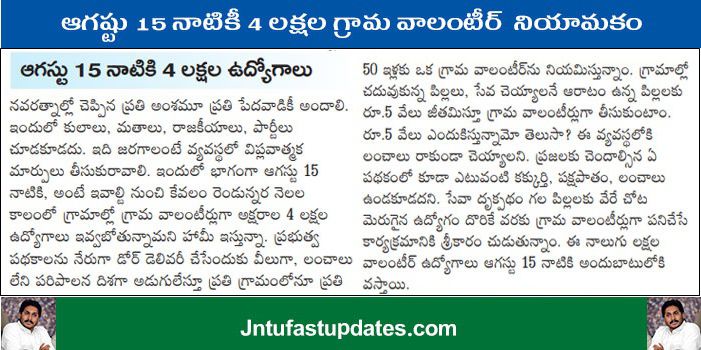 New Chief Minister of Andhra Pradesh YS Jagan Mohan Reddy promised various empowerment plans to develop Andhra Pradesh. He announced Navaratnalu for the development of the state and as well as to help each and every citizen of Andhra Pradesh state. As part of this, CM assured to provide employment for unemployed in the village by offering various suitable vacancies.
AP Gram Volunteer Recuritment 2019 Latest News:
Latest News
Updated on 11-06-2019:
ముఖ్యమంత్రి స్థాయి నుంచి గ్రామ స్థాయి అధికారి వరకు అవినీతిరహిత రాష్ట్రంగా చేయాలన్నదే సీఎం లక్ష్యం. ఎవరైనా పొరపాటు చేసినా, అవినీతి మరక అంటినా విచారణ జరిపించి చర్యలు తీసుకుంటానని మంత్రివర్గ సమావేశంలో వైయస్‌ జగన్‌ పేర్కొన్నారు. మంత్రులు ఎవరైనా పక్క చూపులు చూస్తే ఇంటికి వెళ్తారని సీఎం హెచ్చరించారు. ఈ ప్రభుత్వం రైతు ప్రభుత్వం అని దేశమంతా చూడాలన్నదే సీఎం ఉద్దేశం. ప్రతి గడపకు ప్రభుత్వ పథకాలు గ్రామ వాలంటీర్ల ద్వారా చేరవేస్తాం. వీటిని అమలు చేసేందుకు ప్రతి 50 ఇళ్లకు ఒక గ్రామ వాలంటీర్‌ను నియమిస్తాం. దానికి సంబంధించిన నోటిఫికేషన్‌ ఇస్తాం. ఎక్కడా కూడా నామినేషన్‌ పద్ధతి ఉండదు. గ్రామ వాలంటీర్లు ఆగస్టు 15 నుంచి పనులు ప్రారంభిస్తారు. అక్టోబర్‌ 2 నుంచి కూడా గ్రామ సెక్రటేరియట్‌లను ఏర్పాటు చేస్తాం. గ్రామ సెక్రటేరియట్‌ ఉద్యోగ నియమకానికి డిగ్రీ అర్హత ఉండాలి.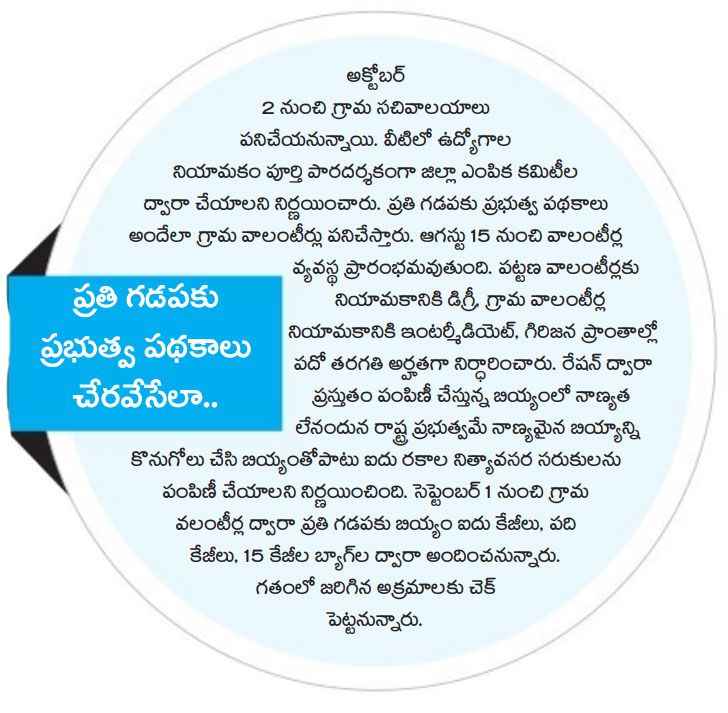 "By August 15, we will provide 4 lakh jobs to people as village volunteers at a salary of Rs 5,000. There will be one volunteer for every 50 families and it will be the corruption-free and transparent mechanism. We will set up village secretariats by October 2, giving 1.45 lakh jobs. Once you make an application in village secretariat, it will be resolved or sanctioned within 72 hours," Jagan said.
Also Check: AP Grama Sachivalayam Jobs Notification 2019 – Apply Online For 1.6 Lakh Jobs
AP Grama Village Volunteer Recruitment 2019 – Important Dates:
Event
Expected Dates
Notification Release Date
7th June 2019
Online Application starting date
June 2019
Last date of submitting the online application form
31st July 2019
Mode of Application
Online
Application Fee
Rs 0
Minimum Education Qualification
Degree For Cities

Intermediate For Villages

10th Class (తండాల్లో)

Age limit
18 years to 39 Years
Official website
ap.gov.in
Announcement of Results
Before 15th August 2019
The people who selected as village volunteers will have to monitor the facilities, government aids offered to the villagers, and various other government-related issues in the villages. Also, the village volunteers must report to the government if there are any corruption-related issues in the state. By employing the village volunteers, the AP villages will see the growth and the government schemes will also be implemented in a progressive way. Empowerment of state will be possible with accurate monitoring of village needs and facilities.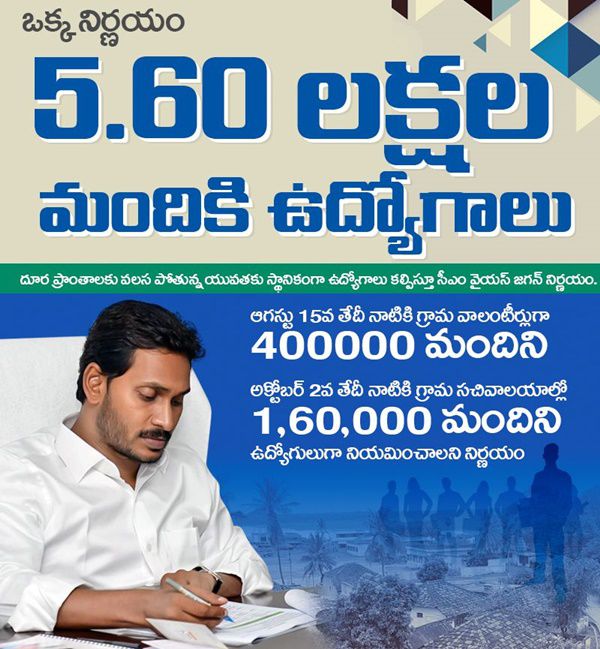 AP Gram Volunteer Education Qualifications
AP Gram Volunteer Education Qualification
గ్రామ వాలంటీర్లకు పట్టణాల్లా డిగ్రీ , గ్రామాలల్లో ఇంటర్ , తండాల్లో 10వ తరగతి అర్హత.
అక్టోబర్‌ 2 నుంచి అమల్లోకి గ్రామ సచివాలయ వ్యవస్థ

AP Grama Volunteer Posts 2019 – Vacancy Details [District-wise]:
| | |
| --- | --- |
| Andhra Pradesh Districts Names | Total Villages District Wise |
| Anantapur | 965 |
| Chittoor | 1523 |
| East Godavari | 1400 |
| Guntur | 729 |
| Krishna | 996 |
| Kurnool | 923 |
| Prakasam | 1094 |
| Sri Potti Sriramulu Nellore | 1192 |
| Srikakulam | 1815 |
| Visakhapatnam | 3280 |
| Vizianagaram | 1534 |
| West Godavari | 897 |
| Y.S.R Kadapa | 938 |
AP Grama Volunteer Eligibility Criteria
Soon, the Government of Andhra Pradesh will release the official notification for village volunteer posts. Interested aspirants can check the details from the notification.
AP Gram Village Volunteer Selection Process
Selection information will also be revealed in the notification. Candidates who are waiting to apply for APGV posts will have to check the APGV notification.
AP Grama Village Volunteer Pay Scale
Selected persons will get a pay scale of Rs 5000/- Per month.
AP Grama Volunteer Appcation Link For Apply Online
The First cabinet meeting of the YSRCP govemnet has taken certain major decisions. AP Grama Volunteer Application link for apply online will be announced soon along with official notification. So Candidates wait untill notification to be released.
Download AP Grama Volunteer Notification 2019 PDF – Available Soon
AP Grama Volunteer Application Link – Available Soon
Documents Required for Applying AP Grama Volunteer Job 2019 (Expected)
Aadhar Card
Degree/Inter/SSC Certificate
Date Of Birth Certificate
Community Certificate
Medical Certificate (PHC Candidates)
We Will update You, once we get Official notification from the AP Government. Until Stay here and Ask your doubts in Below Comment Section.
How to Apply For AP Grama Volunteer Notification Video (Full Details)