AP ICET Counselling Dates 2020 Rank Wise, Processing Fee Payment, Certificate verification, Online Apply Procedure, Colleges web option entry, eligibility, certificates to be produced, fee details, allotment order and all other details refer the detailed notification given below or available on the ap icet official website https://apicet.nic.in. Candidates can check ap icet 2020 web counselling schedule here.
AP ICET Counselling Dates 2020 Rank Wise, Certificate Verification @ apicet.nic.in
The Qualified and eligible candidates of APICET-2020 who are desirous of seeking admission into MBA/MCA Courses are informed that the web counselling process comprising payment of processing fee & certificate verification will be conducted from 25-01-2021 onwards. The candidates are instructed to follow guidelines/Instructions to proceed for web counseling process.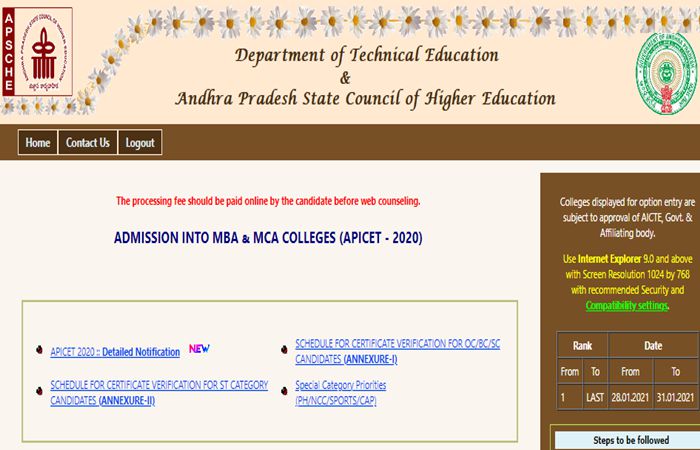 Qualified and eligible candidates of APICET-2020 are informed to participate in web counseLling for the seats available in MBA&MCA colleges in the State of Andhra Pradesh (both University and Private) for the academic year 2020-21 on payment of processing fee as given below.
The list of Help Line centres, the distribution of Ranks for each Help Line Centre for Certificate Verification, refer Annexure-I for OC/BC/SC Candidates and Annexure-II for ST Category candidates and all other important information is placed on the Website: https://apicet.nic.in and candidates are informed to visit the website before they go for Certificate Verification.
AP ICET Counselling Dates 2020:
| | | |
| --- | --- | --- |
| S. No. | Events | Important Dates |
| 1. | Processing Fee, Document/ Certificate Verification | 25.01.2021 to 29.01.2021 |
| 2 | Web Option Entry (For College Selection) | 28-01-2021 to 31-01-2021 |
| 3 | Options will be frozen | 31.01.2021 at 06.00PM |
| 4 | ICET Seat Allotment (Phase 1) | 02.02.2021 after 6.00 PM. |
PROCESSING FEE TO BE PAID**
(Before Certificate Verification)
1. Processing Fee: Rs.1200/- (for OC/BC) and Rs. 600/- (for SC/ST) through online by credit card/ debit card/ (or) net banking through the " Pay Processing Fee" link in the web site https://apicet.nic.in.
2. All the candidates from 1 to Last Rank can pay the processing fee from 24.01.2021 onwards using URL https://apicet.nic.in
3. For payment of processing fee, please visit https://apicet.nic.in and click on Pay Processing Fee.
4. Enter APICET Hall Ticket number and rank and click on pay fee online.
5. The candidate will be directed to payment gateway.
6. Select any one mode of payment i.e credit card or debit card or net banking and enter credentials.
7. Once the payment is success click on print button and take a print out and produce at the time of verification of certificates.
8. Candidate shall note that he/she shall have paid the processing fee when candidate attends for certificate verification as per the schedule and ranks mentioned against each date. i.e the processing fee should be paid online by the candidate before he/she attends certificate verification.
II a) DECENTRALISED CERTIFICATE VERIFICATION (FOR SC/ ST/ BC/ OC) Verification of Certificates of the Candidates for OC/BC/SC/Minority categories will be done in all the Help Line Centres as per the schedule given below. However, Certificate verification of ST Category Candidates will be done in Help Line Centres only as per Annexure-II (For details visit website: https://apicet.nic.in).
SCHEDULE FOR CERTIFICATE VERIFICATION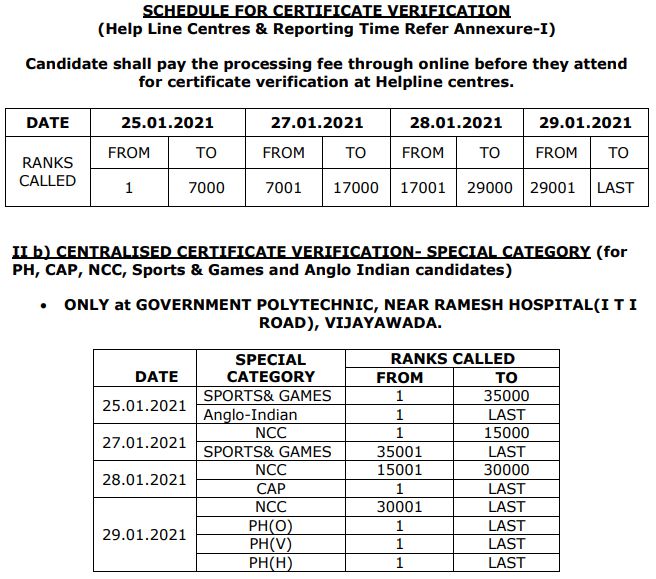 It is informed that other certificates of Special category candidates will also be verified on the dates mentioned above along with Special Reservation category Certificates. Candidates are instructed to visit the website for rules of admission under CAP/NCC/PH/SPORTS Authority and for priorities. Candidates claiming Special reservation categories SPORTS/NCC/PH/CAP are informed that the decision of SAAP/NCC/PH/CAP Verification authority is final with regard to priorities and genuineness of the certificates produced. Upon allotment, the certificate produced by the candidate is found false/fake the provisional allotment stands cancelled and the candidate is liable for criminal prosecution.
Candidates are informed that where there is more than one Help Line Centre in one location, the ranks are distributed Help Line Centre wise and placed on website: https://apicet.nic.in and hence they are informed to attend for certificate verification in the HLC where their ranks are mentioned. (See the Annexure-I for OC/BC/SC and Annexure-II for ST category Candidates).
CERTIFICATES TO BE PRODUCED AT THE TIME OF VERIFICATION:
All original certificates and two sets of Xerox copies.
3) Transfer Certificate ( T.C)
4) Degree Marks Memos / consolidated marks memo
5) Degree Provisional Certificate
6) Intermediate Marks Memo / Diploma Marks memo
7) S.S.C or its equivalent Marks memo
8) Study Certificates from IX to Degree
9) Residence Certificate (in case where candidate has no institutionalizededucation) in respect of Private candidates of AP and Telangana states
10) Residence certificate of either of the parent in AP for 10 years excluding theperiod of employment outside Andhra Pradesh from the competent authority in respect of Non-Local Candidates.
11) Income Certificate issued after 01.01.2016 or Ration Card holders containing the name of the candidate
12) Caste Certificate issued by competent authority in respect of SC/ST/BC
13) Aadhar Card (will be returned after verification).
14) Local status certificate if applicable i.e a candidate who migrates to any partof the state of Andhra Pradesh from the state of Telangana within a period of Five years from the 2nd day of June, 2014 shall be regarded as the local candidate in the state of Andhra Pradesh.
Certificates to be produced by PH/CAP/NCC/Sports/Minority Candidates:
a) PH – Certificate issued by the District Medical Board. Candidates with 40% and above disability are only eligible.
b) CAP – Certificate issued by ZillaSainik Welfare Officer (In case of Ex-Service men) Identity card and Service Discharge book for verification. Candidates whose parents are domicile of Andhra Pradesh are only eligible to be considered under "CAP" Category.
c) NCC & Sports – To produce Original Certificates issued by competent authorities.
d) Minorities: SSC 'TC' containing Minority Status or Certificate from the Head Master.
e) Anglo-Indian: A Certificate issued by Competent Authority of their place of Residence.
Note: Original Certificates need not be deposited in the college at the time  of admission.
EXERCISING THE OPTIONS: The detailed procedure for exercising the option, candidates are directed to visit separate link "Instructions to the Candidates" available in the website (https://apicet.nic.in).

Eligibility to MBA and MCA courses: Candidates who secured 50% (For OC) and 45% (SC/ST/BC) aggregate marks in Degree or its equivalent examination are only eligible for admission.
Note:
1. CANDIDATES ARE INSTRUCTED TO CHECK THE ELIGIBILITY GRANTED FOR VARIOUS COURSES (refer receipt of certificates) BEFORE LEAVING HELPLINE CENTER.
2. All ICET-2020 qualified Candidates can exercise their options from any Internet café or Help Line Centre or from their Residence after Certificates Verification on the above mentioned dates. The detailed Procedure of Exercising Options will be placed on the Website:https://apicet.nic.in.
3. All Help line centres will work from 09.00 A.M. to 05.00 P.M on each day.
4. Options will be frozen on 31.01.2021 at 06.00PM and
5. Allotment of seats will be placed in the Website on 02.02.2021 after 6.00 PM.
6. For all other details please refer the Website.
7. Fee particulars and seats available under Convener Quota College wise will be available on the website https://apicet.nic.in well before the commencement of Option Entry.
List of Help Line Centers:-
1. Government Polytechnic,Srikakulam
2. MRAGR Government Polytechnic,Vizianagram
3. Government Polytechnic,Kancharapalem,Visakhapatnam.
4. Government Institute of Chemical Engineering,Visakhapatnam
5. Jawaharlal Nehru Technological University, Kakinada.
6. Andhra Polytechnic,Kakinada
7. S.M.V.M Polytechnic,Tanuku,West Godavari dist
8. Andhra Loyola Degree College, Benz Circle, Vijayawada.
9. SRR & CVR Govt Degree College, Vijayawada.
10.Government Polytechnic,Near Benz Circle, Vijayawada.
11.JNTU College Of Engineering,Narasaraopet.
12.AcharyaNagarjuna University, Guntur.
13.MBTS Government Polytechnic, Nallapadu, Guntur
14.D.A Government Polytechnic ,Ongole
15.Government Polytechnic,Venkateswarapuram, Nellore
16.S.V Government Polytechnic,Tirupathi
17.Sri Venkateswara University, Old MLA Building Tirupathi.
18.Jawaharlal Nehru Technological University, Ananthapuram.
19.Government Polytechnic,Ananthapuram
20.Sri G.Pulla Reddy Government Polytechnic ,Kurnool
21.ESC,Government Polytechnic,Nandyala
22.YSR Engineering College, Proddatur.
23.Government Polytechnic for women, Kadapa
Download the Official Notification