AP Polycet Notification 2022, Apply Online: AP Polycet 2022 Notification, Application Form, Exam Date are available at official website polycetap.nic.in and sbtetap.gov.in. Eligible candidates can apply for Andhra Pradesh Polytechnic Common Entrance Test 2022.
AP Polycet Notification 2022 Apply Online – Application Form, Exam Date @ polycetap.nic.in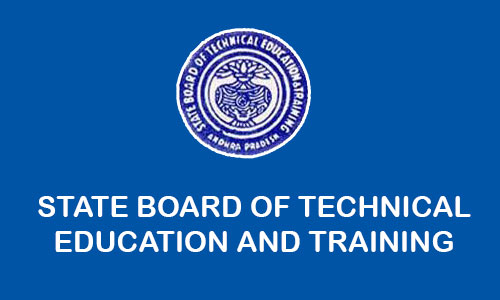 The State Board of Technical Education and Training, Andhra Pradesh, Vijayawada will conduct "Polytechnic Common Entrance Test (POLYCET)" for the candidates seeking admission in to all Diploma Courses in Engineering / Non Engineering/Technology offered at Polytechnics / institutions (including Aided and Unaided Private Polytechnics / Institutions running as 2nd shift in Pvt. Engineering Colleges) in Andhra Pradesh for the academic year 2022-23.
Andhra Pradesh Polytechnic Common Entrance Test 2022 Notification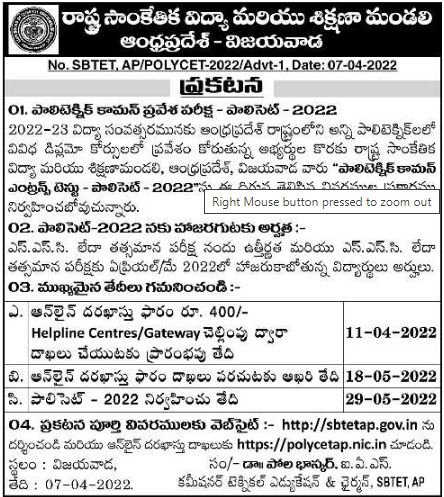 IMPORTANT DATES TO NOTE
Notification Release on: 09-04-2022
Hosting of Online application (POLYCET-2022 Application format and Instructions booklet will be available)
Commencement of filing application forms
11-04-2022
Last date for filing of online application form
18-05-2022
Date and Time of conduct of POLYCET-2022
29-05-2022
Eligibility to appear for AP POLYCET 2022
Candidates who have passed SSC or its equivalent & recognized by the Board of Secondary Education, A.P., Vijayawada are eligible. The candidates who have passed in compartmental or appearing for SSC are also eligible to apply. However, they must have passed in all the subjects before seeking admission.
How to Apply For AP Polycet 2022:
State Board of Technical Education & Training, AP, Vijayawada has made arrangements to file online applications at various AP online/Helpline centres/ through payment gate way. The detailed list of these centres is available at https://polycetap.nic.in website. In order to file application through these centers shall pay the examination fee Rs.400/- (Rupees four hundred only) to the operator by the candidate.
The detailed procedure of filing up of the application form is available in the instructions booklet along with the Application Format. Candidates are advised to read these instructions carefully before filing-up the Application duly filled in the application form is to be given to the Operator for filing Online.
The Admission Schedule:
The admission schedule (Web Counseling) will be notified in all leading Newspapers after declaration of POLYCET results. Candidates are advised to note that admissions into polytechnics for the academic year 2022-23 shall be made on the basis of Web Counseling, where in candidates can opt for any course at any polytechnic in the order of priority and the allotment shall be made for his/her best preferred choice based on his/her merit and other admission rules in vogue.
Download AP Polycet 2022 Notification – Available Now
IMPORTANT DO'S FOR CANDIDATES.
a) As separate POLYCET tests are being conducted by the respective States, The candidates of Andhra Pradesh intend to seek admission in to the courses offered in Polytechnics of Telangana State and seek admission under 15% unreserved quota offered in Telangana State shall appear for POLYCET conducted by Telangana.
b) Please note that only one Hall ticket will be generated against an APPLICANT.
c) Fill the SSC Hall ticket Number / Child Id, Year of Pass on the application by verifying your SSC Hall ticket /SSC Certificate or its equivalent, as the candidate data is taken from SSC database.