AP Rice Card Status Check – Ap New Ration Card Status Check List 2020, Eligibility List With Aadhar Number: Andhra Pradesh State Government provides the New ration cards (Rice Cards) for the citizens for household needs. People having the AP rice card will get benefited to get various food security plans of the state and central government. Eligible people can check their AP ration card status or AP Rice Card Status, eligibility check list. Even they can apply for a new ration card if they do not have yet. So, here this article is composed to provide the complete knowledge about AP New Rice Card stats checking, eligibility criteria, and application of new rice cards and along with the other important details related to the rice card.
AP Rice Card Status, Eligibility List 2020 – AP New Ration Card Check List
The Department of Consumer Affairs, Food and Civil Supplies is the concerned department for issuing the rice cards for the citizen of Andhra Pradesh. The authority issues the New rice cards to avail of various benefits related to food security under the PDS system in the state. Citizen of AP state can check the ration card status related details from the official website, spandana.ap.gov.in. Also, the elaborated information is provided in this article.
AP Rice Card – Important Details
| | |
| --- | --- |
| Department | Department of Consumer Affairs, Food and Civil Supplies, Andhra Pradesh |
| State | Andhra Pradesh |
| Rice card | AP rice card (Ration Card) |
| Article category | AP ration card list, Application Status Checking , AP Ration Card Customer Care Number |
| Official portal | spandana.ap.gov.in |
AP Rice Card Eligibility Details
Government have decided to issue new Rice cards to all eligible families and enroll all eligible missing cases.
Total family income should be less than Rs. 10,000 per month in rural areas and Rs. 12,000/- per month in urban areas.
Total land holding of the family should be less than 3 acres of wet land or 10 acres of dry land or 10 acres of both wet and dry land together.
Monthly electricity consumption should be less than 300 units.
No family member should be Government employee or pensioner (all sanitary workers are exempted.)
Family should not own 4 wheeler (Taxi, Auto, Tractors Exempted)
No family member should pay income tax.
In urban areas family who owns no property or less than 750 sft built up area.
AP Rice Card Status Check – Ration Card Status Online
మీలో ఎవరైనా రైస్ కార్డుకు అప్లయి చేసుకున్నారా? మీ చుట్టుపక్కల వారికి కార్డు వచ్చింది కాని మీ కార్డు ఇంకా మీ చేతికి రాలేదా… కాని మీ రైస్ కార్డులో సమాచారం అంతా బాగానే ఉందా లేదా అని చెక్ చేసుకోవాలనుకుంటున్నారా? అయితే ఈ చిట్కా ఫాలో అవ్వండి.
Visit the AP Govt official website, spandana.ap.gov.in
Click on the Ration Card Status Check button on the homepage.

Now, provide your Aadhar Card Number or Ration Card No and click on the Search button.
Now you can get Present Status and Final Status.


క్రింద పేర్కొనబడిన URL అడ్రస్‌లో card_id= పక్కన మీ రైస్ కార్డు నంబరు ఎంటర్ చేసి సబ్మిట్ చేస్తే ఆటోమ్యాటిక్‌గా మీ రైస్ కార్డులోని సమాచారం స్క్రీన్‌పై చూపబడుతుంది. ఈ విధంగా రైస్ కార్డులోని సమాచారాన్ని ఆన్‌లైన్‌లో సులభంగా చెక్ చేసుకోవచ్చు.
https://epdsap.ap.gov.in/Qcode/Qcodesearch.jsp?card_id=1234567890 (ఆ లింక్ అడ్రస్‌లోని 1234567890 అనే నంబరు తొలగించి అదే ప్లేస్‌లో మీ రైస్ కార్డు ఎంటర్ చేసి సబ్‌మిట్ చేయండి)
AP Rice Card Eligibility Check list Download
After the successful application of the ration card, applicants can check their application status. The ration card will be usually dispatched in 5 Days after the application of ration cards. Hence within this time, they can check the status of their application. The process to check State Level Rice Cards To Cluster Mapping Report is given hereunder.
Visit the official website, gramawardsachivalayam.ap.gov.in
Click on District, Mandal, Secretariat Name respectively
Finally, AP Rice Card Eligiblity list will be displayed on the screen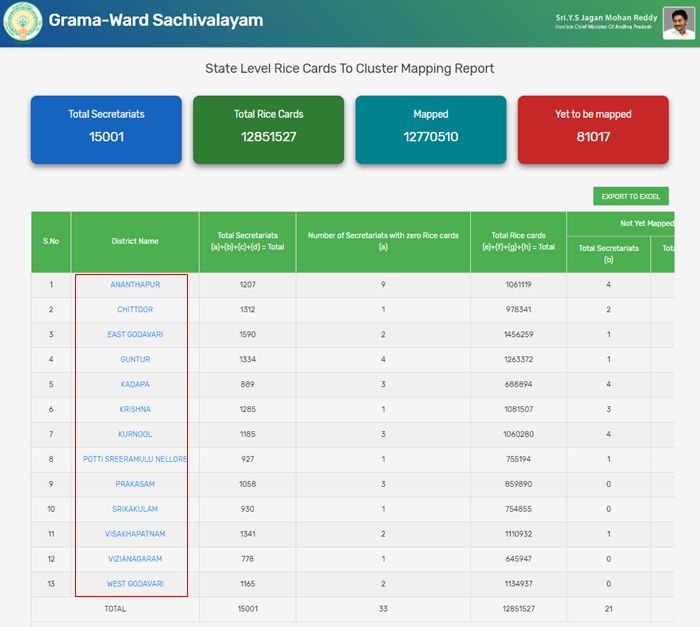 AP New Rice Card Information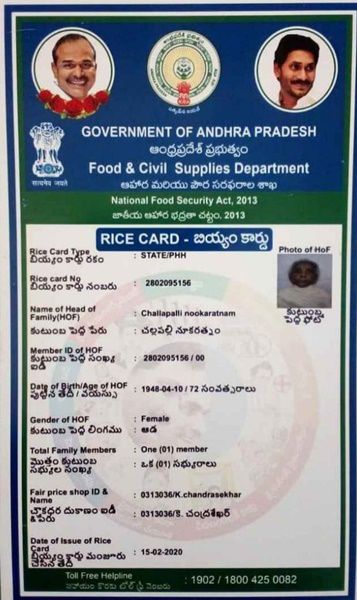 The new ration card contains the details of the following information.
Rice Card Number
Rice Card Type
Name of Head of Family (HOF)
Member ID of HOF
Date of Birth/Age of HOF
Gender of HOF
Total Family Members
Fair Price shop id & Name
Date of Issue of Rice Card
The other side of the card contains the details of,
Member ID
Member Name
DOB
Gender
Relation with HoF
Permanent Address of the rice card
Address of the fair price shop
Address of food and civil supplies Department office
How to Apply for New Rice Card?
Citizens of AP who is not having the ration cards (Rice Card) can apply for the rice card. The applicants can visit the Grama/Ward Sachivalayam or contact your volunter. All the AP Rice Card application process [Online and Offline] will be done by your volunteer.
Adding of a new Family member into the Rice card regarding Aarogyasri Health card
Open navasakam.ap.gov.in
Login and Select Aarogyasri Scheme
Enter Rice/Ration Card Number
Click on Get details, Displays details of the family
Select the Surveyed Volunteer Name
Enter surveyed Data
Click on Add Member
Click on Add Member
Enter the details of Aadhaar, DOB, elation, Name, Mobile Number, Gender, Income details etc.
Click on Save Details
New Family Member will be added to the Rice/Ration Card
AP Civil Supplies Contact Info
Food and Civil Supplies Department,
Phone no. – 1800 425 0082
Toll-free- 1902
Civil Supplies Bhavan, Ashok Nagar, Vijayawasa – 520007