AP SBTET C16 Notification 2022: Applications are invited from eligible candidates of C-16 Scheme to appear Regular/Supplementary Diploma examinations to be conducted by the Board during Jan/Feb, 2022.
AP SBTET Diploma (C16) Regular/Supply Exams Notification Jan/Feb 2022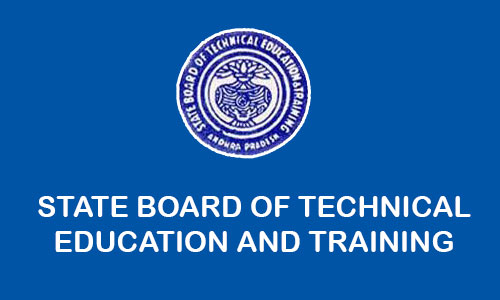 With reference to the subject cited above, copy of the detailed notification inviting applications from eligible candidates of C-16 Scheme to appear for the Regular/Supplementary Examinations of Jan/Feb, 2022 which will be commenced from 20-01-2022 is herewith furnished.
Further, it is informed that the candidates appearing for the Diploma Examinations of C-16 scheme can make the examination fee payment through Payment Gateway/Credit Card/Debit Card/Net Banking. The hall tickets cannot be generated towards the amounts directly deposited in the SBTET account as it is automated. If the candidate details are not available in the portal, contact the Principal of the Polytechnic where they have studied. After downloading of the hall ticket, the candidate has to obtain the signature from the concerned Head of Section/Principal on the hall ticket before appearing for the examination.
Further, Principals are requested to give necessary instructions to the Heads of Sections to sign on the hall tickets obtained for Diploma examinations subjects after thorough verification.
The following candidates admitted/readmitted in the academic year 2018-19 under C-16 scheme are not eligible to appear for V Semester examinations as Instant Examination was conducted for them in Nov, 2021 for V Semester.
A/ AA/ AEI/ C/ CM/ CCP/ EC/ EE/ GT/ IT/ M/ MNG/ PCT/ PET/ RAC/ CHST – V Semester.
Click here for Online Fee Payment for C16 (Diploma)
AP SBTET Diploma Examinations Jan 2022 – Important Dates:
| | |
| --- | --- |
| Practical Examinations | After/Before Theory Examinations |
| Commencement of theory examinations | 20-01-2022 |
| Date of Commencement for payment of examination fee through Online | 27-12-2021 |
| Last date for payment of examination fee without penalty to all candidates | 05-01-2022 |
| Last date for payment of examination fee with penalty to all candidates. | 07-01-2022 |
| Last date for payment of examination fee and submission of application form (UNDER TATKAL SCHEME) | 10-01-2022 |
| Last date for uploading of Sessional Marks | 30-01-2022 |
| Last date for uploading of Practical Examination marks | 05-02-2022 |
Fee Details:
(i) Fee for whole or part examination
Rs. 550/-
a) Late Fee (penalty) b) Tatkal scheme (Including Examination fee)
Rs 600/-
Rs. 3000/-
NOTE:
1. Acceptance of examination fee does not provide any right to the candidate to demand for the issue of hall ticket.
2. Detailed Time table of examinations shall be communicated in due course.
3. Examination fee must be paid through payment gateway i.e. Debit Card/Credit Card/Net Banking for all Diploma subjects.
4. The dates mentioned at serial No. VII & VIII are the dates by which the board should receive the inputs.
5. Fee once paid will not be refunded or adjusted under any circumstances.
6. Eligible Physically Handicapped candidates can generate hall tickets through Polytechnic HLCs.
7. A student who is not eligible and appeared the examination in any other reason, shall forfeit the examination Fee paid.
8. The Polytechnics can add the eligible candidates details to NR through HOS login with <ADDNR> button after thorough verification.
9. The URL for online fee payment module is http://apsbtet.net/dofpportal for the students studying in the Polytechnics pertaining to Andhra Pradesh.
Download the Official Notification Here : Click Here