AP TET Exam Centers Opt/ Selection Started From Today i.e 25th May. Those who are attempting they need to choose their test centers first come first serve basis subjected to availability in 13 andhra districts and hyderabad, bangalore, chennai also.
AP TET 2018 Exam Centers Selection District Wise For SGT, SA, PET (Test Centers Session Wise)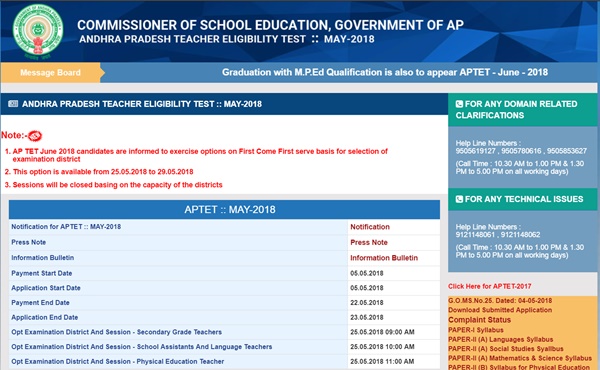 AP TET 2018 Exams are conducting from 10th June to 19th June in scheduled dates as per notification. AP TET June 2018 Exam centers opt options Selection started from today. The official announcement for Andhra Pradesh State Teacher Eligibility Test (APTET) has been released for SGT, SA, and PE Teachers at the official website aptet.apcfss.in.
Check below scheduled start timings to choose Centers (District wise)
Opt Examination District And Session – Secondary Grade Teachers 25.05.2018 09:00 AM
Opt Examination District And Session – School Assistants And Language Teachers 25.05.2018 10:00 AM
Opt Examination District And Session – Physical Education Teacher 25.05.2018 11:00 AM
Note:-
1. AP TET June 2018 candidates are informed to exercise options on First Come First serve basis for selection of examination district
2. This option is available from 25.05.2018 to 29.05.2018
3. Sessions will be closed basing on the capacity of the districts.
If once the session capacity of the centers is compltes then the  candidate should choose another date and another session in available districts. If the candidate failed to opt Examination centre in the prescribed date mentioned above, department will allot the examination centre in the available vacancies.
AP TET June 2018 Important Dates
Payment of Fees through Payment Gateway: 05th to 22nd May 2018.
Starting date to submit Online Application: 05th May.
The last Date to Submit Application: 23rd May.
Help Desk Services During working hours: 04th May to 30th June.
Receiving of complaints Online Application: 05th May to 30th June 2018.
Online Mock Test Availability from: 25th May 2018 
Download AP TET Hall Tickets 2018 from: June 3rd.
Choose Here: AP TET 2018 Exam Test Center Selection
Official website: www.aptet.apcfss.in
APTET 2018- Examination Schedule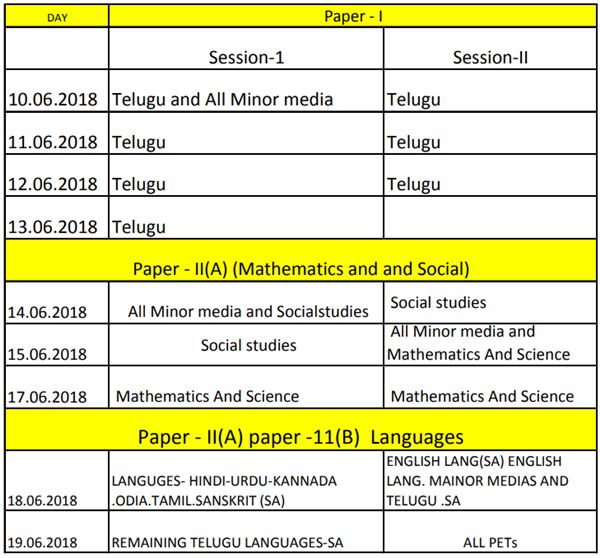 Help desk: 
If there are any doubts, helpline numbers 9505619127, 9505780616, 9505853627 can be contacted.
(Call Time : 10.30 AM to 1.00 PM & 1.30 PM to 5.00 PM on all working days)