APPSC AEE Syllabus 2018: Andhra Pradesh Public Service Commission has invited online Applications for recruitment to the post of Assistant Executive Engineers (AEE) in various Engineering Services for a total of 309 vacancies. The Commission conducts Screening test on 10/02/2019. The main examination in online mode for candidates selected in screening test will be held through computer based test on 01/04/2019 FN & AN, 02/04/2019 FN & AN.
APPSC AEE Syllabus 2018 PDF Download (Screening Test & Mains)
The Scheme & Syllabus for the examination has been shown in below. For the purpose of writing of subject paper III. The candidate has to choose the branch of Engineering related to the subject of study in the Degree.
Appearance in all the papers of computer based examination / Main examination is compulsory. Absence in any of the papers will automatically render the disqualification of the candidature.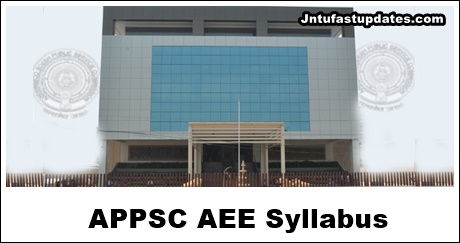 SCHEME AND SYLLABUS FOR RECRUITMENT TO THE POSTS OF ASSISTANT EXECUTIVE ENGINEERS IN VARIOUS ENGINEERING SERVICE
SCHEME FOR SCREENING TEST
WRITTEN EXAMINATION (OBJECTIVE TYPE)
BACHELOR'S DEGREE STANDARD
S.No

Paper

Subject/Branch

Marks

No.of Questions

Total

Duration of time
1
Part-A
General Studies

& Mental Ability

50

Marks

50

Questions

150

Questions and

150 Marks

150

Minutes

Part-B
Civil & Mechanical Engineering (Common) (or)

Electrical Engineering

100

Marks

100

Questions
NB: The candidate has to appear for Papers of his / her subject of study at Engg. Degree. i.e B.E / B. Tech (concerned Subject)
1. NEGATIVE MARKS: As per G.O. Ms. No.235 Finance (HR-I, Plg & Policy) Dept., Dt.06/12/2016, for each wrong answer will be penalized with 1/3rd of the marks prescribed for the question.
SYLLABUS FOR SCREENING TEST TO THE POST OF ASSISTANT EXECUTIVE ENGINEERS IN CIVIL, MECHANICAL AND ELECTRICAL  ENGINEERING
PART – A
50 QUESTIONS 50 MARKS
GENERAL STUDIES AND MENTAL ABILITY
1. Events of national and international importance.
2. Current affairs- international, national and regional.
3. General Science and it applications to the day to day life Contemporary developments in Science & Technology and information Technology
4. Social- economic and political history of modern India with emphasis on Andhra Pradesh.
5. Indian polity and governance: constitutional issues, public policy, reforms and e-governance initiatives with specific reference to Andhra Pradesh.
6. Economic development in India since independence with emphasis on Andhra Pradesh.
7. Physical geography of Indian sub-continent and Andhra Pradesh.
8. Disaster management: vulnerability profile, prevention and mitigation strategies, Application of Remote Sensing and GIS in the assessment of Disaster.
9. Sustainable Development and Environmental Protection 10.Logical reasoning, analytical ability and data interpretation. 11.Data Analysis:
a. Tabulation of data
b. Visual representation of data
c. Basic data analysis (Summary Statistics such as mean, median, mode, variance and coefficient of variation) and Interpretation
12. Bifurcation of Andhra Pradesh and its Administrative, Economic, Social, Cultural, Political, and Legal implications/problems.
[/su_spoiler]
SYLLABUS FOR SCREENING TEST TO THE POST OF ASSISTANT EXECUTIVE ENGINEERS IN CIVIL AND  MECHANICAL ENGINEERING
PART – B
100 QUESTIONS 100 MARKS
1. Strength of Material:
Forces, moments, Equilibrium; Applying the Equation of Equilibrium, Planar Trusses; Friction; Simple  Stresses  &  Strains:  Elasticity  and  plasticity,  Types  of  stresses  &  strains,  Generalized Hooke's law – Stress–strain diagram for mild steel – Working stress –Factor of safety – Lateral strain, Poisson's ratio & volumetric strain – Elastic modulii & the relationship between them – Bars of varying section – composite bars –Temperature stresses. Strain energy – Resilience – Gradual, sudden, impact and shock loadings. Shear Force (S.F) and Bending Moment (B.M): Definition of beam –Types of beams – Concept of shear force and bending moment – S.F and B.M for cantilever, simply supported and overhanging beams subjected to point loads, U.D.L., uniformly varying loads and combination of these loads – Point of contra flexure –Relation between S.F., B.M and rate of loading at a section of a beam.
Flexural Stresses: Theory of simple bending – Assumptions – bending equation: Neutral axis – bending stresses – section modulus of different sections – Design of simple beam sections. Shear Stresses: Derivation of formula –Shear stress distribution across various beam sections
Principal Stresses and Strains: Stresses on an inclined section of a bar under axial loading – Compound stresses – Normal and tangential stresses on an inclined plane for biaxial stresses – Two perpendicular normal stresses accompanied by a state of simple shear –Mohr's circle of stresses –Principal stresses and strains – Analytical and graphical solutions. Different theories of Failure: Various theories of failure. Columns and struts – Euler's column theory – types of end conditions; critical load on the column – derivations – Rankin's formula for columns. Lifting machines, definitions, Law of machine, study of important lifting machines; virtual work principal.
Torsion of Circular Shafts: Theory of pure torsion – Torsion Equations: Assumptions made in the theory of pure torsion – Torsional moment of resistance – Polar section modulus – Power transmitted by shafts – Combined bending and torsion and end thrust. Springs-Helical and leaf springs.
Thin & Thick Cylinders and Spherical shells: Thin seamless shells – formula for longitudinal and circumferential stresses and max shear stresses – hoop, longitudinal and volumetric strains – changes in diameter, and volume of thin shells.
2. Fluid Mechanic and Machinery
Fluid statics: Dimensions and units: physical properties of fluids-specific gravity, viscosity, and surface tension -vapour pressure and their influence on fluid motion-atmospheric, Pascal's law, gauge and vacuum pressures – Measurement of pressure-Piezometer, U-tube and differential manometers..Hydrostatics, Fluid forces on planes and curved surfaces, submerged and floating bodies, Buoyancy and stability. Fluid kinematics: description of flow pattern and types of fluid flows – Velocity and acceleration: convective, temporal, tangential and normal accelerations, control volume-basic principles of fluid flow, continuity equation for 3-D, 2-D, 1- D flow. Rotational and irrotational motion, Velocity potential, stream function, flow net.
Fluid dynamics: Surface and body forces – Euler's and Bernoulli's equations for flow along a stream line and its applications, momentum equation and its applications. Flow measurement devices – Gross measurement: Venturimeter, Orificemeter, Turbine flow meters, Rotameters;
Pressure measurement: Pitot tubes, hot wire/film anemometer, their measurement principles and sources of errors; calibration.
Closed conduit flow: Reynolds experiment – Major and Minor losses in pipes-pipes in series and pipes in parallel-total energy line-hydraulic gradient line, water hammer. Boundary Layer Concepts: Definition, thicknesses, characteristics along thin plate, laminar and turbulent boundary layers boundary layer in transition, separation of boundary layer, submerged objects – Drag and lift.
Basics of turbo machinery: Hydrodynamic force of jets on stationary and moving flat, inclined, and curved vanes, velocity diagrams, work done and efficiency, Hydraulic Turbines: Classification of turbines, Heads and efficiencies, impulse and reaction turbines, Pelton wheel, Francis turbine and Kaplan turbine – working proportions, work done, efficiencies , hydraulic design – Draft tube theory-functions and efficiency. Performance of hydraulic turbines: Geometric similarity, Unit and specific quantities, characteristic curves, governing of turbines, selection of type of turbine, cavitation. Centrifugal pumps: Classification, working, work done – barometric head-loss and efficiencies, specific speed – Performance characteristic curves, NPSH. Selection of pumps and economic evaluation of pumping.
Hydraulic Directional Control – Check Valves, Shuttle Valves, two- three- and four-Way Directional Control Valves, Directional Control Valve Actuation. Hydraulic Pressure Control – Pressure  Relief  Valves,  Unloading  Valves,  Pressure  Reducing  Valves,  Sequence  Valves, Counterbalance Valves, Pressure Compensated Pumps.
Hydro Projects And Plant: Classification – Typical layouts – plant auxiliaries – plant operation, pumped storage plants. Hydro Electric Power Plant: Water power – Hydrological cycle / flow measurement – drainage area characteristics – Hydrographs – Storage and Pondage – Classification of dams and spill ways.
SYLLABUS FOR SCREENING TEST TO THE POST OF ASSISTANT EXECUTIVE ENGINEERS IN  ELECTRICAL ENGINEERING BRANCH
PART – B
100 QUESTIONS 100 MARKS
1. Electric Circuits: Active and passive network elements – dependent and independent sources – response of passive elements to arbitrary excitations – energy stored in inductance and capacitance – Kirchoff's loss – formation of mesh and Nodel Integro differential equations – their solutions by classical and Laplace transformation methods – Transient and steady state response of RL, RC elements to impulse, step, ramp and sinusoidal inputs – single phase AC circuits – methods of solutions – poly phase circuits – analysis of balanced and unbalanced circuits – measurements of three phase power.
2. Electrical Measurements and Instruments: Absolute and secondary instrument types – Principle of operation of different type of instrument – extension of instrument ranges – measurement of voltage, current, power and energy – localization of cable faults – Murray loop and Varley loop tests – Cathode ray Oscilloscope.
3. Illumination: Solid angle, luminous flux, luminous intensity – Illumination and candle power – laws of Illumination – flood lighting, street lighting – electric lamps.
4. DC Generators and Motors: Types of DC generators – EMF equation – constructional details –  characteristics of shunt, series and compound generators – Armature reaction – types of DC motors – Torque developed in a DC motor – speed controls of DC motors and starters.
5. Transformers: Constructional details – Principle of operation – vector diagrams on no load and load – regulation and efficiency – equivalent circuits and tests for the determination of parameters of equivalent circuits – types of three phase transformers and their applications – Scott connection of transformers.
6. 3-Phase Induction Motors: Principle of operation – Cage and Slip ring motors – torque slip characteristics – methods of speed control.
7. 3-Phase Alternators: Principle of operation and constructional details – types of Alternators – synchronous impedance – voltage regulation – short circuit ratio and its importance – Phasor diagrams of round  rotor and salient pole machines –  synchronization – behaviour of an alternator connected to infinite bus – effect of varying excitation current and mechanical torque – power angle curves – control of active and reactive powers.
8. 3-Phase Synchronous Motors: Principle of operation – torque developed and methods of starting – V and Inverted V curves – effects of variations of excitation – synchronous condensers.
9.  Single phase induction Motors: Types of single phase motors – Types of Single phase induction motors – characteristics and methods of starting – shaded pole induction motor.
10. Transmission & Distribution: Line constants – Inductance and Capacitance calculations – Representation of over head Lines – Short, Medium and Long lines – ABCD constants – Mechanical Design – Sag, Tension Calculations, Tuned Power Lines.
11. Over Head Line Insulators: Types of Insulators – Potential distributions over a string of suspension insulators – string efficiency – Methods of improving string efficiency.
12. Underground Cables: Insulation of cables – Grading of cables – Capacitance Measurement in cables – Testing of Cables – Power frequency withstand tests.
13. Fault Calculations: Balanced Fault calculations on systems – Symmetrical components – Types of faults – Analysis of unbalanced faults.
14. Generating Stations: Location and types, types of hydroelectric power stations, layout of a hydro-power plant, types of turbines used – Pumped storage installations – Layout of thermal electric power stations, types of turbines used, condensers, cooling towers, boiler feed pump; energy flow diagram of steam power plant. Nuclear power generation; Nuclear fission – types of nuclear power reactors – Principle of a fast breeder reactor.
15. Protection: Characteristic of Relays – Over current, directional and distance protection of lines. Protection of Alternators against stator faults, rotor faults, loss of excitation, unbalanced loading, overloading, failure of prime-mover. Over speeding and over voltage. Protection of transformers against winding faults, overloads and external short circuits.
16. Circuit Breakers: Air-blast, oil, minimum oil, vacuum – Sulphur hexafluoride and d.c. circuit breakers – Relative merits and demerits.
17. Economic Aspects: Generation costs and their classification, load curve, load utilization and plant capacity factors. Load sharing between base load and peak-load stations. Load forecasting. Economical distribution of load between unit within a plant and between plants. Modeling of fuel costs for thermal generation. Optimal operation of an all thermal generating system and of a hydro-thermal system. Consideration of transmission losses.
18. Utilization of Electrical Energy: Industrial drives – Motors for various drives –Estimating and Rating – Testing of D.C. and A.C. motors – Neutral Earthing.
SCHEME FOR THE MAIN EXAMINATION
WRITTEN EXAMINATION (OBJECTIVE TYPE)
BACHELOR'S DEGREE STANDARD
PAPER 1 :

General Studies & Mental Ability

150 Marks

150 Questions

150 Minutes

PAPER 2 :

Civil & Mechanical Engineering

(Common) OR

Electrical Engineering

150

Marks

150 Questions

150 Minutes

PAPER 3:

Civil Engineering

(For Post Code No.1,2,4 & 8)

150 Marks
150 Questions
150 Minutes
Mechanical Engineering (For Post Code No. 5 only)
Civil & Mechanical Engineering (Common)

(For Post Code No. 6 &7)

Electrical Engineering (For Post Code No. 3 only)

Total
450 Marks
NB: 1. The candidate has to appear for Papers of his / her subject of study at Engg. Degree. i.e. B.E / B. Tech (concerned Subject)
2. In respect of Paper-3, (Post Code No. 6 & 7) the Examination will be conducted in different session.
3. NEGATIVE MARKS: As per G.O. Ms. No.235 Finance (HR-I, Plg & Policy) Dept., Dt.06/12/2016, for each wrong answer will be penalized with 1/3rd of the marks prescribed for the question.
PAPER – 1: GENERAL STUDIES & MENTAL ABILITY
PAPER-2: CIVIL, ELECTRICAL ENGINEERING AND MECHANICAL ENGINEERING
PAPER-3: CIVIL, ELECTRICAL ENGINEERING AND MECHANICAL ENGINEERING
Download APPSC AEE Syllabus 2018 PDF