APPSC Exam Calendar February 2020: Andhra Pradesh Public Service Commission (APPSC) is going to announce Latest Job Notifications Calendar in February 2020. Aspirants seeking to get government jobs in Andhra Pradesh can check the APPSC official portal, psc.ap.gov.in for latest updates.
APPSC Exam Calendar February 2020 – AP Govt Latest Job Notifications
Chief Minister YS Jagan Mohan Reddy assured that the APPSC exam calendar will be released in February 2020. Every year the Andhra Pradesh Public Service Commission announces various posts for Government job opportunities in the state. Against this backdrop of various posts, the Secretary-General of Government, L.V. Subramanyam has ordered to announce the vacant positions in AP. Details of job vacancies will be available from the respective branches by the end of November.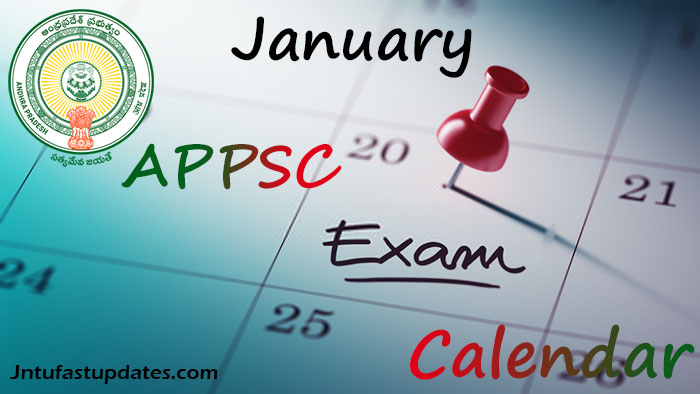 APPSC Latest Job Notifications Calendar 2020
"The calendar of jobs will be announced in the first week of February in accordance with the approval of the finance ministry after the CS review of these vacancies," APPSC officials said. Job announcement and exam management dates will be incorporated in the APPSC announcement's calendar.
Andhra Pradesh Public Service Commission is the state government body that monitors the recruitment process for various affiliated government organizations. APPSC releases various notifications every year to hire suitable candidates into various posts. Candidates having the educational qualification of 10th class/12th class/Diploma/Graduate Degree/Masters Degree or any other relevant educational qualification can apply for APPSC Posts as per the requirement mentioned in the notification. Candidates seeking to get APPSC jobs can keep checking the official portal on a frequent basis to check the updates.
Upcoming APPSC Group 1, 2, 3, 4 Jobs 2020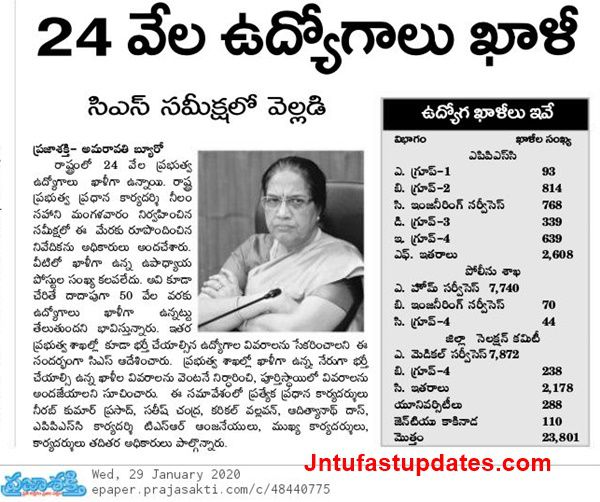 APPSC Jobs 2020 Group wise
The APPSC has reportedly divided the jobs in the various government departments into 6 categories. All the jobs in the state are divided into civil services, medical, engineering, teaching and general services groups. Instead of conducting different examinations for different posts. the same test will be conducted for the posts in each group.
-> AP Vidya Volunteers Notification 2020 For 7000 SGT, SA Posts
APPSC Group-wise Posts –Details
జనవరి మొదటి వారంలో టెట్‌..ఆఖర్లో డీఎస్సీ నోటిఫికేషన్‌
టీచర్‌ పోస్టుల భర్తీకి ముందుగా టీచర్‌ అర్హత పరీక్షను నిర్వహించాలని ఆలోచిస్తున్నారు. గతంలో టీచర్‌ అర్హత పరీక్ష (టెట్‌)ను, టీచర్‌ నియామక పరీక్ష (టీఆర్టీ)ని కలిపి టెట్‌ కమ్‌ టీఆర్టీగా నిర్వహించారు. అయితే, ఈసారి రెండింటినీ కలపకుండా వేర్వేరుగా నిర్వహించాలని విద్యాశాఖ భావిస్తోంది. జాతీయ విద్యాహక్కు చట్టం ప్రకారం.. టెట్‌ను ఏటా రెండుసార్లు నిర్వహించాలి. 2018లో టెట్‌ను ఒకసారి నిర్వహించారు. ఈ ఏడాదిలో ఎన్నికలు, కొత్త ప్రభుత్వం ఏర్పాటు తదితర కారణాలవల్ల దానిపై అధికారులు ఎలాంటి నిర్ణయం తీసుకోలేకపోయారు. ఈ నేపథ్యంలో.. ఏటా పోస్టుల భర్తీకి చర్యలు తీసుకోవాలని ప్రభుత్వం నుంచి స్పష్టమైన ఆదేశాలు రావడంతో టెట్, డీఎస్సీల నిర్వహణకు  అడుగులు వేస్తున్నారు. డీఎస్సీ కన్నా ముందుగా టెట్‌ నోటిఫికేషన్‌ను జనవరి మొదటి వారంలో ఆ తరువాత నెలాఖరున డీఎస్సీ నోటిఫికేషన్‌ విడుదలయ్యే అవకాశముందని పాఠశాల విద్యాశాఖ వర్గాలు వివరించాయి.
State Civil Services-A
Deputy Commissioner (Endorsement)
Assistant Conservator of Forest
Assistant Director of Horticulture
Deputy Collector
Assistant Commissioner (Commercial Taxes)
Deputy Superintendent of Police (Police)
Deputy Superintendent of Jails (Men)
Regional Transport Officer
District Panchayatiraj Officers
District Registrar
BC Welfare Officer
Assistant Director (Adult Education)
Research Officer (AP Legislature Secretariat)
Assistant Director (AP Economics)
Lay Secretary (Health Department)
District Public Relations Officer
Assistant Commissioner of Labor
Sericulture Officers
Agriculture Officers
Other posts
Civil Services-B
Assistant Social Welfare Officers
Tribal Welfare Officers
BC Welfare Officers
Assistant Commissioner (Endorsement)
Forest Range Officer
Municipal Commissioner
Assistant Registrar (Co-operative Societies)
Divisional Accounts Officers
Panchayat Secretaries
Sub Registrar
District Probation Officer (Juvenile Welfare)
Assistant Commercial Tax Officer
Junior Employment Officer
Abkari Sub Inspector
Assistant Section Officers
Hostel Welfare Officers
Assistant Librarian (Registrar of Publications)
Senior Auditor (Audit Subordinate Services)
Junior Assistants
Junior Marketing Officer
Other posts
General Services
Telugu and English reporters
Child Development Project Officers
District Sainik Welfare Officer
Assistant Chemist
Fisheries Development Officer
Assistant Development Officer (Department of Handloom and Textile)
Assistant Public Relation Officers
Extension Officer
Assistant Inspector of Fisheries
Port Officer
Forest Beat Officer
Forest Assistant Beat Officer
Junior Analyst (Drug Control)
Assistant Curator
Film Operator
Research investigator
Darkroom Assistant
Assistant Director (Tribal Department)
Crane Regulation Inspectors (Director of Sugar Cane)
Assistant Director (Tribal Welfare)
Other posts
Medical Services
Civil Assistant Surgeon
Civil Assistant Surgeons (Specialists)
Dental Assistant Surgeon
Medical Officers (AYUSH)
Clinical Psychologist
Other posts
Engineering Services
Deputy Superintendent of Police (AP Police Communications)
Deputy Executive Information Engineers
Assistant Director (Town and Country Planning)
Assistant Hydrologist (Ground Water Services)
Assistant Executive Engineers
Assistant Engineers
Assistant Motor Vehicle Inspector
Food Safety Officer
Deputy Inspectors (Survey and Land Records)
Assistant Architectural Draftsman (Town and Country Planning)
Other posts
NO Interview For Selection to APPSC Posts
In the recruitment process of Andhra Pradesh Public Service Commission posts, AP CM YS Jagan has taken a sensational decision. As per the updates from the news sources, AP CM Jagan has taken the decision to cancel the interview process in recruiting the candidates for APPSC posts.
This decision has been taken to decrease the court cases against the APPSC recruiting organization. There are many allegations that candidates with less marks in the written test round are managing the interview process with bribe and getting the jobs. Though the candidates got less marks in the written test round, they are managing to get the jobs and Candidates who got merit in the written test fails to grab the opportunity. Due to this reason many of the contenders are approaching courts. And the recruitment process is getting delayed because of the court cases and hearings.
To avoid this practical risk, CM Jagan has taken the decision to cancel the interview round. The selection of candidates will be done as per the merit in the written test round. And there will not be any further interview rounds conducted for the merit candidates. Also, the CM expressed that, IITs and IIMs also have to be part of the recruitment process to recruit the candidates. To minimize the court cases and other allegations, the APPSC has to take the step to associate with IITs and IIMs.
As per the latest updates, the APPSC is going to implement the process of written test (only) to shortlist the candidates from 2020 onwards. AP CM YS Jagan has advised to the recruiting crew to avoid disturbances in the APPSC recruitment process and to make the process transparent. With this new methodology, candidates with real merit will be benefited and the recruitment process will also become more convenient. Also, there is a chance of minimizing the court cases against the organization.