APRJC Counselling Details 2019: APRJC CET Counselling Dates 2019 Rank Wise, Certificates verification, web counselling schedule has released at aprjdc.apcfss.in. Candidates can check APRJC 1st counselling dates, required documents for verification etc below.
APRJC Counselling Dates 2019 Rank Wise – APRJC 1st Counselling Dates, Certificates Verification @ aprjdc.apcfss.in
APREI Society has established the first Residential Junior College in the year 1975 at Nagarjuna Sagar, Guntur District with an objective to provide quality education to the talented children at Intermediate.Later No.of colleges increased as per the demand of the public. Presently, APREI Society is managing 10 AP Residential Junior Colleges. Out of 10 Colleges, 4 are for Boys, 02 for Girls and 01 for Co-Education, 02 for Minority Boys and 01 for Minority Girls.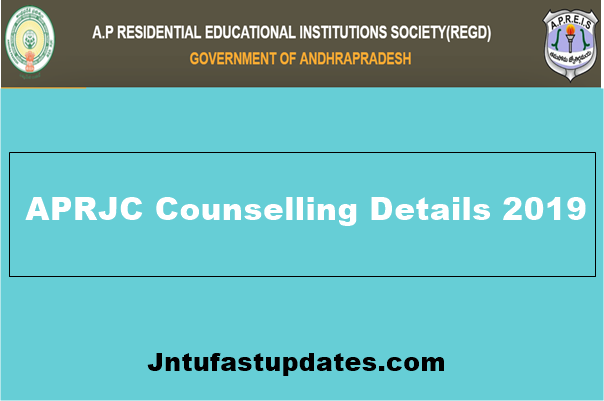 APRJC CET Counselling Dates 2019
ఆంధ్రప్రదేశ్‌ గురుకుల విద్యాలయాల సంస్థ ఆధ్వర్యంలోని జూనియర్, డిగ్రీ కళాశాలల్లో ప్రవేశాలకు ఈ నెల 9న నిర్వహించిన ఏపీఆర్‌జేడీసీ సెట్‌-2019 ఫలితాలను మే 21న‌ ఆ సంస్థ గుంటూరు కార్యాలయంలో విడుదల చేశారు. జూనియర్‌ కళాశాలల్లో ప్రవేశాల కోసం 67,877 మంది, డిగ్రీ కళాశాలల్లో ప్రవేశాలకు 8,657 మంది విద్యార్థులు పరీక్షలకు హాజరయ్యారు. ఫలితాలు వెబ్‌సైట్‌లో అందుబాటులో ఉన్నాయని నిర్వాహకులు తెలిపారు. జూనియర్‌ కళాశాలల్లోని 1,149 సీట్ల ప్రవేశాలకు మే 29 నుంచి కౌన్సెలింగ్‌ నిర్వహిస్తున్నారు. మొదటిరోజు ఎంపీసీ, ఈఈటీ, 30న బైపీసీ, సీజీడీటీ, 31న ఎంఈసీ, సీఈసీ కోర్సులకు కౌన్సెలింగ్‌ ఉంటుంది. ఆంధ్ర రీజియన్‌ విద్యార్థులకు గుంటూరులోని పాతబస్టాండ్‌ వద్ద ఉన్న ప్రభుత్వ బాలుర ఉన్నత పాఠశాల(పరీక్ష భవన్‌)లో, రాయలసీమ రీజియన్‌ విద్యార్థులకు కర్నూలులోని సిల్వర్‌ జూబ్లీ డిగ్రీ కళాశాలలో కౌన్సెలింగ్‌ ఉంటుందని నిర్వాహకులు తెలిపారు.
Details of APRJC CET Counselling Dates 2019 Rank Wise:
| | |
| --- | --- |
| Name of the Conducting Organization |  A.P Residential Educational Institutions Society (Regd) |
| Exam Name |  Andhra Pradesh Residential Junior College Common Entrance Test (APRJC CET) |
| Category |  APRJCET, APRDCET Counselling Details 2019 |
| Official Website |  aprjdc.apcfss.in |
| APRJC CET Exam Date |  9th May 2019 |
| APRJC CET Results Date |  21st May 2019 |
| APRJC Counselling Starts From |  29th May 2019 |
Admission will be made through counseling. First counseling for admission will be placed after 01.06.2019.
Documents Required for Certificates Verification:
All the candidates seeking admission into 1st year inter, should bring all the relevant Certicates and Documents as listed
below:
1. APRJC CET-2019 Hall Ticket/Rank card/Result Sheet
2. SSC Marks Memo 2019
3. Transfer and Conduct Certicates from the institution where the candidate last studied.
4. Caste Certicate
5. Income Certicate
6. Study Certicates from IX standard onwards issued by the Heads of the respective institutes OR Local Candidate Certicate issued by the competent authority in the prescribed format.
7. Four recent passport size photos.
8. If have any Special Category Certicate
9. Two sets of attested copies of all the above certicates/documents along Originals Set
Counselling Centers:
1. Guntur urdu Colleges for Andhra Region Students
2. Govt. Silverjubilee Degree College (Men), Kurnool, B- Camp, Kurnool District for Rayalaseema Region
Admission Counseling Centers for MJPAPBCWRJUNIOR Colleges
Students opting for MJPAPBCWR Junior College as first option shall be called for admission counseling at the following places.
Centers for counseling
| | | |
| --- | --- | --- |
| SL.No | District | Center for counseling |
| 1 | Srikakulam,Vizianagaram,Visakhapatnam(Boys and Girls) | MJPAPBCWR School Simhachalam, (Vishakhapatnam Dist) |
| 2 | East Godavari, West Godavari,Krishna,Guntur(Girls) | MJPAPBCWR School Simhachalam,(Vishakhapatnam Dist) |
| 3 | East Godavari, West Godavari,Krishna,Guntur(Boys) | MJPAPBCWR School Mopidevi,( Krishna Dist) |
| 4 | Prakasam, Nellore, Ysr Kadapa, Chittoor(Boys) | MJPAPBCWR School Doravarisathram, (SPSR Nellore Dist) |
| 5 | Ananthapuramu, Kurnool (Boys) | MJPAPBCWR School Lepakshi, (Ananthapuramu Dist) |
| 6 | Ananthapuramu, Chittoor (Girls) | MJPAPBCWR School Teklodu, (Ananthapuramu Dist) |
| 7 | Kurnool (Girls) | MJPAPBCWR School Nerawada,( Kurnool Dist) |
| 8 | SPSR Nellore, Kadapa, Prakasam (Girls) | MJPAPBCWR School Nandalur,( Ysr Kadapa Dist) |
Courses and number of seats offered at each College:
ALLOTMENT OF SEATS FOR COASTAL ANDHRA REGION STUDENTS ( 09 DISTRICTS) JURISDICTION FOR ADMISSIONS: SRIKAKULAM, VIZIANAGARAM, VISHAKAPATNAM, EAST GODAVARI, WEST GODAVARI, KRISHNA, GUNTUR, PRAKASAM AND S P S R NELLORE DISTRICTS OF COASTAL ANDHRA REGION
S. No.

Place of the College
Groups and strength
Total seats
Medium of instruction
MPC
BPC
CEC
MEC
EET
CGDT
1
APR  Junior  College (Girls),Thatipudi, Vizianagararn District.

60

40

–

30

–

–

130

English

2
APR Junior College (Co- Edn), Nimmakur, Krishna District.

50

30

30

25

21

21

177

English

3
APR  Junior  College (Boys), V.P.South, NSagar, Guntur District

68

51

39

42

–

–

200

English
4
APR  Junior  College (Boys) Venkatagiri, S P S R  Nellore District.
60
40
–
30
–
–
130
English
ALLOTMENT OF SEATS TO RAYALASEEMA REGION: (4 DISTRICTS) JURISDICTION FOR ADMISSIONS: CHITTOOR, ANANTHAPUR, YSR KADAPA AND KURNOOL DISTRICTS OF RAYALASEEMA REGION
S. No.

Place of the College
Groups and strength
Total strength
Medium of instruction
MPC
BPC
CEC
MEC
EET
CGDT
1
APR Junior College (Girls) Banavasi, Kurnool District.

60

40

–

30

–

–

130

English

2
APR Junior College, (Boys) Gyarampalli,Chittoor District.

60

40

–

30

–

–

130

English

3
APR Junior College (Boys) Kodigenahalli, Ananthapur Dt.

50

30

30

25

–

–

135

English

4

APR Junior College (co-edn), Nimmakur, Krishna District.

–

–

–

–

09

09

18

English

5
APR Junior College (Boys), NSagar,Guntur District.

12

9

06

03

–

–

30

English