Assam NRC Final List Result 2019 – How To Check NRC Name Status Online in NRC List PDF: National Register of Citizens (NRC) of India list or the NRC list for Assam state has been declared today, 31st August. NRC Assam list specifies that 19,06,657 people excluded from the list and 3, 11,21,004 persons found eligible for inclusion in final NRC. Assam NRC Final List 2019 has been released on nrcassam.nic.in. Citizen of Assam state can visit the portal and check NRC Assam final list.
Assam NRC Final List Result 2019 – Check NRC Name Status Online in Final List By ARN @ thefinalnrc.com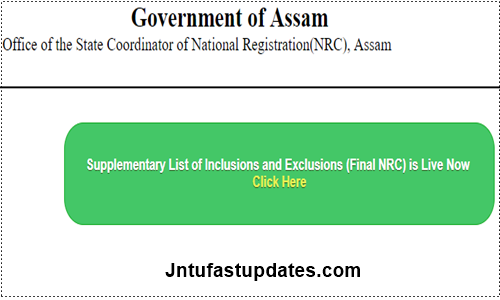 NRC Assam List Earlier Records
Earlier, the NRC Assam final list was released on 30th July 2018 with 3.29 registered names. In the previous list, more than 40 lakh application was rejected.
People who got rejected will have the option to register again. Out of 40 Lakh People, 36.2 People filed an inclusion request.
NRC Published Additional Draft List on 26th July 2019, in which More than 1.02 Lakh people were excluded, So that total number of Excluded people become More than 41 Lakh 10 thousand.
NRC Assam Final List
At present, the state government has unveiled NRC Assam final list today, 31st August at 10 AM on its official portal, nrcassam.nic.in. Assam citizen can check their name in the NRC Assam final list by visiting the portal. One can find whether their name is included/excluded in the list.
The state coordinator, Prateek Hajela tweeted that a total of 3,11,21,004 persons found eligible for inclusion in final NRC leaving out 19,06,657 persons including those who did not submit their claims. Those not satisfied with the outcome can file an appeal before Foreigners Tribunals.
Supplementary List of Inclusions and Exclusions (Final NRC) is Live Now
How to Check Assam NRC List [Online] Using ARN
It is easy to check Assam NRC final list using the Application Receipt Number (ARN), which has been given after the submission of the application form. The applicants have to check their name in the list using the ARN number. If the ARN Number is lost, one can know their number by calling the toll-free or helpline numbers of Assam state.
Dial 15107 if you are within Assam
Dial 18003453762 if your Currently Outside of Assam
The process to Check NRC Assam Final List
Visit the official website, nrcassam.nic.in or assam.mygov.in Or the aspirants can click the direct link given in this page.
Go to the NRC section on the homepage.
Click on the link, "Supplementary Inclusions/Exclusions Lists (Final NRC) status".
Enter your ARN Number, Captcha Code & Hit the "Search" button.
The page will be opened with Included/excluded names of Assam NRC Final List.
Checking NRC Final List Offline
Users can visit any of the nearest Nearest Seva Kendra or NSK to check their name status.
Visit http://maddoctech.com/knsk,
Enter the details of the district, circle, village, NSK, NSK Code.
Visit the nearest NSK and enquire for the NRC Assam status. The NSK will be open from 10 AM to 4 PM.