Best Online Coaching Classes for APPSC, TSPSC Groups, SI PC, RRB, & SSC Exams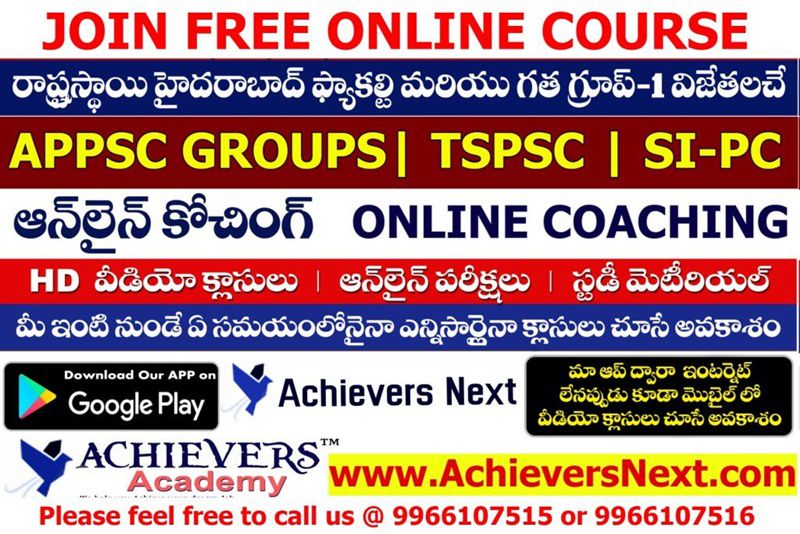 Why is Online Coaching Important Today? From the past few years, there is rise of increase in competitive exams across India. Slowly and gradually as on students are passing out from colleges, their inclination is diverting towards Government jobs. Today there are thousands of institutes that have been opened up in every corner of the city that is providing coaching to the aspiring students who want to clear government jobs and other competitive exams because without any guidance they are unable to clear out examination easily. Either they struck in prelims, mains or with interview session. To avoid with the heavy paying off coaching fees for classroom learning, many institutes have opened up online coaching classes for the exams. One such institute is the Achievers Academy which provides one of the best online coaching for Recruitment Exams conducted by various bodies like APPSC, TSPSC, APSLPRB, TSLPRB SI PC, RRB, etc.
With APPSC Group 2 notification and other APPSC recruitment notifications out during the first week of this year, registrations are in full swing and under process. With no time left to prepare in the span of two to three months coaching classes is one of the preferences by the candidates. It's a best option in the current scenario of delivering you the best Time to Output ratio. But wait, do you really think you can trade time to classes in this short period…?
Well, there comes the solution of this online coaching classes which will save you a lot of time and efforts. Even if you are a beginner or a revising candidate who just need a Fast-Track revision sort of thing, this is probably the best way designed for you. APPSC Groups Online coaching is being offered by various institutions around the state. Despite being lot of competitors, Achiever Academy's achieversnext.com is one of the best institutions that are in the market.
The lofty idea behind initiating the online video platform is to make the classes more affordable and effective at the same time. The expert team who back the courses here are basically the candidates who've already cracked the exam in the past (Unlike from some unrated failed attempt teaching staff you find in other institutions) delivering their expertise and experience through the course.
What are the features of APPSC Groups  & TSPSC  Online Test series ?
Online classes are available as per the topic, subject, model wise and Group type like Group 1, 2, 3 in APPSC & TSPSC exams.
Aspiring students have the facility to check the results and answer keys for the particular exam they have written.
Students will be able to check their rank and position among other students.
Some of the benefits of Achievers Academy APPSC Groups  & TSPSC Online tests
Students will have the complete facility to write online exams as per the chapter and subject. They will get to know their results instantly. The online exam will cover all the questions for each topic. Test series results are instant.
The final exam prepare them well for difficult level too so that students are very well versed with the pattern of questions that would come in the exam.
There is a complete APPSC Group 2 Online Screening Mock Test available which helps students to write APPSC Group 2 Exam online.
Registration Process
The registration process is very simple and easy to complete, you no need to pay for enrolling as it's completely free.
Visit the website achieversnext.com and click on the free sign up option on first page.
You will be headed to the enquiry form page where you can find need to submit details.
That's it, you're done. Go to the interactive video courses you are interested in.
The institute allows you to watch as many demo classes available in the site and also join free online course which contains preparation videos by previous Groups Toppers. If you feel like it is worth then, go ahead and click to purchase the courses.
Though the core value of the institution is to make the course easily accessible to the candidates across all the places, but it's highly recommended that it's you that have to find the best internet service provider for the uninterrupted experience of this online courses.
Achievers Academy offers online coaching classes for the following courses and for more information about them, you can click on the below links
APPSC Group 1
APPSC Group 2
APPSC Group 3 Panchayat Secretary
APSLPRB  & TSLPRB SI & Constable
RRB Junior Engineer & RRB NTPC Exams
TSPSC Group 1
TSPSC Group 2
TSPSC Group 3
SSC CGL
Subject wise courses
Online Coaching is preferred more as compared to classroom teaching because of the few reasons mentioned below:
Flexibility– Online coaching can be taken anytime and anywhere but required an internet facility. It makes study time flexible according to your requirement. It is great for working professionals who want to apply for multiple exams.
Social Interaction– It helps in providing one to one interaction, personally with complete assured attention from the instructor with better enhancement in learning and giving mock tests.
Expenses– For online coaching you only required one time fees payment and internet connection whereas classroom teaching requires tuition fees, books, travel cost, stationary and many other expenses.
Analysis– It becomes easy to track all your study as well as examination progress online. For instance Achievers Academy provides an application to track online progress of its students.
Schedule– There is no fixed timing for the classes. You can take it anywhere and with classroom teaching you have fixed 10-12 hours of learning time
What is Basically APPSC?
APPSC is called as Andhra Pradesh Public Service Commission which provides the aspiring students a job opportunity to serve Andhra Pradesh Government. APPSC has categorized its exams for different group's categories such as APPSC Group 1, APPSC Group 2, APPSC Group 3. All these examinations are leveled as per the requirement of the post, eligibility criteria and qualification of the student which is graduation in any subject .
In this article we will talk about APPSC Groups Coaching because Notifications for  APPSC Group 1, Group 2, Group 3 Panchayat Secretary Exams have been released and there is heavy percentage of students who appear for these exams. The Online Application process has also been completed as last date for applications for many posts has ended. Candidates can download hall tickets from Public Service Commission APPSC website. Candidates who apply online for APPSC Group 2 and other exams like Group 1 & Group 3 prepare very hard for their examination. It is the APPSC Final Exam that declares the career of most of the students.
Achievers Academy has highly experienced and expert faculty who help all its aspirants in preparing for the final evaluation of the tests and their career ends with the success of the examination. The institute believes that as the self evaluation can't be measured properly so the process of self evaluation is necessary to keep a check on student's progress. There are online practice tests for Groups Exams scheduled on regular basis so that students effectively gets connected to their groups study material. This kind of evaluation keeps students aware of their capability to stand among others so that they can prepare themselves very well with the further hard preparation of the exam.  It also keeps them aware of whether they require more preparation for APPSC Groups Exams.
There are two types of tests- APPSC Group 2 Screening Test which is taken in offline mode and other one is APPSC Group 2 Mains Test in online mode.  There are very less offline test options as compared to online tests. Many institutes such as Achievers Academy provide online test series too in two languages. APPSC Group 1, 2 & 3 online test is suggested to write for you in the selected medium because it is the best way to self evaluate yourself which will keep you updated with your capabilities and intelligence. Students can even download APPSC Group Material and Tests designed by experts.
What is TSPSC?
Telangana State Public Service Commission called as TSPSC in short is a recruitment body which conducts  exams for recruitment of State Civil Services posts under TSPSC Group 1, Group 2, & TSPSC Group 3 of Government of Telangana. The Application is process is completely done online on TSPSC Website. While Prelims exam is conducted in objective type questions & Mains is held in descriptive mode for Group 1 posts, the selection process for Group 2 and Group 3 has only Mains exam. Candidates desirous of appearing for the exams can apply online for TSPSC Group 1 Prelims, Group 2 or TSPSC Group 3 Notification 2019. Candidates can watch TSPSC news to get updates about TSPSC latest notifications.
What are APSLPRB and TSLPRB?
Andhra Pradesh State Level Police Recruitment Board is called as APSLPRB and Telangana State Level Police Recruitment Board is called as TSLPRB which conduct recruitment exams for posts like Sub-Inspector (SI) and Constable (PC) under Government of AP and government of Telangana respectively. Achievers Academy is providing online coaching classes for SI & PC exams for both prelims and mains including Reasoning and Arithmetic through short cut methods.
What exactly is RRB?
Railway Recruitment Board in short is called as RRB which is a recruitment agency to conduct examinations for various jobs under Indian Railways like RRB Junior Engineer (JE) and RRB Non Technical Popular Categories (NTPC) exam to recruit Commercial apprentice, Goods guard, Traffic Apprentice, Traffic Assistant, Assistant Station Master etc. all over India. RRB JE Notification and RRB NTPC Notification 2019 have been released and candidates can get online classes for RRB exams in both English & Telugu media by joining Achievers Academy Online courses for RRB exams.
What is SSC?
Staff Selection Commission (SSC) is a recruitment organization which conducts exams like Combined Graduate Level (CGL) for selection of posts to Government of India every year. Recently SSC CGL Notification 2019 has been released for recruitment to various posts including Junior Statistical Investigator. Achievers Academy offers the best coaching for SSC CGL for both Telugu and English Medium students.
On a concluder note, MAKE THE DECISIONS WISELY as the time left is extremely less and don't forget the competition of 10000 people competing with you for every single post. Have the best attitude of fixing "a post is for Mine" always.