Challenge Revaluation Info For 1-1 & 1-2 & MCA 1st Semester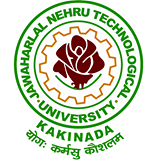 JNTUK, Kakinada – Examinations Branch – conduct of Challenge Re – valuation – Information sends to affiliated colleges principals concerned- Reg.
All the principals of affiliated colleges are hereby informed that the challenge re-valuation in respect of I B.Tech I Semester & I B.Tech/B.Pharm II Semester and MCA I Semester shall be conducted at JNT University Examinations Branch on 11-08-2014.
The following list of students who have applied for challenge re-valuation and principals are requested to inform the date and venue to their students concerned to appear for challenge re-valuation. Every student should be attended along with subject expert and report on 11-08-2014 at 9.00 am without fail. Subject experts are advised to come with full solution of the paper.
IB.TechISemester&IB.Tech/B.PharmIISemester&MCAISemester   Challenge Revaluation
S.No
HallTicket No
Subject Code
SubjectName
Branch
Semester
1
13P31A03D6
R13105
COMPUTER  PROGRAMMING
B.Tech
R-13
2
13BQ1A0435
R13109
ENGG.DRAWING
B.Tech
R-13
3
10U41A0544
R10203
ENGINEERING  PHYSICS-II
B.Tech
R-10
4
10101R0010
B1206
PHORGANICCHEMISTRY
B.Pharm
R-10
5
10101R0037
B1206
PHORGANICCHEMISTRY
B.Pharm
R-10
6
10A21F0012
MC915
PROBABILITYANDSTATISTICALAPPLICATIONS
MCA
R-09
Download Official Notification Here: Click Here