DD Sapthagiri Channel Today live: DD Sapthagiri Channel is expected to cast the Vidya Varadhi lessons from 13th July. The lessons for 1st class to 10th class will be telecasted on DD Sapthagiri (Doordarshan) channel on various timings.
State School Education Department (SSED) is planning to encourage students during this COVID period. The SSED is all set to telecast online classes for class 1st to class 10th through DD Sapthagiri channel.
DD Sapthagiri Channel Today live 10th, 9th, 8th, 7th, 6th to 1st Classes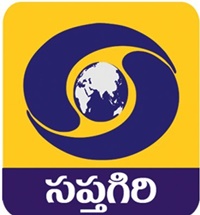 DD Sapthagiri Channel to Telecast Online Classes for Class 1 to 10: SSED is presently working on the way to telecast online classes to reach multiple students. The SSED is soon anticipated to announce the medium to telecast the online classes.
SSED is planning to reach the students through the TV channel instead of making habituated children to the Smartphones. Also, all the children may not be having the Smartphones to listen to the online classes.
DD Sapthagiri Online Classes Timings 1st to 10th Class
Revised schedule of "Vidya Varadhi (విద్యావారధి)" program on DD Saptagiri. Schedule from 13th July to 31st July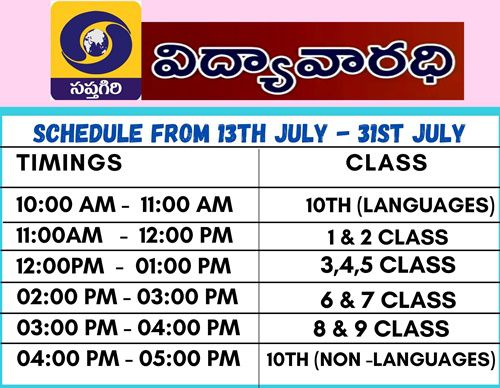 The 1st to 5th Class students will have their TV classes for two hours a day, from 11 AM to 01 PM.
1st, 2nd Class From 11 AM to 12 PM
3rd, 4th, 5th Class from 12 PM to 1 PM.
The Upper Primary and High School classes, from Classes VI to IX will be telecasted in the afternoon from 2 PM to 4 PM.
6th, 7th Class From 02 PM to 03 PM
8th, 9th Class from 03 PM to 04 PM.
Classes for the students of X will be telecasted in two sessions, the sources said. The language classes will be aired from 10 AM to 11 AM and the non-language classes from 4 PM to 5 PM.
DD Saptagiri Channel Number in tata sky, airtel dth, Dish Tv, videocon d2h, AP Fibernet, act, Sun Direct
Here, We are providing DD Saptagiri channel number on different cable services. Apart from this, you can go through the you tube channel, DD Saptagiri App and other social sites.
| | |
| --- | --- |
| DTH Service Provider | Channel Number |
| Tata Sky | 114 |
| BIG TV | 205 |
| DEN Network | 138 |
| AirTel Digital TV | 289, 148 |
| DD Free Dish TV | 002 |
| Hathaway | 261 |
| Videocon D2H | 149 |
| Dish TV | 193 |
| Sun Direct | 302 |
DD Saptagiri Youtube, Twitter, Website Official Links
Official Youtube Channel of DD Saptagiri: Youtube
Official Twitter account of DD Saptagiri: Twitter
Official Website of DD Saptagiri: Website
The SSED planning to adopt the CBSE workbook model to give the worksheets to the students and other assessment activities. This will help the students to improve their understanding skills.  
"State Council of Educational Research and Training (SCERT) has already prepared video lessons covering different subjects of all the classes. It is planned to be telecasted the same through the DD Saptagiri. Also, few more video lessons could also be prepared with the teachers as and when required," he added.
Further plans were in progress for interaction of teacher and students. As of now, the workbook pattern will be followed for homework and other tasks.
For the interaction, students and teachers need to use the mobiles. Students can reach the teachers through Whatsapp for doubts and other issues. Students will be guided by the teachers through Whatsapp.
Now, "efforts are on to figure out a way to address this issue," the sources said.