Online Degree Application: IIT Madras, India's top technical institute, welcomes you to the world's first online BSc Degree program in Programming and Data Science.
For the first time, you can work towards an undergraduate degree / diploma from an IIT regardless of your age or location, and with a wide range of academic backgrounds.
IITM Online Degree Application – Apply For BSC Online Degree Programme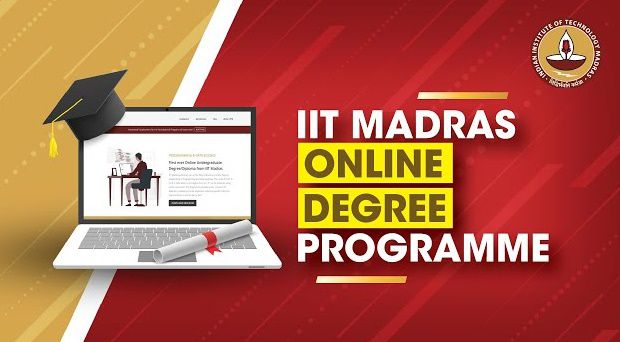 Admissions
This article covers all admissions related information – important dates, mandatory requirements, two different types of entry, eligibility, application process, qualifier process and qualifier exam.
To learn more about the program structure, term structure, course structure, assessments, exam cities, fee structure, foundational level courses, diploma level courses and degree level courses, visit official website.
Important Dates:
| | |
| --- | --- |
| Date to be announced shortly | Applications Open (Regular Entry) |
| 15th September 2020 tentatively* | Applications Close (Regular Entry)* |
| 5th October 2020 | Weekly release of Term 1 Qualifier courses content starts |
| 2nd November 2020 | Qualifier Exam Hall Ticket (only for those who get minimum required marks in Assignments) |
| 20th / 21st / 22nd November, 2020** | Qualifier Exam (only for those with Hall Ticket)** |
| 7th December, 2020 | Qualifier Exam Results |
| 11th December, 2020 to 3rd January 2021 | Registration for Term 1 (only for those who clear Qualifier Exam) |
| 4th January, 2021 | Foundational Level Batch 1 starts |
*We are limiting the maximum number of applications to 2,50,000. Hence, we will close receipt of applications on 15 September 2020 or once we receive 2,50,000 applications, whichever occurs first.
**Dates for in-person exams are subject to government restrictions prevalent at that time.
Mandatory Requirements
Access to good internet connection as well as a laptop/desktop device will be a key requirement to learn effectively from our courses.
Learner should be able to travel to assigned exam centres for quizzes and exams, each term. Check the list of exam cities where our exam centres are currently located.
Two Admission Paths
1. Regular Entry
Anyone joining the program via Regular Entry will join at the Foundational Level.
The Foundational Level courses allow for interested applicants with a variety of educational backgrounds to learn the basics (Math, Statistics, Computational Thinking, Python programming and English) which help them take up the Diploma Level and then the Degree Level courses.
There are three exit options for those who enter the program via Regular Entry:
Exit 1. Foundational Level certificate from Centre for Continuing Education, IIT Madras.
Exit 2. Diploma in Programming AND/OR Diploma in Data Science from IIT Madras
Exit 3. BSc Degree in Programming and Data Science from IIT Madras\
View Regular Entry section for details on Eligibility, Application Process, Qualifier Process, Qualifier Exam and Passing Criteria.
2. Diploma Only Entry
The Diploma Only Entry is primarily aimed at working professionals or learners who already possess the fundamentals taught in Foundational Level courses and wish to exit with one or two Diplomas (Diploma in Programming AND/OR Diploma in Data Science) from IIT Madras.
Learners entering via Diploma Only Entry can only do Diploma Level courses and cannot proceed to the Degree Level courses.
We have plans to open applications for Diploma Only Entry later in 2021. Details of Eligibility and Qualifier Exam will be provided soon.
Eligibility to apply
The candidate must have studied Mathematics and English in class 10.
They should have cleared class 12 or equivalent*. View list of accepted class 12 equivalents.
They should be currently enrolled in a Bachelor's Degree Program OR should have graduated with a Bachelor's Degree (BA, BSc, BE, BTech, BCom, etc.) OR they may have dropped out from a Bachelor's degree.
Anyone wishing to apply via Regular Entry must satisfy each of the 3 criteria above.
*As an exception this year, we are accepting applications from students who will complete their class 12 or equivalent in 2020. They will be allowed to take part in the Qualifier Process and Qualifier Exam, but will be allowed to join Foundational Level only upon joining a Bachelor's Degree Program at a college.
Application Process
When applications open, anyone who is eligible may apply by filling in the application form, uploading required documents and paying the application fee. Further details regarding application form and required documents will be made available soon.
Regular Entry application fee is Rs.3,000. Lesser fee for applicants belonging to Scheduled Caste (SC) or Scheduled Tribe (ST) category or Persons with Disabilities (PwD >= 40% benchmark disability). For details, check Fee Structure.
Online Degree Application (Apply Online)
Applications for the Online Program will open soon!