JNTUH Online Classes: Jawaharlal Nehru Technological University Hyderabad has recently brought the proposal of conducting the online classes for B.Tech and B.Pharmacy students. JNTUH has initially decided to give permissions for all the affiliated colleges before 15th July to conduct the online classes for students.
In the lieu of this, mixed views on online classes have pooled in a meeting conducted by the University Rector Acharya Govardhan. Few of the officials have expressed that the colleges may pressurise the students to pay the fee if the online classes started. Also, the lecturers will demand salary if the classes commence. If the students complain to the government about the fees that will become another big deal to handle for the government.
The Central Government has announced not to open the colleges before 31st July. While, the HRD Ministry has instructed the universities to offer the online classes for the students. Due to the conflicting decisions, the universities got confused about the online classes starting before 31st July. To avoid the unnecessary confusion, the universities have dropped the decision of conducting the online classes before 31st July. Unless until the clarity comes from the central government, the universities are unable to take decision on conducting the online classes.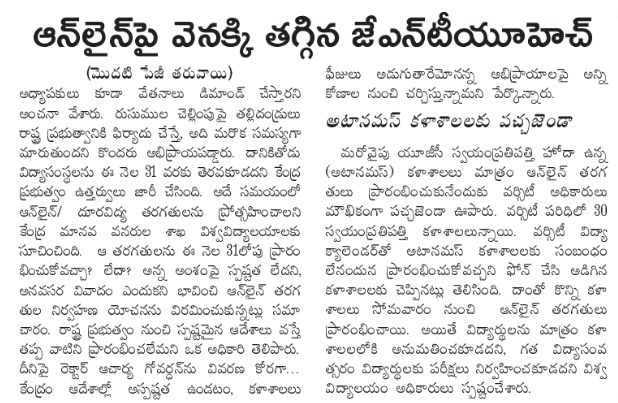 University Rector has mentioned that until the government issues the clear guidelines, the online classes will not be started. Also, he expressed that the university is under discussions on various issued concerning the academic fee collection and the salaries of the lecturers.
Autonomous Colleges Having Permission to Conduct Online Classes
On the other side, UGC has approved permission to autonomous colleges to conduct online classes. 30 autonomous colleges are presently working Under JNTUH. As there is no association with the varsity calendar, the autonomous colleges were given permission to conduct the online classes. The autonomous colleges started online classes from this Monday. While, the JNTUH has strictly mentioned that students will not be permitted to attend the classes in colleges and also not going conduct the examinations.