JNTUH M.Tech / M.Pharm / MBA / MCA Project Panels Notification July 2020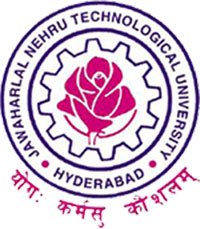 Sub: JNTUH – Exam Branch – M.Tech, M.Pharm, MBA & MCA Courses – Fee payment details and Procedure for Evaluation of Project (Viva-Voce Exam) JULY 2020. – Reg.
In connection with the conduct of Project Viva-Voce Examinations in the academic year– 2019-20 for R15, R17 regulations M. Tech/ M. Pharm/ MBA/ MCA R15, R17 regulations students, the Principals of all affiliated colleges offering these courses are informed that the payment of Project viva-voce exam fee is to be done in RTGS / IFSC mode only. The registration details are to be uploaded to the M.Tech, M.Pharm MBA and MCA project panels registration server by using URL: "registrations1.jntuh.ac.in" . The project viva-voce exams should be conducted as per instructions mentioned below:
1. The student is permitted to submit Project thesis, only after successful completion of all Theory and Practical courses.
2. The students can submit their Project to the college after completion of the duration of the project work. The last date for submission of projects in their respective colleges is extended up to 14-07-2020 for this phase.
3. The college should upload the list of panel, consisting of Three External Examiners (with Designation, Department, Working address and contact details) for a group of 4 or 5 Students with details of i) H.T.No & ii) Project title, to the portal on or before 28-07-2020 for approval. The project panels uploading service will be available from 21-07-2020.
4. The Fee for Project Viva-Voce Exam to be collected for M.Tech/M.Pharm/MBA/MCA courses is Rs. 3000/- per student. If the student has not paid the fee for the provisional certificate, a fee of Rs.210/- should also be collected and paid to university along with the University component of Viva-Voce examination. Out of Rs.3000/- an amount of Rs.2500 per student is to be retained by the college and the remaining amount of Rs.500/- should be paid to the University along with provisional certificate fee (if applicable) in the form of RTGS transfer and this RTGS receipt along with printout of uploaded panels should be submitted to under signed on or before 30-07 -2020.
5. The Project Evaluation Reports has to be uploaded to the server by using URL: "registrations1.jntuh.ac.in"on the same day of examination and the signed copy of evaluation report along with the photocopy of the University Proceedings (appointing the external examiners) should be sent to under signed after completion of Viva-Voce Examination.
6. No penalty may be levied to the student if a student submits project within one calendar year after completion of penultimate semester (6 months from the last semester). If the student is unable to submit the project within one calendar year, a penalty of Rs.5000/- will be levied for the first year of late submission,Rs.12000/- will be levied during second year of submission and Rs.18000/- will be levied during third year of submission, to the University.
Download the official notification here