JNTUK-Circular-Adhaar Enabled Biometric Attendance System – Reg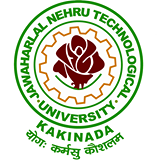 I am by the direction of the Hon'ble Vice Chancellor wish to inform that a meeting is convened with Principals and Management of affiliated colleges (West Godavari, Krishna, Guntur and Prakasam Districts) of JNTUK on 10-09-2016 at 10.00 AM in connection with Aadhaar Enabled Biometric Attendance System.
Our Hon'ble Vice-Chancellor Prof. V.S.S. Kumar Garu will address the gathering.
Programme Schedule
Date  : 10-09-2016 (Saturday)
Registration  :  10.00 to 10.30 AM
Inaugural Function  :  10.30 to 11.30 AM
Demonstration by Manufacturers & Vendor : 11.30 AM to 1.30 PM
Lunch : 1.30 PM
Venue  : P V P Siddhartha Institute of Technology (Autonomous), Kanuru, Vijayawada – 520007
ABOUT THE AADHAAR ENABLED BIOMETRIC ATTENDANCE SYSTEM
Aadhaar enabled Biometric Attendance System enables a student or an employee to register attendance by his or her Finger Print or Iris and get authenticated online with their bio-metric attributes stored with UIDAI. The Cloud-based software is operated from NIC National Data Centre and UIDAI. The front end system is the BAS tablets or desktop devices. Connectivity to devices is established through Wi-Fi/GPRS/LAN with Internet or SIM based GSM on tablets. Attendance request from a client is sent with attendance ID and Biometric Data to a Centralized Attendance Server. Aadhaar Number mapped against ID and fingerprint is sent to UIDAI for authentication. On valid authentication, attendance is marked and response is sent to the client mobile phone. The System has in-built leave management feature too. The website is enabled with graphical representations and all type of reports that are tailored to employer's and student's/employee's needs. The system helps not only in transparency of students/employees present, but also in disciplining the office and office-goers culture. This initiative is one of the government's milestones in reflection of a healthy and dignified image of Indian government among the people, in and out. Software modifications are also allowed to provide for differential timings of students/employees and different timings including shift duties within an organization.
ABOUT JNTUK, KAKINADA
The JNTU College of Engineering, Kakinada was established in the year 2007 as a constituent college of JNTU Hyderabad. Due to rapid expansion in the field of technical education in Andhra Pradesh the University, named JNTU Kakinada came into existence from 20th August 2008 and the JNTU College of Engineering Vizianagaram has become the constituent college of JNTU Kakinada. Recently the university established one more constituent college in Narasaraopet which is located in Guntur district.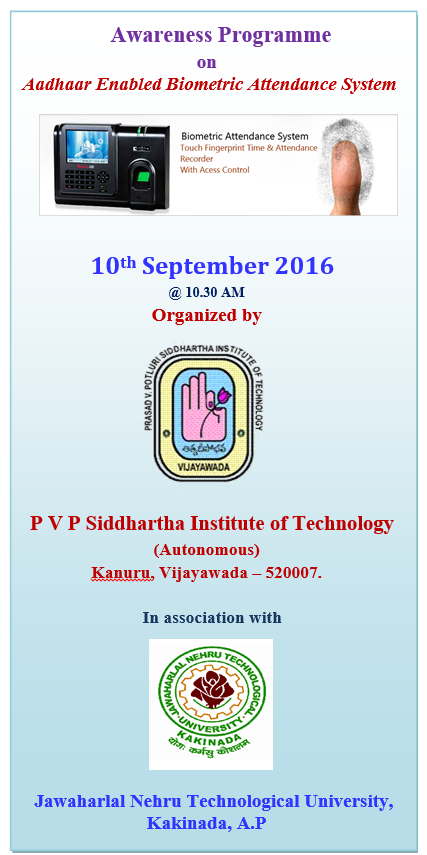 CONTACT INFORMATION
Dr. A. S. N. Chakravarthy, Professor,
MOOCs Co-ordinator, JNTUK, Kakinada Email: drasnchakravarthy@yahoo.com
Mobile No: 9701450555
Dr. K. Ramanjaneyulu, Professor
Dept. of ECE, PVPSIT
Email: kongara.raman@pvpsiddhartha.ac.in
Mobile No: 8985041343, 8886511222
Download the Official Notification Here : Click here