JNTUK B.Tech 3-2 Regular/ Supply Exams Jumbling Centers List April 2016, Jntu Kakinada University Released the Jumbling Exam Centers list for JNTUK 3-2 (R13, R10, R07, R05) Regular/ Supply Exams which are going to conduct in April 2016. Download the Centers list college wise From Below.
JNTUK B.Tech 3-2 Regular/ Supply Exams Jumbling Centers List April 2016 For all Districts :
JNTU Kakinada University is Planned to Continue the Same Jumbling Process to All the Semesters. JNTUK University Announced the Jumbling Confirmed news for JNTUK B.Tech/ B. Pharmacy 3-2 Regular/ Supplementary Exams 2015. Which are Going to Conducts From 04-04-2016. So, Primarily JNTUK Released the Jumbling Centers list for writing the Exams by Students from one college to another college without matching the same. JNTUK has Allotted the Jumbling Centers With in 15 Kms Maximum Otherwise given a Self Center, Said Mr.Udaya Bhaskar (JNTUK Director Evaluation).
Here We are Giving You JNTUK 3-2 Sem Exams Jumbling Centers Colleges List For All Districts College wise. So You can Download the List and Check the Route map and Prepare Accordingly without getting tense. Exams will be Starts in Morning Only.
Also Read : JNTUK B.Tech 3-2 Sem (R13,R10,R07,R05) Regular/Supply Exam Time Tables April 2016
Download JNTUK B.Tech/ B.Pharm 3-2 Sem Jumbling Centers College Wise List of All Districts :
These List can Made Change by JNTUK. We Cant Fix this is final Centers. Depends on Queries they will Change, otherwise this will be the final list.
Updated on 29th March 2016
West Godavari List
Prakasam District
Vizianagaram District
Vishakapatnam District
Krishna District
Guntur District
Srikakulam District
East Godavari
SELF Center's List For 3-2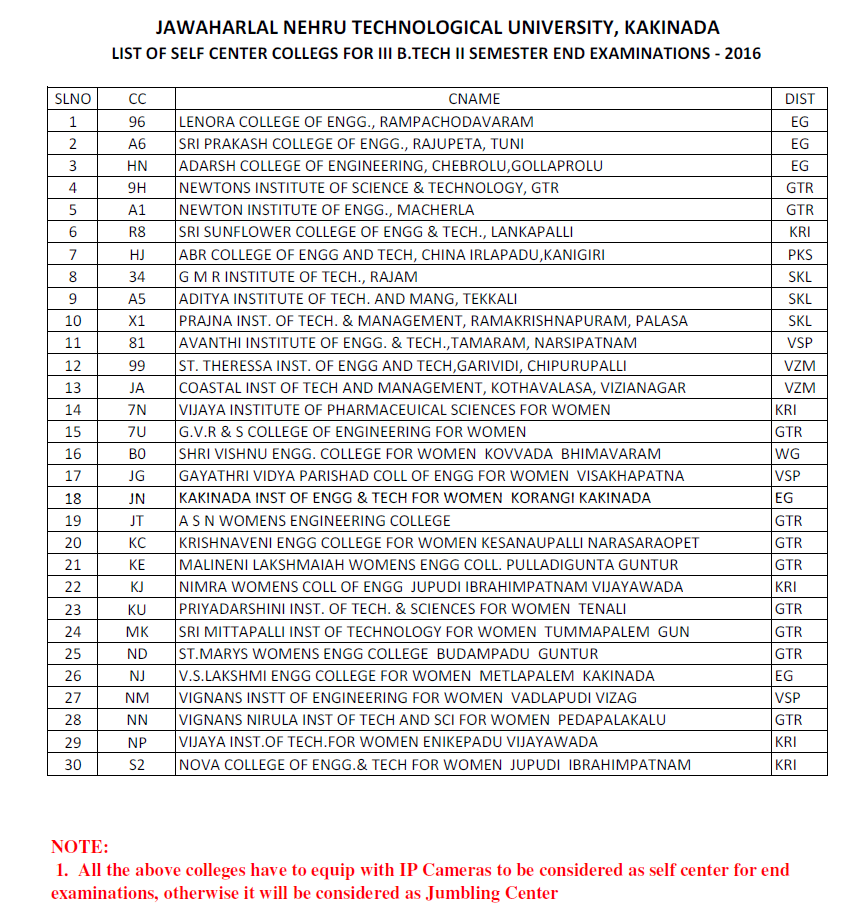 For More Details Please Visit : JNTU Kakinada Official website i.e., www.jntuk.edu.in or Contact respective colleges. For Final List Check at Your college exam cell.