The B.Tech/ B.Pharmacy students of JNTUK are requested to collect their PC & CMM on 23-07-2016 from 10.00 a.m to 6.00 p.m. by submitting the applications duly forwarded by the principal of the concerned college.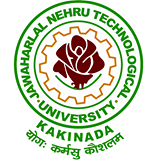 JNTUK B.Tech/B.Pharmacy Students Are Requested to Collect their PC & CMM on 23-07-2016
All the Principals of affiliated/constituent colleges of JNTU KAKINADA are here by informed that the Provisional certificates (PC) and consolidated marks memo (CMM) of B.Tech/B.Pharmacy courses will be issued on 23-07-2016 for the candidates who are eligible for the award of the degree. The Principals are requested to inform the candidates and upload the details of such candidates through the examinations portal on or before 21-07-2016 by 6.00 p.m.
Further, the Principals are requested to submit following to the controller of examinations (UG), JNTU KAKINADA on 23-07-2016 and collect the certificates from the office:
Applications for Provisional certificates and consolidated marks memo of each student along with the original and attested copies of all marks memos.
D.D/challan towards the application fee (Rs. 200 per candidate)
Note: Certificates will be issued for those candidates whose details are uploaded through the college examination portal.
Download the Official Notification Here : Click Here