JNTUK DAP Sports Council – Faculty of Physical Education – Ratifications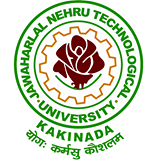 JNTUK DAP Sports Council – Faculty of Physical Education – Ratifications
I am by the direction of Hon'ble Vice Chancellor,  wish to inform to you that the ratification interviews for Faculty of Physical Education under JNTUK will be conducted in the chambers of the Vice Chancellor in the Administrative Block, JNTUK Kakinada on 26-09-2014  at 11.00 am.
Chairman (Chairperson) & Correspondent/Chairman/ Secretary & Correspondent/ Secretary/ Correspondent and Principals of the affiliated colleges are requested to come to JNTUK Kakinada and be a member of the ratification process.
You are requested to send the biodata of the Faculty of Physical Education with necessary enclosures along with the Demand Draft of Rs. 10,000/- (Ten Thousand Only), in favour of Registrar, JNTUK on or before 20-09-2014.
Please intimate the candidates to bring the original certificates of qualifications including relevant experience with appointment orders covering the details of scale of pay for the interview.
The Faculty of Physical Education who were already ratified by JNTUK Kakinada after formation of a separate University on 20th August 2008, and working with the same institution, are not required to attend the interviews.
For further details contact Director, Academics and Planning (DAP), JNTUK, Kakinada.