JNTUK List of detained candidates at end of B. Tech. II Year during the academic year 2014-15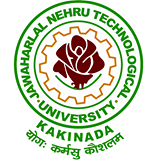 JNTUK List of detained candidates at end of B. Tech. II Year during the academic year 2014-15
Sub:     JNTUK Affiliated Colleges – DAP- List of detained candidates at end of B. Tech. II Year during the academic year 2014-15 – Implementation of Academic Regulations – Regarding
Ref:     Lr. No. JNTUK/DAP/Aca.Reg/ 2015-16/2, Dated: 10-08-2015
***
            You are aware that the B. Tech. students who have not fulfilled the minimum requirements are to be detained as per the academic regulations in force.
The partial modifications to applicable regulation of minimum credits for the students of R13 regulation admitted in the year AY 2013-2014 for the promotion to III year is
"A student will be promoted from II year to III year if he/she fulfills the academic requirement of 40% of the credits either up to II year I semester or  II year II semester from all the examinations, whether or not the candidate takes the examinations and secures prescribed minimum attendance in II year II semester."
The Principals of the affiliated Colleges shall send the list of detained candidates who failed to fulfill the minimum academic regulations immediately to Director, Academics & Planning and Director of Evaluation.