JNTUK Online Centralised Computer Center: Jawaharlal Nehru Technological University Kakinada (JNTU-K) will set up a Centralised Online Computer Centre at Dr B R Ambekar Library Building on the varsity premises and also set up University Library on the same premises.
According to JNTU-K Act, the university should be having a library and it should be linked to college libraries including affiliated colleges. Four years back, Dr B R Ambedkar Central Library was built at a cost of Rs 10 crores. But the university officials have not developed University Library and the University College of Engineering Kakinada (UCEK) Library has been shifted to the Central library. When some of the accreditation agencies visited the university, they found this lacuna and thus, the university lost its grade.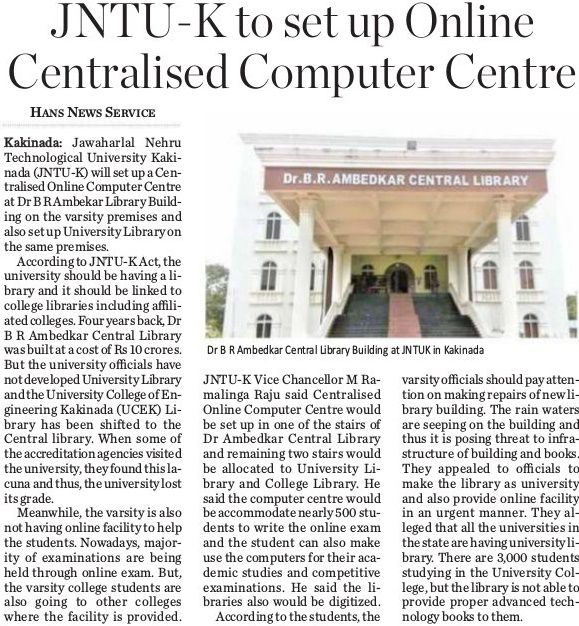 Meanwhile, the varsity is also not having online facility to help the students. Nowadays, majority of examinations are being held through online exam. But, the varsity college students are also going to other colleges where the facility is provided. JNTU-K Vice Chancellor M Ramalinga Raju said Centralised Online Computer Centre would be set up in one of the stairs of Dr Ambedkar Central Library and remaining two stairs would be allocated to University Library and College Library. He said the computer centre would be accommodate nearly 500 students to write the online exam and the student can also make use the computers for their academic studies and competitive examinations. He said the libraries also would be digitized.
According to the students, the varsity officials should pay attention on making repairs of new library building. The rain waters are seeping on the building and thus it is posing threat to infrastructure of building and books. They appealed to officials to make the library as university and also provide online facility in an urgent manner. They alleged that all the universities in the state are having university library. There are 3,000 students studying in the University College, but the library is not able to provide proper advanced technology books to them.
Source: https://www.thehansindia.com/andhra-pradesh/kakinada-jntu-kakinada-to-set-up-online-centralised-computer-centre-563017