JNTUK Prathibha Awards 2019 Selected Candidates List (2018-19 Passed out students)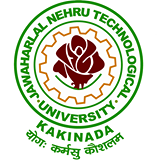 Sub: – JNTUK — DAP —Prathibha Awards — 2019 (2018-19 passed out students) for selected candidates of Constitute / Affiliated / Autonomous Colleges of the University — Reg.
Based on the details submitted by the Principals, the list of meritorious students for "PRATHIBHA AWARDS" of Constituent/ Autonomous/ Affiliated Colleges who passed out in the Academic Year 2018-19 is prepared in Category and Course wise as per the guidelines issued by the State Government vide reference cited.
The list is enclosed herewith. Discrepancies, if any, may be brought to the notice of the Director, Academic Audit, JNTUK, Kakinada on or before 06-11-2019 by 4:00p.m. through mail: daajntuk@gamil.com.