JNTUK R16 3-1 DDRCS Material/Notes PDF Download
Students those who are studying JNTUK R16 Civil Branch, Can Download Unit wise R16 3-1 Design & Drawing of Reinforced Concrete Structures Material/Notes PDFs below.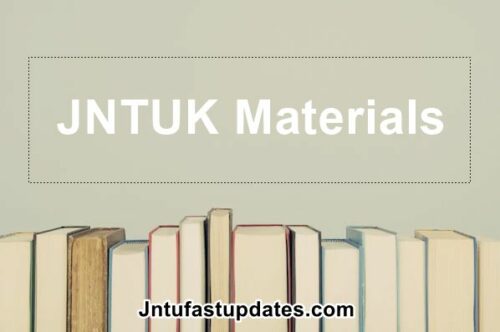 JNTUK R16 3-1 DDRCS Material/Notes PDF Download
OBJECTIVES:
Familiarize Students with different types of design philosophies
Equip student with concepts of design of flexural members
Understand Concepts of shear, bond and torsion
Familiarize students with different types of compressions members and Design
Understand different types of footings and their design
UNIT-1
Introduction: a) Working stress method: Design codes and handbooks, loading standards – Dead, live, wind and earthquake loads, Elastic theory: design constants, modular ratio, neutral axis depth and moment of resistance for balanced, under-reinforced and over-reinforced sections. Design of singly and doubly reinforced beams.
b) Limit State Design: Concepts of limit state design – Basic statistical principles – Characteristic loads –Characteristic strength – Partial load and safety factors – representative stress-strain curves for cold worked deformed bars and mild steel bars. Assumptions in limit state design – stress – block parameters – limiting moment of Resistance. All units i.e. from unit II to unit VI are to be taught in Limit State Design.
UNIT-2
Design for Flexure: Limit state analysis and design of singly reinforced sections- effective depth- Moment of Resistance- Doubly reinforced and flanged (T and L) beam sections- Minimum depth for a given capacity- Limiting Percentage of SteelMinimum Tension Reinforcement-Maximum Flexural Steel- Design of Flanged Sections (T&L)- Effective width of flange –Behavior- Analysis and Design.
UNIT-3
Design for Shear, Torsion and Bond: Limit state analysis and design of section for shear and torsion – concept of bond, anchorage and development length, I.S. code provisions. Design examples in simply supported and continuous beams, detailing. Limit state design for serviceability: Deflection, cracking and code provision, Design of formwork for beams and slabs.
UNIT-4
Slabs: Classification of slabs, design of one – way slabs, one way continuous slab using IS Coefficients (Conventional) –Design of two – way slabs-simply supported and various edge conditions using IS Coefficients .
UNIT-5
Design of Compression members: Effective length of a column, Design of short and long columns – under axial loads, uniaxial bending and biaxial bending – Braced and un-braced columns – I S Code provisions.
UNIT-6
Footings: Different types of footings – Design of isolated footings – pedestal, square, rectangular and circular footings subjected to axial loads, uni-axial and bi-axial bending moments.
Download links
---
NOTE: All the designs to be taught in Limit State Method
Following plates should be prepared by the students.
Reinforcement detailing of T-beams, L-beams and continuous beams.
Reinforcement detailing of columns and isolated footings.
Detailing of one-way, two-way and continuous slabs and waist-slab staircase.
FINAL EXAMINATION PATTERN: The end examination paper should consist of Part A and Part B. Part A consists of two questions in Design and Drawing out of which one question is to be answered. Part B should consist of five questions and design out of which three are to be answered. Weightage for Part – A is 40% and Part- B is 60%.
TEXT BOOKS:
Limit State Design, A. K. Jain
2. Design of Reinforced concrete Structures, N. Subrahmanyian
3. Reinforced Concrete Structures, S. Unnikrishna Pillai & Devdas Menon, Tata Mc.Graw Hill, New Delhi.
REFERENCE BOOKS:
R C C Design, B.C Punmia, A. K. Jain and A. K Jain. Lakshmi Publications
Reinforced Concrete Structures, N. Krishna Raju & R. N. Pranesh, New Age Publications.
IS Codes:
1) IS -456-2000 Code of practice for Reinforced Concrete Structures (Permitted to use in examination hall)
2) IS – 875
3) SP-16
OUTCOMES:
Work on different types of design philosophies
Carryout analysis and design of flexural members and detailing
Design structures subjected to shear, bond and torsion
Design different type of compression members and footings