JNTUK R16 3-1 DMM-2 Material/Notes PDF Download
Students those who are studying JNTUK R16 Mechanical Branch, Can Download Unit wise R16 3-1 Design of Machine Members–II Material/Notes PDFs below.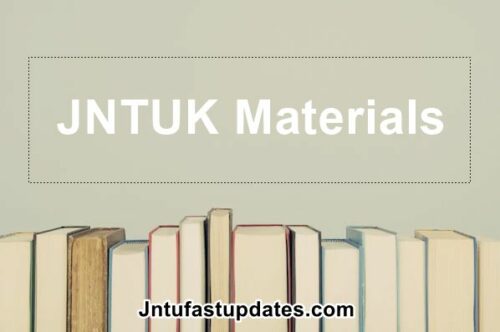 JNTUK R16 3-1 DMM-2 Material/Notes PDF Download
OBJECTIVES:
This course gives the insight of slider and roller bearings and the life prediction.
Learn to design I.C engine parts
Design the mechanical systems for power transmission elements such as gears,belts,ropes,chains, keys and levers
UNIT-1
BEARINGS: Classification of bearings- applications, types of journal bearings – lubrication – bearing modulus – full and partial bearings – clearance ratio – heat dissipation of bearings, bearing materials – journal bearing design – ball and roller bearings – static loading of ball & roller bearings, bearing life.
Download UNIT-1 Material PDF | Reference-2
UNIT – 2
ENGINE PARTS: Connecting Rod: Thrust in connecting rod – stress due to whipping action on connecting rod ends – cranks and crank shafts, strength and proportions of over hung and center cranks – crank pins, crank shafts. Pistons, forces acting on piston – construction design and proportions of piston, cylinder, cylinder liners.
Download UNIT-2 Material PDF | Reference-2
UNIT –3
Design of curved beams: introduction, stresses in curved beams, expression for radius of neutral axis for rectangular, circular, trapezoidal and t-section, design of crane hooks, c –clamps.
UNIT – 4
POWER TRANSMISSIONS SYSTEMS, PULLEYS: Transmission of power by belt and rope drives, transmission efficiencies, belts – flat and v types – ropes – pulleys for belt and rope drives, materials, chain drives
DESIGN OF POWER SCREWS: Design of screw, square ACME, buttress screws, design of nut, compound screw, differential screw, ball screw- possible failures.
UNIT – 5
SPUR & HELICAL GEAR DRIVES: Spur gears- helical gears – load concentration factor – dynamic load factor, surface compressive strength – bending strength – design analysis of spur gears – estimation of centre distance, module and face width, check for plastic deformation, check for dynamic and wear considerations.
Download UNIT-5 Material PDF | Reference-2
UNIT – 6
MACHINE TOOL ELEMENTS: Levers and brackets: design of levers – hand levers-foot lever – cranked lever – lever of a lever loaded safety valve- rocker arm straight – angular- design of a crank pin – brackets- hangerswall boxes.
Wire Ropes: Construction, Designation, Stresses in wire ropes, rope sheaves and drums.
---
TEXT BOOKS:
Machine Design/V.Bandari/TMH Publishers
Machine Design/ NC Pandya & CS Shaw/ Charotar publishers
Design data book.
REFERENCE BOOKS:
Machine Design: An integrated Approach / R.L. Norton / Pearson Education
Mech. Engg. Design / JE Shigley/Tata McGraw Hill education
Design of machine elements- spots/Pearson Publications
Machine Design-Norton/Pearson Publications
OUTCOMES:
The student will able to select the suitable bearing based on the application of the loads and predict the life of the bearing
Design power transmission elements such as gears, belts, chains, pulleys, ropes, levers and power screws.
Design of IC Engines parts.