JNTUK R19 2-1 Transportation Engineering-1 Material PDF Download
Students those who are studying JNTUK R19 CIVIL Branch, Can Download Unit wise R19 2-1 Transportation Engineering-1 Material PDFs below.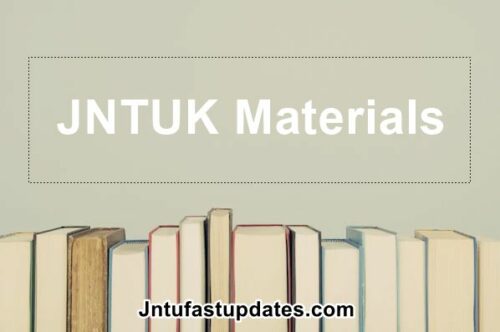 JNTUK R19 2-1 Transportation Engineering-1 Material PDF Download
Course Objectives: This course is designed to:
To impart different concepts in the field of Highway Engineering.
To acquire design principles of Highway Geometrics and Pavements
To acquire design principles of Intersections
NOTE:
Reference-2 Material added.
UNIT-1
Highway Planning and Alignment: Highway development in India; Classification of Roads;Road Network Patterns; Necessity for Highway Planning; Different Road Development Plans– First, second, third road development plans, road development vision 2021, Rural RoadDevelopment Plan – Vision 2025; Planning Surveys; Highway Alignment- Factors affectingAlignmentEngineering Surveys – Drawings and Reports.
UNIT-2
Highway Geometric Design: Importance of Geometric Design- Design controls and Criteria- Highway Cross Section Elements- Sight Distance Elements-Stopping sight Distance, Overtaking Sight Distance and Intermediate Sight Distance- Design of Horizontal Alignment-Design of Super elevation and Extra widening- Design of Transition Curves- Design of Vertical alignmentGradients- Vertical curves.
UNIT-3
Traffic Engineering: Basic Parameters of Traffic-Volume, Speed and Density- Traffic Volume Studies; Speed studies –spot speed and speed & delay studies; Parking Studies; Road Accidents-Causes and Preventive measures – Condition Diagram and Collision Diagrams; PCU Factors, Capacity of Highways – Factors Affecting; LOS Concepts; Road Traffic Signs; Road markings; Types of Intersections; At-Grade Intersections – Design of Plain, Flared, Rotary and Channelized Intersections; Design of Traffic Signals –Webster Method –IRC Method.
Download UNIT-3 Material PDF | Reference-2
UNIT-4
Highway Materials: Subgrade soil: classification –Group Index – Subgrade soil strength – California Bearing Ratio – Modulus of Subgrade Reaction.
Stone aggregates: Desirable properties – Tests for Road Aggregates –
Bituminous Materials: Types – Desirable properties – Tests on Bitumen – Bituminous paving mixes: Requirements – Marshall Method of Mix Design.
Download UNIT-4 Material PDF | Reference-2
UNIT-5
Design Of Pavements: Types of pavements; Functions and requirements of different components of pavements; Design Factors Flexible Pavements: Design factors – Flexible Pavement Design Methods – CBR method – IRC method – Burmister method – Mechanistic method – IRC Method for Low volume Flexible pavements.
Rigid Pavements: Design Considerations – wheel load stresses – Temperature stresses –Frictional stresses – Combination of stresses – Design of slabs – Design of Joints – IRC method – Rigid pavements for low volume roads – Continuously Reinforced Cement Concrete Pavements – Roller Compacted Concrete Pavements
Download UNIT-5 Material PDF | Reference-2
---
TEXT BOOKS:
1. Highway Engineering, Khanna S. K., Justo C. E. G and Veeraragavan A, Nem Chand Bros., Roorkee.
2. Traffic Engineering and Transportation Planning, Kadiyali L. R, Khanna Publishers, New Delhi.
REFERENCES:
1. Principles of Highway Engineering, Kadiyali L. R, Khanna Publishers, New Delhi
2. Principles of Transportation Engineering, Partha Chakroborthy and Animesh Das, PHI Learning Private Limited, Delhi
Course Outcomes: Upon the successful completion of this course, the students will be able to:
Plan highway network for a given area.
Determine Highway alignment and design highway geometrics.
Design Intersections and prepare traffic management plans
Judge suitability of pavement materials and design flexible and rigid pavements