JNTUK R19 3-1 Environmental Engineering-2 Material PDF Download
Students those who are studying JNTUK R19 Civil Branch, Can Download Unit wise R19 3-1 Environmental Engineering – II Material/Notes PDFs below.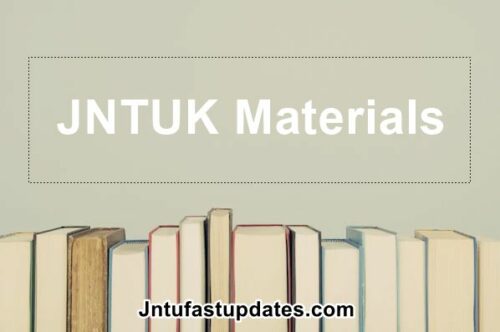 JNTUK R19 3-1 Environmental Engineering-2 Material PDF Download
OBJECTIVES:
Outline planning and the design of wastewater collection, conveyance and treatment systems for a community/town/city
Provide knowledge of characterisation of wastewater generated in a community
Impart understanding of treatment of sewage and the need for its treatment.
Summarize the appurtenance in sewerage systems and their necessity
Teach planning, and design of septic tank and imhoff tank and the disposal of the effluent from these low cost treatment systems
Effluent disposal method and realise the importance of regulations in the disposal of effluents in rivers
UNIT-1
Introduction to Sanitation – Systems of sanitation – relative merits & demerits – collection and conveyance of wastewater – sewerage – classification of sewerage systems- Estimation of sewage flow and storm water drainage – fluctuations – types of sewers – Hydraulics of sewers and storm drains– design of sewers.
Download UNIT-1 Material PDF | Reference-2 | Ref-3
UNIT-2:
Sewer appurtenances – cleaning and ventilation of sewers. Pumping of wastewater: Pumping stations – location – components– types of pumps and their suitability with regard to wastewaters.
House Plumbing: Systems of plumbing-sanitary fittings and other accessories– one pipe and two pipe systems – Design of drainage in Gate communities, Apartments and Hotels.
Download UNIT-2 PART-B Material PDF | Reference-2
UNIT-3:
Sewage characteristics – Sampling and analysis of wastewater – Physical, Chemical and Biological Examination-Measurement of BOD and COD – BOD equations. ThOD and Nirogen Oxygen Demand.
Download UNIT-3 PART-A Material PDF | Reference-2
Ultimate Disposal of sewage: Methods of disposal – disposal into water bodies-Oxygen Sag Curve- Disposal into sea, disposal on land, Crown corrosion, Sewage sickness. Effluent standards.
Download UNIT-3 PART-B Material PDF | Reference-2
UNIT-4:
Treatment of Sewage: Primary treatment- Screens- Grit chambersGrease traps– floatation– Sedimentation – Design of preliminary and primary treatment units.
Secondary treatment: Aerobic and anaerobic treatment processcomparison.
Suspended growth process: Activated Sludge Process, principles, designs, and operational problems, modifications of Activated Sludge Processes, Oxidation ponds, Aerated Lagoons.
Attached Growth Process: Trickling Filters – mechanism of impurities removal – classification – design, operation and maintenance problems. RBCs, Fluidized bed reactors.
Download UNIT-4 Material PDF | Reference-2 | Ref-3
UNIT-5:
Miscellaneous Treatment Methods: Nitrification and DenitrificationRemoval of Phosphates – UASB–Membrane reactors- Integrated fixed film reactors. Anaerobic Processes: Septic Tanks and Imhoff tanks- working Principles and Design– Reuse and disposal of septic tank effluent, FAB Reactors.
Download UNIT-5 PART-A Material PDF | Reference-2
Bio-solids (Sludge) management: Characteristics-SVI, handling and treatment of sludge-thickening – anaerobic digestion of sludge, Sludge Drying Beds. Centrifuge. Case studies.
Download UNIT-5 PART-B Material PDF | Reference-2
---
TEXT BOOKS:
Wastewater Engineering Treatment and Reuse, Metcalf & Eddy, Tata McGraw-Hill edition.
Industrial Water and Wastewater Management, K.V.S.G. Murali Krishna.
Elements of Environmental Engineering, K. N. Duggal, S. Chand & Company Ltd. New Delhi, 2012
REFERENCE BOOKS:
Environmental Engineering, Howard S. Peavy, Donald R. Rowe, Teorge George Tchobanoglus – Mc-Graw-Hill Book Company, New Delhi, 1985
Wastewater Treatment for Pollution Control and Reuse, Soli. J Arceivala, Sham R Asolekar, Mc-GrawHill, NewDelhi; 3rd Edition
Environmental Engineering –II: Sewage disposal and Air Pollution Engineering, Garg, S. K., Khanna Publishers
Sewage treatment and disposal, P. N. Modi & Sethi.
Environmental Engineering, Ruth F. Weiner and Robin Matthews – 4th Edition Elsevier, 2003
Environmental Engineering, D. Srinivasan, PHI Learning Private Limited, New Delhi, 2011.
OUTCOMES:
Plan and design the sewerage systems
Select the appropriate appurtenances in the sewerage systems
Analyze sewage and suggest and design suitable treatment system for sewage treatment
Identify the critical point of pollution in a river for a specific amount of pollutant disposal into the river
Suggest a suitable disposal method with respect to effluent standards.