JNTUK R19 3-2 Automobile Engineering Material/Notes PDF Download
Students those who are studying JNTUK R19 Mechanical Branch, Can Download Unit wise R19 3-2 Automobile Engineering (AE) Material/Notes PDFs below.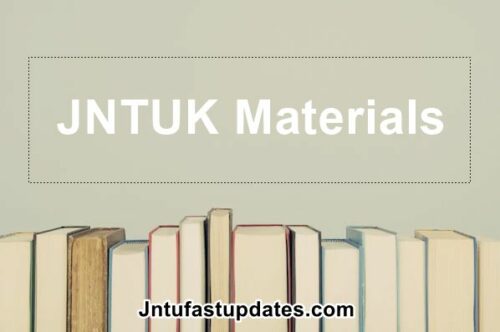 JNTUK R19 3-2 Automobile Engineering Material/Notes PDF Download
OBJECTIVES:
Understand the basic lay-out of an automobile.
Understand the operation of engine cooling, lubrication, ignition, electrical and air conditioning systems.
Understand the principles of transmission, suspension, steering and braking systems.
Understand automotive electronics.
Study latest developments in automobiles.
UNIT-1
Introduction: Components of four wheeler automobile – chassis and body – power unit – power transmission – rear wheel drive, front wheel drive, 4 wheel drive – types of automobile engines, engine construction – engine lubrication, splash and pressure lubrication systems, oil filters, oil pumps – crank case ventilation – engine service, reboring, decarburization, Nitriding of crank shaft. Emission from Automobiles – Pollution standards, National and international – Pollution Control – Techniques – Noise Pollution & control.
UNIT-2
Fuel System: S.I. Engine: Fuel supply systems, Mechanical and electrical fuel pumps – carburetor – types – air filters – petrol injection.
C.I. Engines: Requirements of diesel injection systems, types of injection systems, fuel pump, nozzle, Alternative fuels for Automobiles-injection,Classification,Properties, Hybrid vehicles injection timing, testing of fuel, pumps.
Download UNIT-2 Material PDF
UNIT-3
Cooling System: Cooling Requirements, Air Cooling, Liquid Cooling and Forced Circulation System – Radiators – Types – Cooling Fan – water pump, thermostat, evaporating cooling – pressure sealed cooling – antifreeze solutions.
Ignition System: Function of an ignition system, battery ignition system, constructional features of storage battery, auto transformer, contact breaker points, condenser and spark plug – Magneto coil ignition system, electronic ignition system using contact breaker, electronic ignition using contact triggers – spark advance and retard mechanism.
UNIT-4
Electrical System: Charging circuit, generator, current – voltage regulator – starting system, bendix drive mechanism solenoid switch, lighting systems, Horn, wiper, fuel gauge – oil pressure gauge, engine temperature indicator etc.
Transmission System: Clutches, principle, types, cone clutch, single plate clutch, multi plate clutch, magnetic and centrifugal clutches, fluid fly wheel – Gear boxes, types, sliding mesh, construct mesh, synchro mesh gear boxes, epicyclic gear box , over drive torque converter. Propeller shaft – Hoatch – Kiss drive, Torque tube drive universal joint, differential rear axles – types – wheels and tyres
UNIT-5
Steering System: Steering geometry – camber, castor, king pin rake, combined angle toe in, center point steering. Types of steering mechanism – Ackerman steering mechanism, Davis steering mechanism, steering gears – types, steering linkages.
Suspension System: Objects of suspension systems – rigid axle suspension system, torsion bar, shock absorber, Independent suspension system.
Braking System: Mechanical brake system, Hydraulic brake system, Master cylinder, wheel cylinder tandem master cylinder Requirement of brake fluid, Pneumatic and vacuum brakes.
---
TEXT BOOKS:
Automobile Engineering by Kripal Singh Vol. 1 & Vol. 2
Automobile Engineering by K.M Gupta, Umesh publication, Vol. 1 & Vol. 2,
REFERENCE BOOKS:
A System approach to Automotive Technology by Jack Erjavec YesDee publishing pvt Ltd.
Automobile Engineering by William Crouse
Automotive Mechanics by Heitner
Alternative fuels of Automobiles by P.Rami Reddy, Frontline publications
OUTCOMES:
Describe the basic lay-out of an automobile and its components and enlist the emission standards of an automobile.
Describe different engine cooling, lubrication, ignition, electrical and air conditioning systems and suggest suitable systems for a given application.
Explain the principles of transmission, suspension, steering and braking systems.
Describe various fuel supply systems in SI and CI engines