JNTUK B.Tech R20 Regulation Academic Regulations PDF Download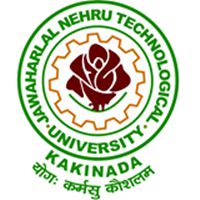 ACADEMIC REGULATIONS (R20) FOR B.TECH. (REGULAR)
Jawaharlal Nehru Technological University Kakinada (JNTUK) 2020 Regulations (R20 Regulations) applicable to all affiliated colleges are given hereunder. These regulations govern the B. Tech programmes offered by all affiliated colleges with effect from the students admitted to the programmes in academic year 2020-21.
1. Courses of study:
The following courses of study are offered at present as specializations for the B. Tech. Courses in the jurisdiction of all affiliated colleges of JNTUK.
2. Medium of Instruction:
The medium of instruction of the entire B. Tech undergraduate programme in Engineering & Technology (including examinations and project reports) will be in English only.
3. Admissions:
Admission to the B. Tech Programme shall be made subject to the eligibility, qualifications and specialization prescribed by the A.P. State Government/University from time to time. Admissions shall be made either on the basis of the merit rank obtained by the student in the common entrance examination conducted by the A.P. Government/University or on the basis of any other order of merit approved by the A.P. Government/University, subject to reservations as prescribed by the Government/University from time to time.
4. Programme Pattern:
a) Total duration of the of B. Tech (Regular) Programme is four academic years
b) Each Academic year of study is divided in to two semesters.
c) Minimum number of instruction days in each semester is 90.
d) Grade points, based on percentage of marks awarded for each course will form the basis for calculation of SGPA (Semester Grade Point Average) and CGPA (Cumulative Grade Point Average).
e) The total credits for the Programme are 160.
f) A three-week induction program is mandatory for all first year UG students and shall be conducted as per AICTE/UGC/APSCHE guidelines.
g) Student is introduced to "Choice Based Credit System (CBCS)".
h) A pool of interdisciplinary and job-oriented mandatory skill courses which are relevant to the industry are integrated into the curriculum of concerned branch of engineering (total five skill courses: two basic level skill courses, one on soft skills and other two on advanced level skill courses)
i) A student has to register for all courses in a semester.
j) All the registered credits will be considered for the calculation of final CGPA.
k) Each semester has – 'Continuous Internal Evaluation (CIE)' and 'Semester End Examination (SEE)'. Choice Based Credit System (CBCS) and Credit Based Semester System (CBSS) as indicated by UGC and course structure as suggested by AICTE are followed.
l) A 10 months industry/field mandatory internship, both industry and social, during the summer vacation and also in the final semester to acquire the skills required for job and make engineering graduates to connect with the needs of the industry and society at large.
m) All students shall be mandatorily registered for NCC/NSS activities.
n) Each college shall assign a faculty advisor/mentor after admission to each student or group of students from same department to provide guidance in courses registration/career growth/placements/opportunities for higher studies/GATE/other competitive exams etc.
5. Subject/Course Classification:
All subjects/courses offered for the undergraduate programme in E & T (B. Tech degree programmes) are broadly classified as follows.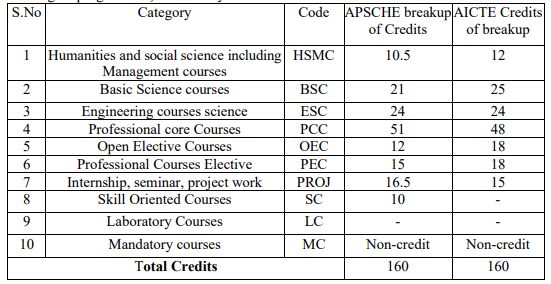 Attendance Requirements
a) A student is eligible to write the University examinations if he acquires a minimum of 40% in each subject and 75% of attendance in aggregate of all the subjects.
b) Condonation of shortage of attendance in aggregate up to 10% (65% and above and below 75%) may be granted by the College Academic Committee. However, this condonation concession is applicable only to any two semesters during the entire programme.
c) Shortage of Attendance below 65% in aggregate shall not be condoned.
d) A student who is short of attendance in a semester may seek re-admission into that semester when offered within 4 weeks from the date of commencement of class work.
e) Students whose shortage of attendance is not condoned in any semester are not eligible to write their end semester examination of that class.
f) A stipulated fee of Rs. 500/- in the concerned semester shall be payable towards condonation of shortage of attendance. Students availing condonation on medical ground shall produce a medical certificate issued by the competitive authority.
g) A student will be promoted to the next semester if he satisfies the (i) attendance requirement of the present semester and (ii) minimum required credits.
h) If any candidate fulfills the attendance requirement in the present semester, he shall not be eligible for readmission into the same class.
i) For induction programme attendance shall be maintained as per AICTE norms.
j) For non-credit mandatory courses the students shall maintain the attendance similar to credit courses
Evaluation-Distribution and Weightage of marks
(i) Paper setting and evaluation of the answer scripts shall be done as per the procedures laid down by the University Examination section from time to time.
(ii) For non-credit mandatory courses, like Environmental Sciences, Universal Human Values, Ethics, Indian Constitution, Essence of Indian Traditional Knowledge, the student has to secure 40% of the marks allotted in the internal evaluation for passing the course. No marks or letter grade shall be allotted for all mandatory non-credit courses.
(iii) A student is deemed to have satisfied the minimum academic requirements if he has earned the credits allotted to each theory/practical design/drawing subject/ project etc by securing not less than 35% of marks in the end semester exam and minimum 40% of marks in the sum total of the internal marks and end semester examination marks together.
(iv) Distribution and Weightage of marks: The assessment of the student's performance in each course will be based on Continuous Internal Evaluation (CIE) and Semester-End Examination (SEE). The performance of a student in each semester shall be evaluated subject–wise with a maximum of 100 marks for theory subject and 50 marks for practical subject. For theory subjects the distribution shall be 30 marks for Internal Evaluation and 70 marks for the End Examinations.

Download the R20 Academic Regulations PDF : Click Here (Revised on 30-09-2021)