KCET Revised Schedule for verification of Documents 2018 @ kea.kar.nic.in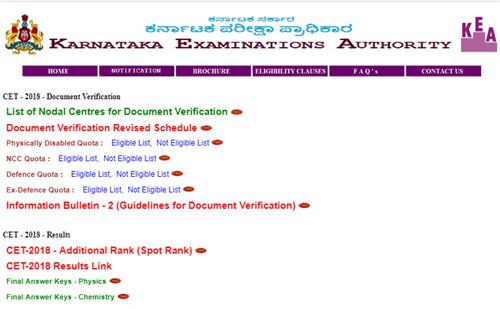 Document Verification Revised Schedule
1. Verification of documents will be done at once for all the disciplines for which the candidate is eligible. If the candidate is eligible for more than one discipline i.e,, for Medical / Dental, Engineering, Architecture, ISM & H, Farm Science, B-Pharm and Pharm-D,2no year B-Pharm (Lateral Entry), then the documents will be verified for all the disciplines at once;
2. However, the candidate is eligible for claiming Religious Minority or Linguistic Minority in Medical and Dental courses can also appear for this document verification as per their CET rank in any discipline, However, they have to come for document verification of those reservations whenever they called for NEET Verification for Medical and Dental courses,
3. The candidates who are qualified / eligible only in UGNEET 2018 for Medical / Dental (not assigned any rank in CET-2018) have to attend UGNEET-2018 document verification later when the schedule is published for NEET verification,
4. If a candidate has got multiple ranks, then he / she can come to the Helpline Centre on the scheduled date as per his / her highest rank either in Veterinary or ISMH or Engineering or Architecture or Farm Science course and need not come again for other ranks in other disciplines.
The candidates SHOULD NOT attend the verification process based on Agriculturist Quota Rank (Practical Rank).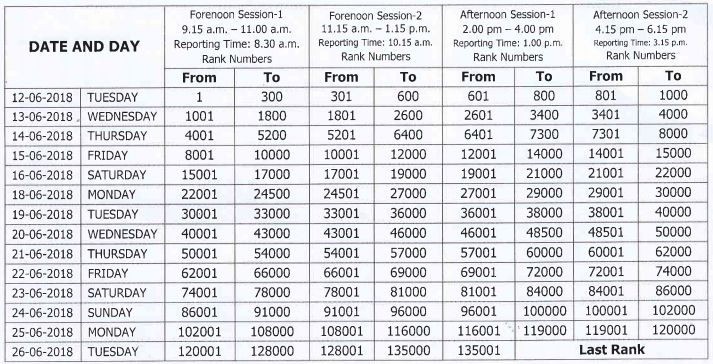 Download the Official Notification Here: Click here