KVS Admission 2020 Application Form Apply Online: Kendriya Vidyalaya Sangathan (KVS) released the admission guidelines for the academic year 2020-21. Students seeking to get admission in class 1 to class 12th can clearly check the KVS admission notification 2020 to understand the clear procedure. Students who are seeking to get admission in class 1 to 12 can fill up the online application form from 20th July onwards.
The KVS has released the notification on 17th July and made accessible of the application forms from 20th July. Hence the students or parents can visit the KVS portal, kvsangathan.nic.in or kvsonlineadmission.kvs.gov.in to fill up the KVS admission application form 2020-21. By visiting the KVS official portal, students can check the eligibility criteria for admissions, and can fill up the application form.  
KVS Admission 2020 Apply Online (Started) – Class 1 to 12 Kendriya Vidyalaya Sangathan Application Form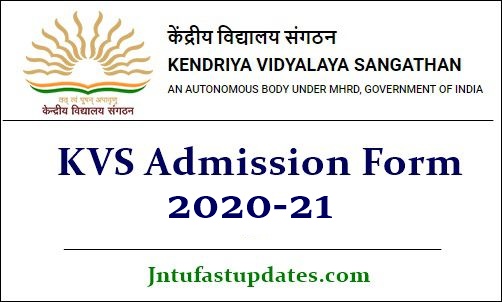 Kendriya Vidyalaya Sangathan (KVS) is the central government organization that runs various schools across the nation. KVS offers admission every year for students. KVS is also having 3 schools outside the nation. Overall, 1193 schools were functioning in India and abroad. This is one of the most popular educational organization that many students aspiring to get admission. KVS every year offers admissions to students based on the number of seats. Students with good merit will be filtered to get admission. Who are waiting keenly for KVS admission notification 2020 can check it on KVS portal. The notification is presently accessible on KVS official website, kvsangathan.nic.in. KVS Admission Application form 2020 is accessible from 20th July onwards. Students who are having the matching eligibility criteria can apply through online at KVS official website.
KVS Admission Notification 2020-21 – Important Details
| | |
| --- | --- |
| Name of Authority | Kendriya Vidyalaya Sangathan (KVS) |
| Academic Session | 2020-21 |
| Admission in | Class 1 to 11 |
| Mode of Application Form | Online / Offline |
| Article Category | KV Admission 2020 |
| KVS Application Starting Date | 20th July 2020 |
| KVS Application Last Date | 7th August 2020 |
| Official Website | kvsangathan.nic.in OR kvsonlineadmission.kvs.gov.in |
KVS Admission 2020 – Eligibility Criteria
KVS Admissions 2020 – Reservation
| | |
| --- | --- |
| Category | Reservation % |
| Schedule Tribe (ST) | 7.5% |
| Schedule Caste (SC) | 15% |
| Differently abled candidates | 3% |
| Economically weaker sections (EWS) of the society | 25% |
KVS Admission Priority-wise
1st Preference = Central Government employees Children.
2nd Preference = Army and Ex-Army's children.
3rd Preference = Government employees' children.
4th Preference = Single girl child quota.
5th Preference = Private or self-employed personnel's Children.
Defense/central and state government job Holders – Priority Hierarchy
1st pref. to ward of transferable central govt. staff and ex-servicemen.
2nd pref. for non-transferable central government worker and ex-servicemen.
3rd to ward of PSU/ autonomous bodies/ Institute if Higher Learning of GOI.
4th to transferable state government employees.
5th pref. to ward of state government non-transferable employees.
Last to children of any category if seats are vacant.
KVS Admission 2020 Detailed Eligibility Criteria for Class 1 to Class 11
Class 1st Admission
15% Seats are reserved for SC Category.
7.5% Seats are reserved for ST Category.
In the first phase of admission, 10 seats (Out of 40) to be filled as per RTE Provisions (25% of seats) and 10 seats will be filled from all applicants of SC / ST / EWS / BPL/ OBC Category.
In the Second Phase of admission, remaining seats are filled as per category wise.
Class 2 to Class 8 Admission
KVS authority is not conducting any admission test for admission in class II to Class VIII.
The admission process will be done on the basis of the Category System.
If the number of applicants are more then, the number of seats then the department will be followed the lottery system.
Admission in Class 9th
KVS Department will be organizing the Admission Test for admission in Class 9th. Candidates can get admission on the basis of merit. The merit list will be prepared category wise.
In admission test questions will be asked from various subjects like English, Hindi, Maths, Social Science and Science.
The duration of the admission test is 03 Hours.
Question Paper will be of 100 Marks and 20 Marks for each subject.
Candidates must score 33% marks to qualify the test while the SC / ST / Divyang category candidates have to secure a minimum of 25% Marks.
Class 11th Admission
Students will have to get the marks in their class X as mentioned below.
Humanities Stream- All students who have passed the class X examination
Science Stream- Students must have obtained at least 60% marks aggregate in all the subjects.
Commerce Stream- Students must have obtained a minimum 55% marks aggregate in all the subjects.
KVS Admission Apply Online Link: https://kvsonlineadmission.kvs.gov.in/index.html
KVS admission 2020: Admission under MP quota
Under the MP quota, the member of Lok Sabhaand Rajya Sabha are given the special permission to recommend a certain number of students for admission.
The recommendation by the MPs will be made from class 1 up to class 11 only.
The admission will be granted only at the starting of the academic year. No admission will be given under the MP quota after the academic year has already started.
The students who are recommended must satisfy all the eligibility criteria.
The admission will be given beyond the strength of the class.
Kendriya Vidyalaya Required Documents For Admission
Birth Certificate (Age proof) for Class-I.
Proof of relationship for Grandchildren of KVS employees.
Proof of relationship for Grandchildren of PSU employees and Members of Parliament.
Proof of residence
Certificate of disability/handicapped
Category certificate (SC/ST/EWS/OBC/BPL)
Certificate of retirement for uniformed defense employees.
Certificate showing the no. of transfers.
KVS Fee Structure
Admission Fees
Rs 25/-
Re-Admission Fees
Rs 100/-
Tuition Fee
Class IX & X (Boys)
Rs 200/-
Class XI & XII Commerce & Humanities (Boys)
Rs 300/-
Class XI & XII Science (Boys)
Rs 400/-
Computer Fund
Class III onwards wherever Computer Education is being imparted
Rs 100/-
Computer Science Fee (For Elective Subjects) + 2 Stage
Rs 150/-
Vidyalaya Vikas Nidhi (Classes I-XII)
Rs 500/-
Kendriya Vidyalaya Admission Form/Application form 2020
Initially, KVS will publish the admission notification from 20th July on its portal, kvsangathan.nic.in
Also, KVS Admission Notification will be printed on various newspapers.
KVS application form will be accessible offline from the school's office.
The admission forms can be available at principal's office for free of cost.
Parents/students have to fill up the application form with all correct details.
After filling up the application carefully, attach all the required documents along with the application form and submit it at the KVS office before the last date.
Must to remember is that, all the documents need to be attested by a gazetted officer and the application form must be filled with accurate information.
KVS Admission 2020-21 Clear Schedule
Events
Schedule Date
1. प्रवेश के लिए विज्ञापन Advertisement for admission
17th July 2020
2. कक्षा-I के लिए पंजीकरण – ऑनलाइन माध्यम से Online Registration for Class-I
20th July 2020
3. कक्षा-I के लिए ऑनलाइन पंजीकरण की अंतिम तिथि. Last date of Online Registration for Class-I.
7th August 2020
4. a) Declaration of provisional select and
waiting list of registered candidates
सभी पंजीकृत विद्यार्थियों की चयनित एवं प्रतीक्षा सूची
का प्रदशिन
(b) Admission of eligible candidates of selected
list in following order:
(i) RTE
(ii) From Service Priority Category (I and II)
only
(iii) Shortfall of Reservation Quota
after
admission in (i) and (ii) above
चयनित उपरोक्त जारी सूची के अनुसार विद्यार्थियों ं के
प्रवेश का आरंभ निम्न क्रम में :
(i) शिक्षा के अधिकार के अंतर्गत चयनित
(ii) सेवा श्रेणी वरीयिा क्रम श्रेणी I एवं II में से चयलनि
(iii) उपरोक्त में शामिल आरक्षित कोटे में में भरी सीट ं के
बाद रिक्त सीट पर प्रवेश
1st list on :- 11th August 2020 2nd list on:- 24th August 2020
(if seats remain vacant) 3rd List on:- 26th August 2020 (if seats remain vacant)
5. कक्षा-II तथा अन्य कक्षाओं का पंजीकरण (in offline
mode)( कक्षा -XI को छोड़कर) – कक्षा- विशेष में रिक्तियॉ होने की स्थति में
.
Registration for Class – II onwards (except Class XI)
–
Subject in offline mode to availability of
vacancies in a particular class.
20th July 2020 to 25th July 2020
6. कक्षा द्वितीय तथा आगे की कक्षाओं के लिए सूची जारी करना
Declaration of list of class II onwards
29th July 2020 at 4:00 PM
7. कक्षा द्वितीय तथा आगे की कक्षाओं के लिए प्रवेश Admission for class II on wards.
30th July 2020 to 7th August 2020
8. के वी के छात्र / छात्रा : कक्षा – XI में प्रवेश के लिए पंजीकरण For KV students: Registration for admission in class XI.
Within a week of declaration of class X results
9. के वी के छात्र / छात्रा : कक्षा – XI के लिए प्रेवश सूची जारी करना KV students: Display of admission list & admissions for Class – XI.
Within a two of declaration of class X results
10. गैर के वी के छात्र / छात्रा : कक्षा – XI में प्रवेश के लिए पंजीकरण , प्रवेश सूची जारी करना एवं प्रवेश ( रिक्तिया होने की स्थिति में ) Non – KV students: Registration, display of admission list & admissions in class XI ( Subject to availability of vacancies )
After the admissions of KV students in class X
11. कक्षा 11 सहित सभी कक्षाओं में प्रवेश की अंतिम तिथि Last date of admission for all classes including XI.
15th September 2020 (Tuesday) (tentative , depending on the declaration of class X result)
KVS Admission Notice 2020 & Application Form Download Here
| | |
| --- | --- |
| RTE & Single Girl Lottery Schedule | Available Soon |
| Check KV Application Status | Available Soon |
| KVS Admission dates 2020 | Available now |
| KVS Admission Guideline (with changes in admission schedule) | Click Here |
| KVS Admission Notice | Available Now |
| KVS admission notification | Check Here |
| KVS online admission app class 1 | Android |
| Pro Forma Documents Samples | Check Here |