Palamuru University Degree 1st, 3rd Sem Notification Jan 2022 BA, B.Com, B.Sc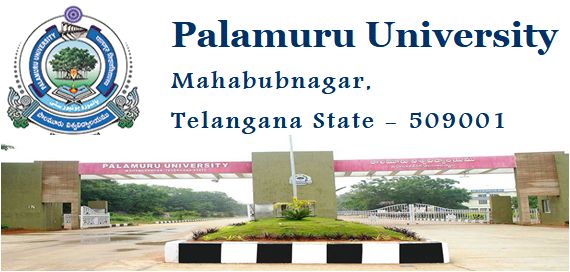 Palamuru University UG B.A./B.Com./B.Sc./B.B.A./B.A.(L) (CBCS) Semester-I & III (Regular/Backlog) Examinations Notification – January 2022
It is hereby notified to all the eligible candidates of B.A./B.Com./B.Sc./B.B.A./B.A.(L) (CBCS) Semester-I & III (Regular), Semester-I (Backlog: 2019-20 & 2020-21 Batches only), Semester-III (Backlog : 2019-20 Batch only) Examinations-2022 under CBCS that the schedule for the payment of examination fee and the submission of examination application forms (EAF) is as follows. The detailed time table will be notified later.
Palamuru University Notification 2022
To Students: Payment of Examinations fee and submission of Examination application forms at their respective colleges.
Without late fee : 04-02-2022
With late fee of Rs. 200/- : 08-02-2022
SPECIAL INSTRUCTIONS TO THE PRINCIPALS
The online EAF College logins will be closed by 09-02-2022 by 05.00 P.M.

The late fee amount will be levied automatically in case the fee is not remitted to the Registrar, P.U. A/c and if forms are not submitted as per the above schedule.

Principals are requested not to forward/submit the EAF of not eligible candidates to the Exam Branch. The results of not eligible candidates will be cancelled at any stage, even if they have written the examination.
Principals of all UG colleges are informed that they should not direct students to the Examination Branch, P.U. for late fee after the due date.
Note : Not to collect the Exam fee (Collect only Memo fee Rs.75/-) from Blind, Physically Disabled, Deaf & Dumb students. A Xerox Copy of Medical Certificate confirming their status as Handicapped (minimum percentage of disability must be of 40%) must be attached with the Application forms. Blind, Physically Disabled, Deaf & Dumb Students Application forms should be submitted separately along with Separate Nominal Roll.
Download the Official Notification Here: Click Here