Palamuru University Degree Notification Oct 2019 For 1st, 3rd, 5th Sem BA, B.Com, B.Sc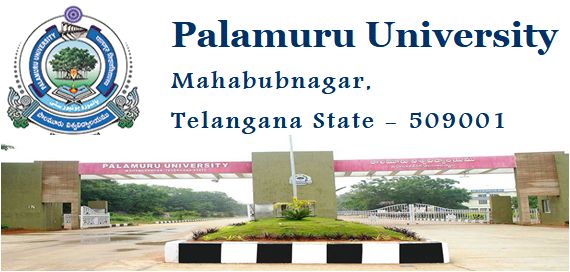 B.A./B.Com./B.Sc./ B.B.A (CBCS) Semester I, III and V Semester (Regular / Backlog) Examinations–2019
It is hereby notified to all the eligible B.A./B.Com./B.Sc./B.B.A I, III & V Semester (Regular/Backlog) candidates under CBCS that the schedule for the payment of examination fee and submission of the examination application forms (EAF) at their respective colleges.
PU Notification Oct 2019
Descriptions
Last dates
Without late fee
With late fee of Rs.200/-
With late fee of Rs.500/-
To Students:

Payment of Examinations fee and submission of Examination application forms at their respective colleges.

22-10-2019
26-10-2019
29-10-2019
To Colleges:

1. Remittance of consolidated Examination fee to Registrar, Palamuru University Exam Fee Fund A/C No.62078258948

2. Preparation & Submission of E.A.F. Online

25-10-2019
28-10-2019
30-10-2019
Submission of printed EAF form along with NR & Fee Abstract etc., to the Exam Branch, P.U
31-10-2019
SPECIAL INSTRUCTIONS TO THE PRINCIPALS
The online EAF College logins will be closed by 30-10-2019 by 5 P.M.
The late fee amount will be levied automatically in case the fee is not remitted to the P.U. A/c and if forms are not submitted as per the above schedule.
"Principals are requested not to forward/submit the EAF of not eligible candidates to the Exam Bran The results of not eligible candidates will be cancelled at any stage, even if they have written the examination."
Principals of all UG colleges are informed that they should not direct students to the Examination Branch, P.U. for late fee, otherwise disciplinary action will be initiated.
Note:
1. The detail of Examination Fee schedule is enclosed.
2. The exact date of commencement of the Examinations and detailed time table will be notified later.
3. The Examination application forms of I, III & V – Semester eligible students are to be submitted online through college login. Also, hardcopy of the same may be downloaded and submitted to the examination branch duly signed by the Student and the Principal concerned along with photocopy of Qualifying Examination.
Download the Official Notification Here
To Get Latest Updates Download JFU App
| Results | Time Tables | Notifications |