Apply Online For 18252 Vacancies : RRB Non Technical Recruitment 2016 Notification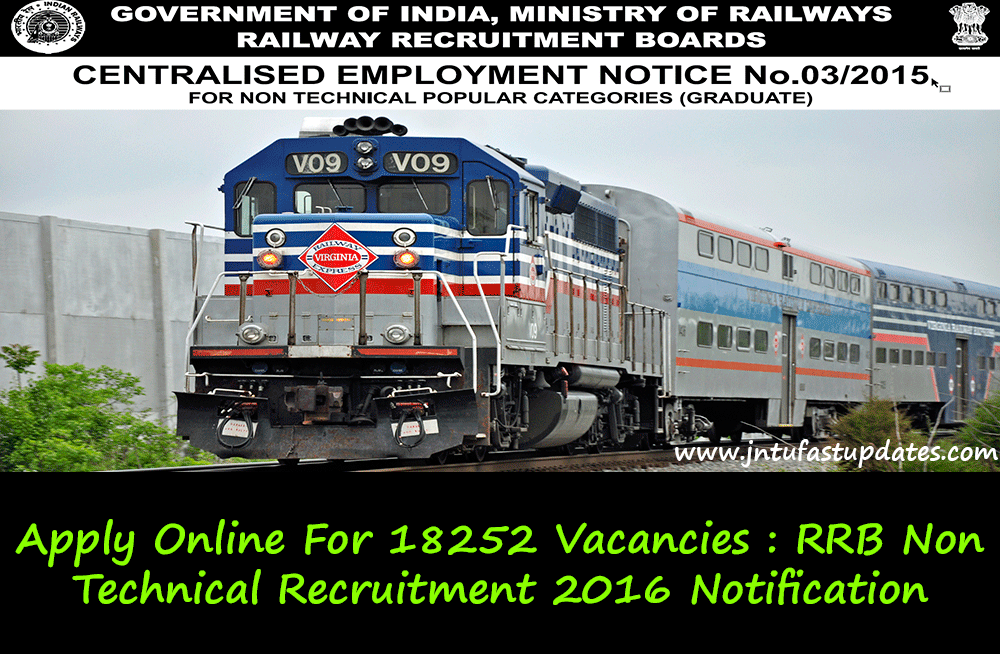 The railway recruitment board has issued an employment notification of RRB 2016 recruitment. Through this RRB fill up total 18252 Non Technical vacant posts. It is good chance for that job seeker who wants to get railway jobs 2016 and have desire to work in this railway recruitment department as nontechnical staff.
If you were looking for railway jobs in India, the latest Railway Recruitment Board (RRB) notification ­2016 to fill 18252 jobs in Indian Railways must excite you.With Indian Railways being the 2nd largest rail network in the world, we don't need any introduction about this massive organization that is managed by Govt of India`s Ministry of Railways. Railway Recruitment Board (RRB) are responsible for the recruitment of Group C positions & currently there are 21 RRBs functioning across India. Through these boards ­ exams, selections, interviews & various other tests for that particular zone is conducted.
Important Dates :
Date of publication: 26.12 2015
Date & Time of Closing: 25.01.2016 up to 23.59 Hrs.
Tentative dates/slot of Common Computer Based Test/Examination: MARCH-MAY, 2016.
ONLINE applications are invited from eligible Indian Nationals for the above mentioned posts. Applications complete in all respects should be submitted only ONLINE to the concerned Railway Recruitment Board as mentioned in Para -16 of General Instructions of this notification, till 23.59 hrs of closing date.
Candidates are required to apply only through ONLINE mode. No other mode for submission of application is allowed.
Name of the posts:
Commercial Apprentice (CA): 703 Posts
Traffic Apprentice (TA): 1645 Posts
Inquiry cum Reservation Clerk (ECRC): 127 Posts
Goods Guard: 7591 Posts
Junior Accounts assistant cum Typist (JAA): 1205 Posts
Senior Clerk cum typist: 869 Posts
Assistant Station Master (ASM): 5942 Posts
Transport Assistant: 166 Posts
Senior Time Keeper: 04 Posts
Number of the posts: 18252 vacancies
1. CANDIDATES TO ENSURE THEIR ELIGIBILITY BEFORE APPLYING: The candidates applying for the post(s) of Commercial Apprentice (CA), Traffic Apprentice (TA), Enquiry-Cum-Reservation Clerk (ECRC), Goods Guard, Senior Clerk-Cum-Typist, Junior Accounts Assistant-Cum-Typist (JAA), Assistant Station Master (ASM), Traffic Assistant & Senior Time Keeper must ensure that they fulfill all eligibility conditions prescribed for the post(s) on the date of submitting application. Admission of the candidates for the CBT for the posts notified in this notification would be on the basis of the information furnished by them in the ONLINE application. If at any stage of recruitment orthereafter, it is found that any information furnished by the candidate in his application is false sincorrect or the candidate has suppressed any relevant information or the candidate otherwise does not satisfy the eligibility criteria for the post(s), his/her candidature Will be cancelled forthWith.
There shall be single stage common CBT (Computer Based Test) for all the notified categories followed by aptitude Test/Typing skill Test wherever necessary as mentioned in Para – 8 of this notification. Only single application (i.e. common for all notified categories) is required to be submitted ONLINE by the candidate. The candidate is required to exercise option for the post(s) as per his/her eligibility. After final submission of the application, the option for all those posts/categories once exercised shall be final.
The candidate is also required to exercise five preferences of cities for allotment of online exam centre. Efforts will be made to accommodate preferences for cities as far as feasible. However, RRBs reserve the right to allot exam centres in other cities also depending upon exigencies.
2. EXAMINATION FEE: No examination fee for candidates belonging to SC/ST/Ex-Servicemen / Women / Minorities / Transgenders/Persons with Disabilities and Economically backward classes (refer to General Instructions Para 4). For UR/OBC male candidates not coming within the purview of exempted categories, as above, examination fee is Rs 100/(Rupees One Hundred Only).
3. HOW TO APPLY: Candidates are required to apply through ONLINE mode to ANY ONE RRB ONLY, on the website of concerned Railway Recruitment Board (RRB) as indicated in Para 16. Detailed instructions for filling up ONLINE applications are available on the website of RRB(s). Brief Instructions to fill up of the same are given in Para Nos. 5 and 5 (A) of this notification. Application to more than one RRB will lead to rejection of all the applications.
4. LAST DATE FOR RECEIPT OF APPLICATIONS: The ONLINE application, complete in all respects, can be submitted to RRB concerned up to 25.01.2016 till 23.59 Hrs. No physical copy of application / document is required to be sent to RRBS.
5. SAME DAY EXAMINATION: Common CBT (Examination) is scheduled to be held on the same day(s) by all participating RRBs tentatively during MARCH-MAY, 2016.
6. NEGATIVE MARKING: There shall be penalty (negative marking) in CBT/Examination and marks shall be deducted for each wrong answer (G) 1/3 of the marks allotted for each question.
7. ELECTRONIC GADGETS BANNED:
(a) Mobile phones, pagers, laptops, calculators or any other communication devices are not allowed inside the premises where the examination is being conducted. Any infringement of these instructions shall entail disciplinary action including ban from future examinations.
(b) Candidates are advised in their own interest not to bring any of the banned items including mobile phones/pagers to the venue of the examination, as arrangement for safe-keeping cannot be assured.
RRBs are located at
Ahmedabad, Ajmer,Allahabad, Bangalore, Bhopal, Bhubaneshwar, Bilaspur, Chandigarh, Chennai, Gorakhpur, Guwahati, Jammu, Kolkata, Malda, Mumbai, Muzaffarpur, Patna, Ranchi, Secunderabad, Siliguri, Thiruvananthapuram.
Vacancies will be divided across all the 21 RRBs.This means, all selected candidates will get posted within their state or neighbouring state only because of zonal division limitations. You can apply for any one RRB only.
Education Qualification: Read official Notification, link Given below
Age Limitation: Read official Notification, link Given below
Pay Scale: Read official Notification, link Given below
Selection Procedure: Read official Notification, link Given below
How To Apply for RRB Non Technical Recruitment 2016? : Read official Notification, link Given below
Required Documents: Read official Notification, link Given below
Important Links:-
Official Notification in English
Official Website: – www.indianrailways.gov.in or www.rrbappreg.net
Online Application Form Links
⇓
Every recruitment notification, addresses of official websites of RRBs and RRCs are invariably indicated so that candidates refer to those authentic websites/advertisements only. Please always refer https://t.co/kN48q6gksT
Official website of Railway Recruitment Boards (RRBs)
Official website of Railway Recruitment Boards (RRBs)