SBTET AP Diploma C-14 Instant cum Advanced Supply Exams will be conduct after the declaration of Mar/April 2017 Results
SBTET AP Diploma C-14 Instant cum Advanced Supply Results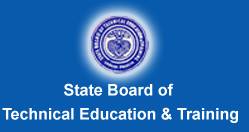 Sub: SBTET — AP — Diploma Exams — Curriculum-14 — Conduct of Instant cum Advanced Supplementary exams- Immediately after the declaration of Mar/April 2017 exam results Reg.
Ref: Note orders of the Spl. CTE & Chairman, SIM T, AP, dated: 28 04 2017.
With reference to the subject cited, all the Principals of Govt./ Aided, Private Polytechnics and 2″d Shift Engineering Colleges offering Diploma courses are informed that conduct of Instant cum advanced supplementary exams will be conducted immediately, after the declaration of Mar/April 2017 examination results for the following categories students.
A) It should be conducted only for regular/readmitted students in the regular stream.
B) Only two subjects in the final semester including the practical subjects are to be considered for the exam.
C) No instant exam for the 3 % year course candidates.
Further, a candidate is eligible to appear the instant cum advanced supplementary exam provided he/she should have fulfilled the following conditions.
1) The candidate must be a regular student in final semester,
2) The candidate should register for the March/April regular diploma examination.
3) To appear for instant cum advanced supplementary examination, the candidate should pass all the subjects from First year to 5th semester before appearing for the instant examination.
4) Candidate should not have failed in not more than two subjects including practical subjects in the final semester.
5) Such candidates will not be allowed to appear for the next subsequent Oct/Nov supplementary examinations.
6) Instant cum advanced supplementary exam may be conducted in limited centers i.e. 1 or 2 Government Polytechnics in a district.
Download the Official Notification Here – Click Here