SSJ Engineering College: Sri Sai Jyothi Engineering College (SSJEC) is an engineering college affiliated with Jawaharlal Nehru Technological University, Hyderabad. It is located in Hyderabad in the district of Ranga Reddy, Telangana, India.
The college was established in 1998 and offered Computer Science Engineering (CSE), Electrical and Electronics Engineering (EEE), Electronics and Communications Engineering (ECE) and Electronics and Instrumentation Engineering(EIE) streams.
Sri Sai Jyothi Engineering College (SSJEC), Telangana – Complete Details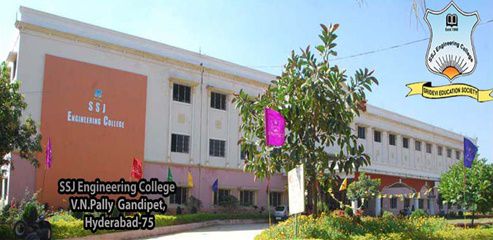 | | |
| --- | --- |
| Name of the College | Sri Sai Jyothi Engineering College |
| Counselling Code |  SSJV |
| Estd. Year | 1998 |
| Founder | K.Ashok Rao B.A,L.L.B |
| Table | Table |
Sridevi Education Society was established in the year 1997 and registered under societies act, with the Govt.Registered No.4973/97.The society was established by Shri.K.ASHOK RAO, a man of great Vision and noble ideas with main objective of integrating class roomlearning with the actual work experience in industry. The society is constituted to promote standard education, and it is embedded withProfessionals Doctors Bureaucrats, Lawyer and businessmen.
The society also runs Sridevi Women's Engineering College & SSJ College of Pharmacy under its umbrella at Vattinagulapally,Gandipet, Hyderabad.Sri Sai Jyothi Engineering College (SSJEC) was established in the year 1998. The courses run are approved byAICTE, Govt. of India, New Delhi and Govt. of A.P in affiliation to JNTU Hyderabad. The college helps to shape youth into self confident anddetermined citizens and moulds them as highly skilled professional, who can become strong pillars of the nation.
LOCATION: Cyberabad, the most happening city in Hyderabad. SSJ Engineering College is located near Hi-tech city,Vattinagulapally, Hyderabad. Vattinagulapally is the happening place for extention of Hi-tech city in Cyberabad. The college location is well connected to all corners of the Cyber city
VISION: To impart quality professional and technical education. To build a bridge between current technologies and future needs. To offer student an opportunity to be global technology leaders.
MISSION: Our mission is to provide a rigorous education to prepare students to become highly qualified Engineers and technological leaders of tomorrow.
Contact Details:
Sridevi Education Society(Regd. 4973/ 97)
3-6-305/50, Avanthainagar , Basheerbagh , Hyderabad-500029
SSJ Engineering College
Vattinagulapally, Gandipet, Hyderabad-75,
College ID : ssjengg@ssjec.com
Secretary : secretary@ssjec.com
Principal : principal@ssjec.com
Hod CSE : csehod@ssjec.com
Hod ECE : ecehod@ssjec.com
Hod Mech : mechhod@ssjec.com
Hod EEE : eeehod@ssjec.com
Hod CIVIL : civilhod@ssjec.com
Hod Science and Humanities : shhod@ssjec.com
Training and Placement : tpo@ssjec.com
Library : library@ssjec.com
Exam Branch : exambranch@ssjec.com
TRANSPORT : transport@ssjec.com