Telangana State Government had recently come up with a notification for 1106 posts in District Co-Operative Central Banks (DDCB). Telangana State Higher level committee had officially declared about DCCB jobs on 20th June. The District Co-Operative Central Banks CEO of Telangana is authorized to carry out the appointment process of suitable aspirants as per the rules and regulations of Reserve Bank of India.
Telangana DCCB Recruitment 2018 for 1106 Posts – Apply Online Notification PDF
The Telangana State Government has revealed that 600 members for DCCB posts will be appointed through the IBPS (Institute of Banking Personnel Selection) examinations and the other 500 persons will be shortlisted through Telangana State Public Service Commission (TSPSC) or any other state government recruitment organization.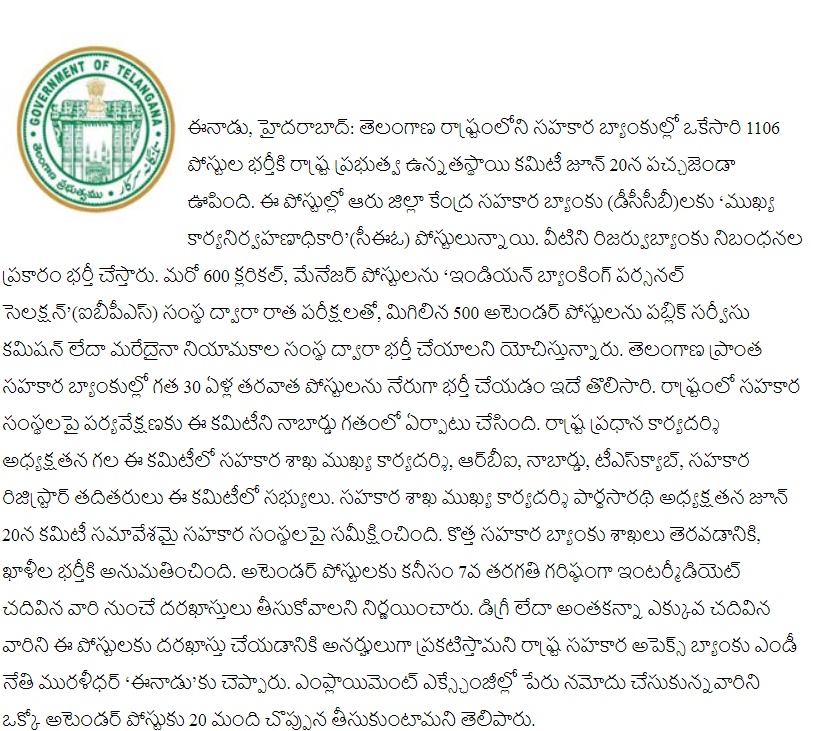 Overall, all the vacant positions in Telangana State Cooperative Apex Bank Limited and the District Cooperative Central Banks (DCCBs) will be filled up through this recruitment. The Telangana DCCB Recruitment has been advertised straightforwardly for the first time after 30 years. NABARD has arranged the DCCB High-Level Committee to look up various responsibilities of District Co-Operative Banks. In DCCB Committee, RBI, NABARD, TSCAB, Co-operative Registrar, and State Principal Secretary are handling various duties related to the DCCB banks. The DCCB Chief Secretary Partha Saradhi has organized a meeting on 20th June regarding the Telangana DCCB recruitment. In this meeting, various aspects discussed such as opening new District Co-Operative Central Banks in the state and filling up the vacant positions etc.
Coming to the eligibility criteria, to apply for the attender posts, minimum educational qualification required is 7th class pass and for other posts, Intermediate/equivalent qualification is required. While the candidates who have finished the Graduate Degree and higher qualification will not be considered to apply for DCCB Assistant and other posts. Telangana State Cooperative Apex Bank Limited Managing Director Neti Muralidhar said that the DCCB will accept applications from the candidates those have already registered with the Telangana Employment Exchange. As per the MD Muralidhar's announcement, the DCCB will consider 20 applicants for each Assistant Post. While the selection will be based on written test and interview rounds. Candidates clearing all the phases of selection will be finally eligible to get the job in DCCBs in Telangana.
Telangana DCC Bank Official Notification PDF 2018 (Not Yet Released, Available Soon)