Telangana Govt Extends holidays to all Educational Institutions till 30-01-2022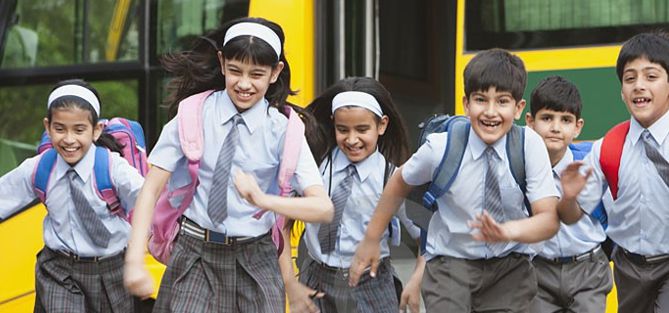 It has been decided to extend the vacation of all educational institutions in Telangana till 30.1.2022.
Office of Chief Secretary, Telangana State.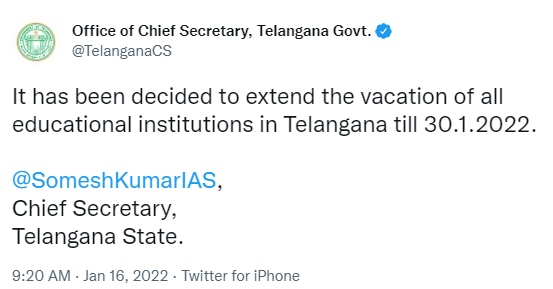 ఈ నెల 30 వరకు పాఠశాలలకు సెలవులు
తెలంగాణ రాష్ట్ర ప్రభుత్వం సంచలన నిర్ణయం తీసుకుంది. తెలంగాణ రాష్ట్రంలోని పాఠశాలల సెలవులను పొడగించింది కేసీఆర్‌ సర్కార్‌. కరోనా మహమ్మారి కేసులు పెరుగుతున్న నేపథ్యంలోనే… పాఠశాలలకు సెలవులు పొడిగిస్తూ నిర్ణయం తీసుకుంది కేసీఆర్‌ సర్కార్‌. కేసీఆర్‌ సర్కార్‌ తీసుకున్న నిర్ణయం ప్రకారం… తెలంగాణ రాష్ట్రంలో విద్యా సంస్థలకు ఈ నెల 30 వరకు సెలవులు ఉండనున్నాయి. ఈ మేరకు అధికారికంగా ప్రకటించారు తెలంగాణ రాష్ట్ర చీఫ్‌ సెక్రటరీ.
కరోనా మహమ్మారి విజృంభిస్తున్న నేపథ్యంలోనే.. ఈ నెల 8 నుంచి 16 వ తేదీ వరకు సంక్రాంతి సెలవులు ఇచ్చింది ప్రభుత్వం. అయితే.. ఇప్పటికే కరోనా కేసులు తెలంగాణ రాష్ట్రంలో పెరుగుతూనే ఉన్నాయి. ఈ నేపథ్యంలోనే… కేసీఆర్‌ సర్కార్‌ జనవరి 30వ తేదీ వరకు విద్యాసంస్థల సెలవులను పొడిగిస్తూ నిర్ణయం తీసుకుంది. ప్రభుత్వం నిర్ణయం ప్రకారం.. తెలంగాణలోని కాలేజీలు, పాఠశాలలు జనవరి 30 వరకు మూత పడనున్నాయి