Telangana: No Admissions for 64 Engineering Colleges, Affiliation Rejected for 24 Colleges, Heavy shortage in Seats.
Hyderabad: This year there is a huge shortage for admissions in Engineering Colleges. From the news and other sources it was clear that, 64 Engineering colleges were restricted for admissions and also the seats were cancelled in many other colleges. The Government has taken the strict step to give affiliation for colleges having good lab infrastructure and qualified staff. With this decision of government, there might be shortage of 40 / 50 thousand seats on aggregate.
List of 174 Affiliated Colleges will be revealed on Friday by TSCHE
From the information from trusted sources, the Vigilance and enforcement division has been arranged by the TSCHE to provide affiliation for 174 colleges. By the Friday evening, the affiliation sanctioned colleges list will be sent to Telangana state council of higher education. The TSCHE is going to announce the list of affiliated colleges on Friday evening or in the Saturday Morning. After the TSCHE announcement, the admission process will begin from 5th July.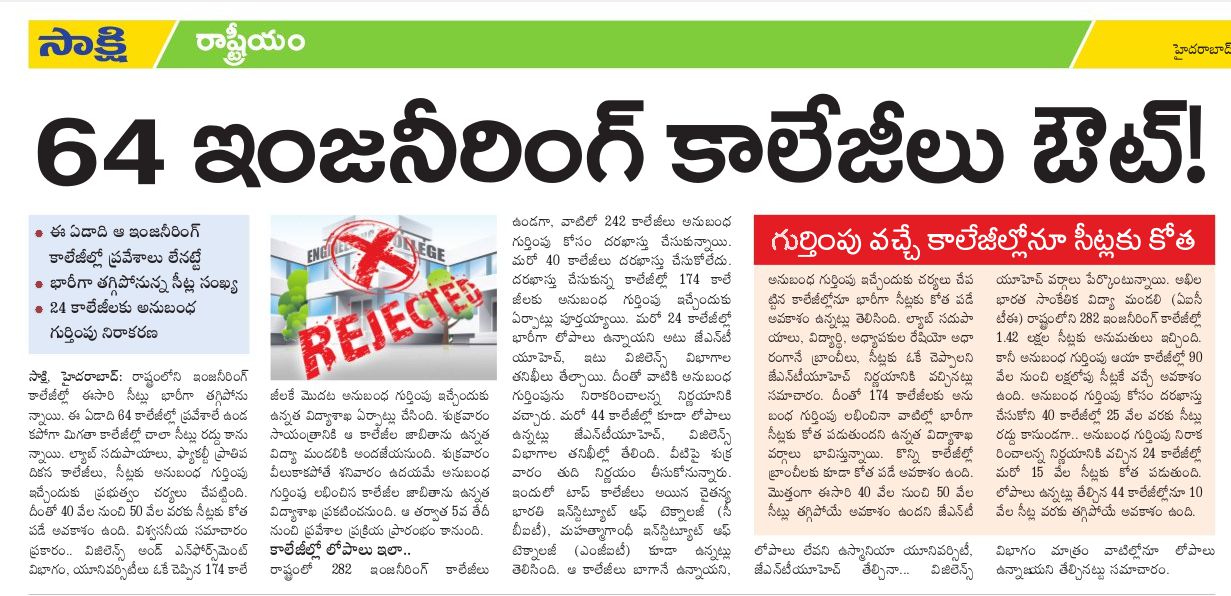 Engineering Colleges Rejected for Affiliation Due to Many Flaws
In the state of Telangana there are overall 282 colleges were functioning at present. In 282 colleges 242 colleges were applied for affiliation. 40 colleges remind the same without affiliation. In the applied colleges, Government is going to provide affiliation for colleges with good lab facilities and qualified professors. As per this 174 colleges were going to be approved by the government and other 24 colleges were rejected to get affiliation due to many flaws in them. The JNTUH and Vigilance Departments have clarified about this by organizing the inspections in all Engineering Colleges in the state.
As per the reports from JNTUH and Vigilance department, the top most colleges like Chaitanya Bharathi Institute of Technology (CBIT), Mahatma Gandhi Institute of Technology (MGIT) Colleges were also in the list of 24 colleges. Though, the JNTUH and Osmania University has clarified about these colleges that they are good, the Vigilance department is not still convincing with the MGIT and CBIT Colleges.
So, finally the endorsement came for 1.42 lakh seats in 282 colleges.
Deficit of Engineering Seats
There is scope for shortage for 40 to 50 thousand seats as per JNTUH.
For 1 lakh students there is the possibility of getting seat in affiliated colleges
25,000 seats will be cancelled in 40 colleges which have not applied for the affiliation.
15,000 Seats will be cancelled in 24 colleges which are rejected to get affiliation.
And also 10,000 seats will be lessen in the 4 colleges which are having the flaws.
So Finally, there is a huge shortage in Engineering seats this year.