Telangana SSC Public Exams 2020 Cancelled and Students to be promoted based on internal marks: The Telangana State Government has declared that class 10th examinations will be canceled for the academic session 2019-20 as the COVID situation is increasing day by day. After reviewing several times, the TS state government has announced the cancellation of the Telangana Class 10th examinations. Previously, the Telangana Government has planned to postpone the examinations; while, the Telangana High Court said the state government not to conduct the examinations in GHMC areas. As per the HC instructions, the TS state government has canceled the SSC board examinations this year. The districts of Hyderabad, Secunderabad, and Rangareddy are highly contaminated with the pandemic. By observing the present situation, the High Court has instructed the Government to stop conducting the examinations in these areas.
TS 10th Class Exams 2020 Cancelled – SSC Students to be Promoted Based on Internal Marks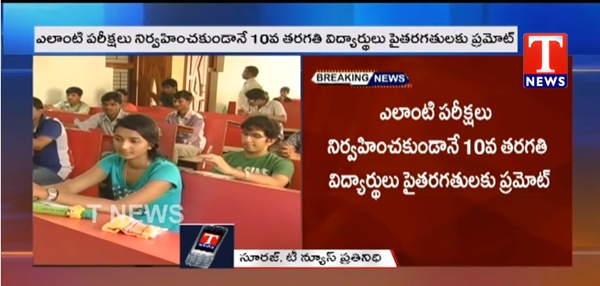 As the TS 10th exams got canceled, the TSBSE board is going to give the grades to students as per their internal marks scored previously. The BSE Telangana had conducted the SSC examinations for 3 papers of 1st and 2nd languages before 22nd March. As the announcement of lockdown, the examinations were stopped. The remaining examinations which were scheduled from 23rd March to 6th April were postponed due to the COVID emergency. After making several discussions, The BSE TS had to announce the revised SSC exam schedule on 22nd May; as per that the class 10th exams were scheduled from 8th June to 5th July.
While today, 8th June, the Telangana State Government has made a clear announcement regarding the cancellation of class 10th exams. Without conducting the SSC examinations, the state government is going to promote 5,34,903 students this year. Based on the internal marks of students the grades will be allotted.