Telangna Application For FREE COACHING: Telangana Study Circle for STs-PETC Hyderabad, invites applications online to twsis.cgg.gov.in from the eligible ST ,SC, and BC candidates for admission into the Coaching Program for IBPS/SSC Exams which includes free coaching, Note books, with payment of accommodation & boarding charges and other benefits.
Telangna Application For FREE COACHING to ST, SC and BC Candidates for IBPS/SSC Exam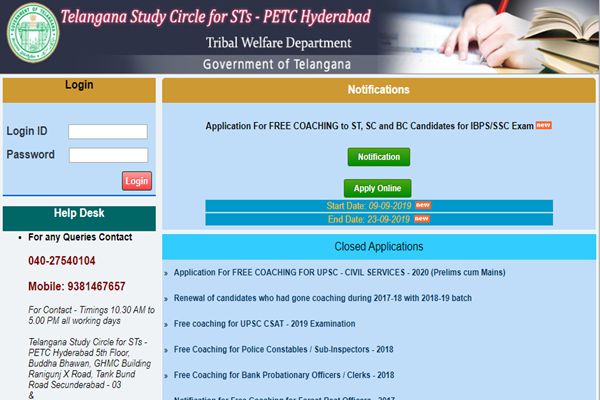 I. Eligibility for Admission
1. Only candidates belong to ST, SC and BC can apply.
2. Educational qualification – the candidate must have Degree from any recognized University.
3. Age Limit – Above 18 & Below 40 years as on 01.06.2019 as per IBPS Notification.
4. The candidate's and his/her parents combined annual income should not exceed Rs.2.00 Lakhs for STs/SCs and Rs. 1.00 Lakh for BCs
5. Candidates who are employed or undergoing regular/correspondence courses of education are not eligible.
6. Candidates, who have already availed coaching facility from any GOVT study circle anywhere in Telangana or India, are not eligible for present coaching programme.
7. Only Telangana State candidates are eligible to apply.
8. Aspirants should also be eligible as per the norms prescribed by the IBPS/SSC for taking the coaching.
9. Candidates already availed coaching in any PETC of the state are not eligible to apply.
II. Allotment of seats.
Scheduled Tribes – 75%
Scheduled Castes – 15%
Backward Classes – 10%
Women -33% of quota reserved for Women candidates belonging to ST/SC/ BC in each category.
District wise Quota for ST candidates: Each District will be treated as a separate unit and the reservation quotas will be applied among the natives of each District on pro-rata basis as per ST population in each district as per GO Ms.No.90 SW (TW Edn.1) Dept. TW Edn.1 Dt.1-9-2009.
III. Selection Procedure-
Candidates Selection is based on MERIT basis of marks obtained in SSC+Inter+Degree.
The selection is based on Grand Percentage by keeping District Quota on merit for STs and Zonal Quota on merit for SCs and BCs.
APPLICATION FORMS
Application Form is available only on INTERNET at the website -twsis.cgg.gov.in
Date of Notification : 09.09.2019
Last Date for Submission of Application Forms : 23.09.2019
Announcement of Selected Candidates : 27.09.2019
Admission Date (verification of certificates) : 30.09.2019
Coaching classes Starts from : 03.10.2019
Note: Incomplete applications and applications without scanned enclosures or applicant's Photo will be summarily rejected.
Certificates to be enclosed to the application
The applications will be rejected if any of the following certificates are not enclosed.
Scanned copies of Community, Nativity Certificate, Income Certificate, Marks Memo of SSC, Inter, Degree, Provisional/ Convocation, Transfer Certificate of the course last studied.
Application form duly filled in with a passport size photo.
Guidelines to be followed:
1. Candidates using fake certificates or Marks Memos will be blacklisted for the present admission and all future admissions, and also legal action will be taken against the
candidate.
2. Candidates are not allowed to prepare for any other competitive exams except IBPS / SSC Exams. If anyone violates this rule, the entire expenditure on him/her will be
recovered.
3. The coaching will be given for IBPS/ SSC Exams only.
4. The payment of Accommodation & Boarding charges will be paid to the candidates on the basis of bio-metric attendance. The minimum attendance of 75 % is compulsory for availing benefits.
5. Every candidate shall hand over his/her original certificates including T.C. along with an affidavit stating that he or she will put up regular biometric attendance to the classes and tests and will abide by all the rules and conditions of the study circle. The original certificates will not be given back for any purpose before completion of coaching camp.
6. In case of guidelines / information / clarification regarding their applications, candidature etc, candidate can contact Principal Telangana Study Circle for STs PETC Hyderabad Ph# 040-27540104.