Top 200 Engineering Colleges in India: The Ministry of Human Resource Development is happy to announce India Rankings 2019. We are indeed grateful to the Honourable President of India, Shri Ram Nath Kovind, foragreeing to release the India Rankings 2019.
This is the fourth consecutive edition of India Rankings of the institutions of higher education in India. The National institutional Ranking Framework (NIRF), launched in November 2015 by the MHRD, is being used for this edition as well as for the last three editions of India Rankings released for the years 2016,2017 and 2018. Unlike other rankings in the popular media, India Rankings deploy objective criteria and metrics with factual data gathered from third party sources as well as from the institutions themselves. Several improvements were effected in data collection formats, metrics and comparison methodology used for India Rankings over the years.
Top 200 Engineering Colleges in India – India Rankings 2019 @ nirfindia.org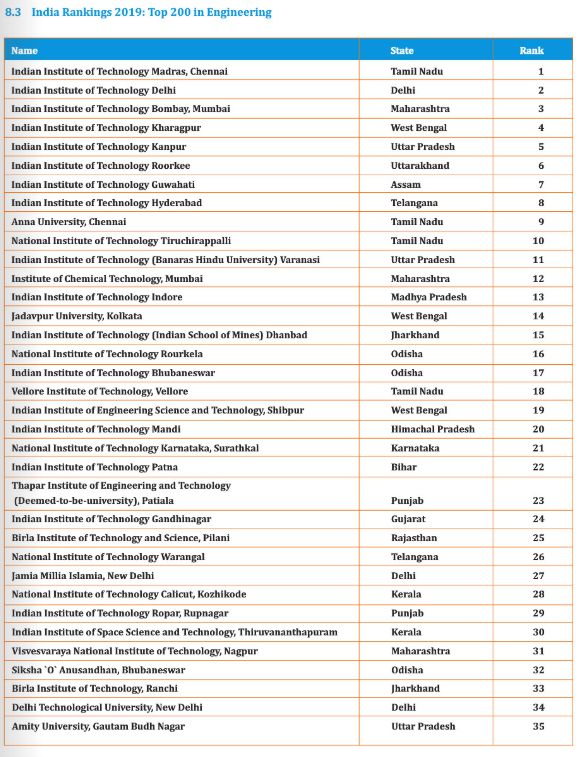 India Rankings 2019 continues with the consolidation process building upon the existing NIRF parameters, experience gained over the years and feedback from stakeholders to establish effective benchmarks to assess performance of the Indian academic institutions in the higher education space. Slight changes in metrics, parameters and normalization algorithms were introduced, while keeping the basic framework intact. As a result, the ranking of Institutions are largely consistent with the previous years' results, although Individual ranks might have changed by a few spots in some cases due to performance variations across institutions on some parameters. India Rankings is successful in identifying top institutions of higher education in 'Overall, "Universities' and 'College" categories as well as domain-specific rankings in Engineering, Management, Pharmacy, Law, Medical and Architecture.
The practice of pre-registration of Institutions for NIRF rankings and inviting new institutions for ranking through an open advertisement continued this year also. A total number of 3127 unique institutions responded and offered themselves for ranking under °Overalls, category-specific or domain-specific ranking. In all, 4867 applications for ranldng were made by these3127 uniqueapplicant institutions undervarious categories /domains.
The India Rankings has successfully instilled the culture of collection, compilation and curation of data required for ranking of institutions who are now carefully maintaining data pertaining to their faculty, students, placement, infrastructure, expenditure on library and laboratories, etc. This culture is important for institutions themselves since analysis of this data provides the big picture of trends and patterns that can be used for evaluating and streamlining processes, creating efficiencies, and improving overall student experience. Whiieat institutional level, the data and its analytic can help in assessing institutes themselves against internal benchmarks, at the national level, the data can serve as a base for analys is of the status ofhighereducation institutions in the cou ntry.
It is important that the credibility that the India Rankings have earned is maintained with careful attention to details. As a matter of practice, 100 institutions are ranked in Overall, University and Colleges categories whereas ranking is kept restricted to only 15 to 75 Institutions In all other domain-specific rankings (Architecture, Pharmacy. Law, Management and Medical) because of reliability of data However, number of Engineering institutions that are ranked this year has been increased from 100 to 200. It may further be noted that all data for ranked institutions is painstakingly verified, inconsistencies, contradictions and outliers are screened and identified, which requires a lot of diligence, patience and tactful handling of Institutions who might feel offended with direct and blunt questions on.

Institute ID

Name

City

State

Score

Rank

IR-E-U-0456
Indian Institute of Technology Madras


| TLR (100) | RPC (100) | GO (100) | OI (100) | PERCEPTION (100) |
| --- | --- | --- | --- | --- |
| 93.55 | 92.39 | 84.36 | 63.99 | 100.00 |

Chennai
Tamil Nadu
89.05
1
IR-E-I-1074
Indian Institute of Technology Delhi


| TLR (100) | RPC (100) | GO (100) | OI (100) | PERCEPTION (100) |
| --- | --- | --- | --- | --- |
| 85.80 | 96.18 | 80.32 | 56.19 | 90.85 |

New Delhi
Delhi
85.36
2
IR-E-U-0306
Indian Institute of Technology Bombay


| TLR (100) | RPC (100) | GO (100) | OI (100) | PERCEPTION (100) |
| --- | --- | --- | --- | --- |
| 89.12 | 95.30 | 76.47 | 48.17 | 89.61 |

Mumbai
Maharashtra
84.40
3
IR-E-U-0573
Indian Institute of Technology Kharagpur


| TLR (100) | RPC (100) | GO (100) | OI (100) | PERCEPTION (100) |
| --- | --- | --- | --- | --- |
| 73.14 | 88.20 | 84.12 | 57.79 | 84.14 |

Kharagpur
West Bengal
79.41
4
IR-E-I-1075
Indian Institute of Technology Kanpur


| TLR (100) | RPC (100) | GO (100) | OI (100) | PERCEPTION (100) |
| --- | --- | --- | --- | --- |
| 79.07 | 81.79 | 82.56 | 46.61 | 81.35 |

Kanpur
Uttar Pradesh
77.57
5
IR-E-U-0560
Indian Institute of Technology Roorkee


| TLR (100) | RPC (100) | GO (100) | OI (100) | PERCEPTION (100) |
| --- | --- | --- | --- | --- |
| 75.05 | 75.90 | 89.84 | 58.65 | 54.61 |

Roorkee
Uttarakhand
74.57
6
IR-E-U-0053
Indian Institute of Technology Guwahati


| TLR (100) | RPC (100) | GO (100) | OI (100) | PERCEPTION (100) |
| --- | --- | --- | --- | --- |
| 82.55 | 63.60 | 78.45 | 58.86 | 54.49 |

Guwahati
Assam
70.87
7
IR-E-U-0013
Indian Institute of Technology Hyderabad


| TLR (100) | RPC (100) | GO (100) | OI (100) | PERCEPTION (100) |
| --- | --- | --- | --- | --- |
| 78.91 | 49.18 | 71.71 | 56.21 | 55.38 |

Hyderabad
Telangana
63.92
8
IR-E-U-0439
Anna University


| TLR (100) | RPC (100) | GO (100) | OI (100) | PERCEPTION (100) |
| --- | --- | --- | --- | --- |
| 63.17 | 64.13 | 63.24 | 52.66 | 70.13 |

Chennai
Tamil Nadu
63.12
9
IR-E-U-0467
National Institute of Technology Tiruchirappalli


| TLR (100) | RPC (100) | GO (100) | OI (100) | PERCEPTION (100) |
| --- | --- | --- | --- | --- |
| 68.36 | 46.64 | 72.76 | 62.20 | 63.54 |

Tiruchirappalli
Tamil Nadu
61.62
10
IR-E-U-0701
Indian Institute of Technology (Banaras Hindu University) Varanasi


| TLR (100) | RPC (100) | GO (100) | OI (100) | PERCEPTION (100) |
| --- | --- | --- | --- | --- |
| 68.61 | 45.63 | 77.36 | 53.16 | 47.42 |

Varanasi
Uttar Pradesh
59.80
11
IR-E-U-0308
Institute of Chemical Technology


| TLR (100) | RPC (100) | GO (100) | OI (100) | PERCEPTION (100) |
| --- | --- | --- | --- | --- |
| 67.76 | 57.30 | 76.32 | 49.68 | 19.77 |

Mumbai
Maharashtra
59.73
12
IR-E-U-0273
Indian Institute of Technology Indore


| TLR (100) | RPC (100) | GO (100) | OI (100) | PERCEPTION (100) |
| --- | --- | --- | --- | --- |
| 75.66 | 49.17 | 70.18 | 57.30 | 21.29 |

Indore
Madhya Pradesh
59.35
13
IR-E-U-0575
Jadavpur University


| TLR (100) | RPC (100) | GO (100) | OI (100) | PERCEPTION (100) |
| --- | --- | --- | --- | --- |
| 53.40 | 65.71 | 74.79 | 37.83 | 46.20 |

Kolkata
West Bengal
59.09
14
IR-E-U-0205
Indian Institute of Technology (Indian School of Mines) Dhanbad


| TLR (100) | RPC (100) | GO (100) | OI (100) | PERCEPTION (100) |
| --- | --- | --- | --- | --- |
| 63.62 | 59.12 | 70.03 | 38.12 | 35.31 |

Dhanbad
Jharkhand
58.18
15
IR-E-U-0357
National Institute of Technology Rourkela


| TLR (100) | RPC (100) | GO (100) | OI (100) | PERCEPTION (100) |
| --- | --- | --- | --- | --- |
| 59.99 | 56.05 | 75.71 | 46.34 | 31.60 |

Rourkela
Odisha
57.75
16
IR-E-U-0355
Indian Institute of Technology Bhubaneswar


| TLR (100) | RPC (100) | GO (100) | OI (100) | PERCEPTION (100) |
| --- | --- | --- | --- | --- |
| 77.50 | 37.78 | 65.03 | 57.30 | 34.78 |

Bhubaneswar
Odisha
56.80
17
IR-E-U-0490
Vellore Institute of Technology


| TLR (100) | RPC (100) | GO (100) | OI (100) | PERCEPTION (100) |
| --- | --- | --- | --- | --- |
| 54.65 | 57.34 | 63.57 | 56.69 | 44.81 |

Vellore
Tamil Nadu
56.46
18
IR-E-U-0584
Indian Institute of Engineering Science and Technology


| TLR (100) | RPC (100) | GO (100) | OI (100) | PERCEPTION (100) |
| --- | --- | --- | --- | --- |
| 73.65 | 45.77 | 59.79 | 47.23 | 38.39 |

Shibpur
West Bengal
56.35
19
IR-E-U-0184
Indian Institute of Technology Mandi


| TLR (100) | RPC (100) | GO (100) | OI (100) | PERCEPTION (100) |
| --- | --- | --- | --- | --- |
| 78.61 | 34.57 | 68.06 | 65.65 | 18.72 |

Mandi
Himachal Pradesh
56.00
20
IR-E-U-0237
National Institute of Technology Karnataka


| TLR (100) | RPC (100) | GO (100) | OI (100) | PERCEPTION (100) |
| --- | --- | --- | --- | --- |
| 59.48 | 41.31 | 75.46 | 50.40 | 48.85 |

Surathkal
Karnataka
55.25
21
IR-E-U-0064
Indian Institute of Technology Patna


| TLR (100) | RPC (100) | GO (100) | OI (100) | PERCEPTION (100) |
| --- | --- | --- | --- | --- |
| 75.13 | 39.08 | 65.02 | 50.48 | 25.54 |

Patna
Bihar
54.86
22
IR-E-I-1480
Thapar Institute of Engineering and Technology (Deemed-to-be-university)


| TLR (100) | RPC (100) | GO (100) | OI (100) | PERCEPTION (100) |
| --- | --- | --- | --- | --- |
| 69.51 | 44.96 | 67.28 | 55.65 | 13.66 |

Patiala
Punjab
54.73
23
IR-E-U-0139
Indian Institute of Technology Gandhinagar


| TLR (100) | RPC (100) | GO (100) | OI (100) | PERCEPTION (100) |
| --- | --- | --- | --- | --- |
| 80.59 | 31.01 | 56.26 | 61.34 | 34.59 |

Gandhinagar
Gujarat
54.32
24
IR-E-U-0391
Birla Institute of Technology & Science


| TLR (100) | RPC (100) | GO (100) | OI (100) | PERCEPTION (100) |
| --- | --- | --- | --- | --- |
| 63.61 | 35.15 | 71.40 | 54.50 | 44.67 |

Pilani
Rajasthan
53.82
25
IR-E-U-0025
National Institute of Technology Warangal


| TLR (100) | RPC (100) | GO (100) | OI (100) | PERCEPTION (100) |
| --- | --- | --- | --- | --- |
| 68.19 | 31.77 | 72.50 | 54.98 | 32.17 |

Warangal
Telangana
53.21
26
IR-E-U-0108
Jamia Millia Islamia


| TLR (100) | RPC (100) | GO (100) | OI (100) | PERCEPTION (100) |
| --- | --- | --- | --- | --- |
| 64.25 | 42.18 | 75.11 | 50.90 | 10.88 |

New Delhi
Delhi
53.13
27
IR-E-U-0263
National Institute of Technology Calicut


| TLR (100) | RPC (100) | GO (100) | OI (100) | PERCEPTION (100) |
| --- | --- | --- | --- | --- |
| 63.47 | 28.22 | 77.01 | 61.09 | 36.71 |

Kozhikode
Kerala
52.69
28
IR-E-U-0378
Indian Institute of Technology Ropar


| TLR (100) | RPC (100) | GO (100) | OI (100) | PERCEPTION (100) |
| --- | --- | --- | --- | --- |
| 76.84 | 29.22 | 64.57 | 60.10 | 16.27 |

Rupnagar
Punjab
52.37
29
IR-E-U-0255
Indian Institute of Space Science and Technology


| TLR (100) | RPC (100) | GO (100) | OI (100) | PERCEPTION (100) |
| --- | --- | --- | --- | --- |
| 77.52 | 22.75 | 61.95 | 56.20 | 40.33 |

Thiruvananthapuram
Kerala
52.12
30
IR-E-U-0334
Visvesvaraya National Institute of Technology


| TLR (100) | RPC (100) | GO (100) | OI (100) | PERCEPTION (100) |
| --- | --- | --- | --- | --- |
| 64.81 | 40.49 | 65.09 | 57.66 | 8.92 |

Nagpur
Maharashtra
51.27
31
IR-E-U-0363
Siksha `O` Anusandhan


| TLR (100) | RPC (100) | GO (100) | OI (100) | PERCEPTION (100) |
| --- | --- | --- | --- | --- |
| 71.35 | 26.31 | 66.43 | 60.53 | 17.65 |

Bhubaneswar
Odisha
50.39
32
IR-E-U-0202
Birla Institute of Technology


| TLR (100) | RPC (100) | GO (100) | OI (100) | PERCEPTION (100) |
| --- | --- | --- | --- | --- |
| 66.84 | 35.80 | 57.78 | 52.00 | 25.54 |

Ranchi
Jharkhand
50.10
33
IR-E-U-0098
Delhi Technological University


| TLR (100) | RPC (100) | GO (100) | OI (100) | PERCEPTION (100) |
| --- | --- | --- | --- | --- |
| 60.27 | 28.07 | 72.07 | 53.38 | 37.22 |

New Delhi
Delhi
49.97
34
IR-E-U-0497
Amity University


| TLR (100) | RPC (100) | GO (100) | OI (100) | PERCEPTION (100) |
| --- | --- | --- | --- | --- |
| 69.51 | 41.27 | 48.29 | 56.32 | 5.07 |

Gautam Budh Nagar
Uttar Pradesh
49.03
35
IR-E-U-0473
SRM Institute of Science and Technology


| TLR (100) | RPC (100) | GO (100) | OI (100) | PERCEPTION (100) |
| --- | --- | --- | --- | --- |
| 59.85 | 33.40 | 63.04 | 62.18 | 21.53 |

Chennai
Tamil Nadu
48.95
36
IR-E-C-16604
Sri Sivasubramaniya Nadar College of Engineering


| TLR (100) | RPC (100) | GO (100) | OI (100) | PERCEPTION (100) |
| --- | --- | --- | --- | --- |
| 69.13 | 28.51 | 63.63 | 52.66 | 16.55 |

Kancheepuram
Tamil Nadu
48.94
37
IR-E-U-0476
Shanmugha Arts Science Technology & Research Academy


| TLR (100) | RPC (100) | GO (100) | OI (100) | PERCEPTION (100) |
| --- | --- | --- | --- | --- |
| 65.79 | 31.04 | 64.66 | 56.42 | 12.14 |

Thanjavur
Tamil Nadu
48.83
38
IR-E-U-0014
International Institute of Information Technology Hyderabad


| TLR (100) | RPC (100) | GO (100) | OI (100) | PERCEPTION (100) |
| --- | --- | --- | --- | --- |
| 53.08 | 34.19 | 73.40 | 52.49 | 26.21 |

Hyderabad
Telangana
48.73
39
IR-E-U-0496
Aligarh Muslim University


| TLR (100) | RPC (100) | GO (100) | OI (100) | PERCEPTION (100) |
| --- | --- | --- | --- | --- |
| 69.39 | 39.46 | 53.28 | 32.10 | 12.14 |

Aligarh
Uttar Pradesh
47.74
40
IR-E-U-0172
National Institute of Technology Kurukshetra


| TLR (100) | RPC (100) | GO (100) | OI (100) | PERCEPTION (100) |
| --- | --- | --- | --- | --- |
| 61.36 | 36.64 | 58.47 | 51.21 | 13.66 |

Kurukshetra
Haryana
47.58
41
IR-E-U-0530
Motilal Nehru National Institute of Technology


| TLR (100) | RPC (100) | GO (100) | OI (100) | PERCEPTION (100) |
| --- | --- | --- | --- | --- |
| 63.13 | 28.38 | 65.55 | 49.49 | 19.77 |

Allahabad
Uttar Pradesh
47.49
42
IR-E-C-7252
Manipal Institute of Technology


| TLR (100) | RPC (100) | GO (100) | OI (100) | PERCEPTION (100) |
| --- | --- | --- | --- | --- |
| 68.43 | 20.68 | 53.91 | 62.59 | 35.31 |

Manipal
Karnataka
47.31
43
IR-E-C-37013
PSG College of Technology


| TLR (100) | RPC (100) | GO (100) | OI (100) | PERCEPTION (100) |
| --- | --- | --- | --- | --- |
| 68.97 | 17.40 | 53.37 | 48.73 | 58.35 |

Coimbatore
Tamil Nadu
47.28
44
IR-E-U-0017
Jawaharlal Nehru Technological University


| TLR (100) | RPC (100) | GO (100) | OI (100) | PERCEPTION (100) |
| --- | --- | --- | --- | --- |
| 71.20 | 28.65 | 55.01 | 49.64 | 12.14 |

Hyderabad
Telangana
47.13
45
IR-E-U-0577
National Institute of Technology Durgapur


| TLR (100) | RPC (100) | GO (100) | OI (100) | PERCEPTION (100) |
| --- | --- | --- | --- | --- |
| 52.84 | 36.16 | 63.30 | 46.54 | 24.63 |

Durgapur
West Bengal
46.47
46
IR-E-U-0474
Sathyabama Institute of Science and Technology


| TLR (100) | RPC (100) | GO (100) | OI (100) | PERCEPTION (100) |
| --- | --- | --- | --- | --- |
| 61.42 | 28.29 | 62.26 | 61.93 | 5.07 |

Chennai
Tamil Nadu
46.07
47
IR-E-U-0356
Kalinga Institute of Industrial Technology


| TLR (100) | RPC (100) | GO (100) | OI (100) | PERCEPTION (100) |
| --- | --- | --- | --- | --- |
| 65.59 | 19.17 | 61.60 | 68.50 | 13.36 |

Bhubaneswar
Odisha
45.94
48
IR-E-C-41593
College of Engineering


| TLR (100) | RPC (100) | GO (100) | OI (100) | PERCEPTION (100) |
| --- | --- | --- | --- | --- |
| 58.17 | 26.17 | 64.17 | 51.79 | 25.77 |

Pune
Maharashtra
45.89
49
IR-E-U-0395
Indian Institute of Technology Jodhpur


| TLR (100) | RPC (100) | GO (100) | OI (100) | PERCEPTION (100) |
| --- | --- | --- | --- | --- |
| 67.68 | 23.44 | 57.02 | 63.26 | 6.86 |

Jodhpur
Rajasthan
45.75
50
IR-E-U-0055
National Institute of Technology Silchar


| TLR (100) | RPC (100) | GO (100) | OI (100) | PERCEPTION (100) |
| --- | --- | --- | --- | --- |
| 61.31 | 29.86 | 61.71 | 47.42 | 11.83 |

Silchar
Assam
45.61
51
IR-E-U-0020
Koneru Lakshmaiah Education Foundation University (K L College of Engineering)


| TLR (100) | RPC (100) | GO (100) | OI (100) | PERCEPTION (100) |
| --- | --- | --- | --- | --- |
| 70.88 | 21.80 | 58.27 | 56.06 | 3.19 |

Vaddeswaram
Andhra Pradesh
45.38
52
IR-E-U-0410
Malviya National Institute of Technology


| TLR (100) | RPC (100) | GO (100) | OI (100) | PERCEPTION (100) |
| --- | --- | --- | --- | --- |
| 55.73 | 38.20 | 58.34 | 46.63 | 6.86 |

Jaipur
Rajasthan
45.20
53
IR-E-U-0078
Panjab University


| TLR (100) | RPC (100) | GO (100) | OI (100) | PERCEPTION (100) |
| --- | --- | --- | --- | --- |
| 41.83 | 50.63 | 51.81 | 44.72 | 10.24 |

Chandigarh
Chandigarh
43.59
54
IR-E-U-0105
Indraprastha Institute of Information Technology


| TLR (100) | RPC (100) | GO (100) | OI (100) | PERCEPTION (100) |
| --- | --- | --- | --- | --- |
| 56.55 | 24.08 | 69.36 | 41.49 | 12.76 |

New Delhi
Delhi
43.49
55
IR-E-C-26794
Thiagarajar College of Engineering


| TLR (100) | RPC (100) | GO (100) | OI (100) | PERCEPTION (100) |
| --- | --- | --- | --- | --- |
| 61.68 | 18.98 | 56.74 | 49.23 | 29.20 |

Madurai
Tamil Nadu
43.38
56
IR-E-U-0297
Defence Institute of Advanced Technology


| TLR (100) | RPC (100) | GO (100) | OI (100) | PERCEPTION (100) |
| --- | --- | --- | --- | --- |
| 66.68 | 32.43 | 41.05 | 47.69 | 5.80 |

Pune
Maharashtra
43.29
57
IR-E-U-0149
Sardar Vallabhbhai National Institute of Technology


| TLR (100) | RPC (100) | GO (100) | OI (100) | PERCEPTION (100) |
| --- | --- | --- | --- | --- |
| 51.01 | 27.60 | 60.91 | 51.30 | 9.92 |

Surat
Gujarat
41.88
58
IR-E-C-24004
College of Engineering Visakhapatnam


| TLR (100) | RPC (100) | GO (100) | OI (100) | PERCEPTION (100) |
| --- | --- | --- | --- | --- |
| 65.78 | 7.41 | 67.66 | 55.88 | 6.51 |

Visakhapatnam
Andhra Pradesh
41.72
59
IR-E-U-0189
National Institute of Technology Hamirpur


| TLR (100) | RPC (100) | GO (100) | OI (100) | PERCEPTION (100) |
| --- | --- | --- | --- | --- |
| 54.71 | 23.00 | 60.48 | 52.12 | 8.59 |

Hamirpur
Himachal Pradesh
41.48
60
IR-E-U-0458
Kalasalingam Academy of Research and Higher Education


| TLR (100) | RPC (100) | GO (100) | OI (100) | PERCEPTION (100) |
| --- | --- | --- | --- | --- |
| 67.60 | 14.08 | 53.96 | 55.70 | 3.95 |

Srivilliputtur
Tamil Nadu
41.26
61
IR-E-U-0284
Maulana Azad National Institute of Technology


| TLR (100) | RPC (100) | GO (100) | OI (100) | PERCEPTION (100) |
| --- | --- | --- | --- | --- |
| 53.27 | 24.05 | 66.59 | 40.74 | 3.95 |

Bhopal
Madhya Pradesh
40.98
62
IR-E-C-1269
R. V. College of Engineering


| TLR (100) | RPC (100) | GO (100) | OI (100) | PERCEPTION (100) |
| --- | --- | --- | --- | --- |
| 63.58 | 10.81 | 60.99 | 50.62 | 13.06 |

Bengaluru
Karnataka
40.88
63
IR-E-C-1331
M. S. Ramaiah Institute of Technology


| TLR (100) | RPC (100) | GO (100) | OI (100) | PERCEPTION (100) |
| --- | --- | --- | --- | --- |
| 62.87 | 8.61 | 60.49 | 56.32 | 13.66 |

Bengaluru
Karnataka
40.54
64
IR-E-U-0221
International Institute of Information Technology Bangalore


| TLR (100) | RPC (100) | GO (100) | OI (100) | PERCEPTION (100) |
| --- | --- | --- | --- | --- |
| 54.81 | 14.26 | 61.96 | 55.76 | 18.19 |

Bengaluru
Karnataka
40.51
65
IR-E-S-8931
National Institute of Industrial Engineering


| TLR (100) | RPC (100) | GO (100) | OI (100) | PERCEPTION (100) |
| --- | --- | --- | --- | --- |
| 64.80 | 4.46 | 67.54 | 57.18 | 4.70 |

Mumbai
Maharashtra
40.48
66
IR-E-U-0619
National Institute of Technology Meghalaya


| TLR (100) | RPC (100) | GO (100) | OI (100) | PERCEPTION (100) |
| --- | --- | --- | --- | --- |
| 65.85 | 18.20 | 44.33 | 58.13 | 4.33 |

Shillong
Meghalaya
40.32
67
IR-E-C-36969
Coimbatore Institute of Technology


| TLR (100) | RPC (100) | GO (100) | OI (100) | PERCEPTION (100) |
| --- | --- | --- | --- | --- |
| 63.46 | 9.75 | 50.95 | 46.48 | 32.94 |

Coimbatore
Tamil Nadu
40.10
68
IR-E-C-1262
B. M. S. College of Engineering


| TLR (100) | RPC (100) | GO (100) | OI (100) | PERCEPTION (100) |
| --- | --- | --- | --- | --- |
| 62.00 | 8.01 | 58.99 | 53.02 | 15.71 |

Bengaluru
Karnataka
39.67
69
IR-E-U-0493
National Institute of Technology Agartala


| TLR (100) | RPC (100) | GO (100) | OI (100) | PERCEPTION (100) |
| --- | --- | --- | --- | --- |
| 58.62 | 20.58 | 49.02 | 52.46 | 7.22 |

Agratala
Tripura
39.53
70
IR-E-C-43708
College of Engineering


| TLR (100) | RPC (100) | GO (100) | OI (100) | PERCEPTION (100) |
| --- | --- | --- | --- | --- |
| 59.95 | 8.90 | 60.96 | 49.40 | 16.27 |

Thiruvananthapuram
Kerala
39.42
71
IR-E-U-0460
Karunya Institute of Technology and Sciences


| TLR (100) | RPC (100) | GO (100) | OI (100) | PERCEPTION (100) |
| --- | --- | --- | --- | --- |
| 55.46 | 18.11 | 49.40 | 55.47 | 18.72 |

Coimbatore
Tamil Nadu
39.37
72
IR-E-U-0099
Guru Gobind Singh Indraprastha University


| TLR (100) | RPC (100) | GO (100) | OI (100) | PERCEPTION (100) |
| --- | --- | --- | --- | --- |
| 49.91 | 30.60 | 50.20 | 46.25 | 3.95 |

New Delhi
Delhi
39.21
73
IR-E-U-0092
National Institute of Technology Raipur


| TLR (100) | RPC (100) | GO (100) | OI (100) | PERCEPTION (100) |
| --- | --- | --- | --- | --- |
| 56.46 | 20.11 | 54.48 | 49.40 | 2.81 |

Raipur
Chhattisgarh
39.09
74
IR-E-U-0286
Pandit Dwarka Prasad Mishra Indian Institute of Information Technology, Design and Manufacturing (IIITDM) Jabalpur


| TLR (100) | RPC (100) | GO (100) | OI (100) | PERCEPTION (100) |
| --- | --- | --- | --- | --- |
| 44.76 | 28.02 | 60.95 | 45.90 | 3.19 |

Jabalpur
Madhya Pradesh
38.94
75
IR-E-C-6581
Pondicherry Engineering College


| TLR (100) | RPC (100) | GO (100) | OI (100) | PERCEPTION (100) |
| --- | --- | --- | --- | --- |
| 59.92 | 18.37 | 46.02 | 44.74 | 13.96 |

Puducherry
Pondicherry
38.56
76
IR-E-C-36926
Kumaraguru College of Technology


| TLR (100) | RPC (100) | GO (100) | OI (100) | PERCEPTION (100) |
| --- | --- | --- | --- | --- |
| 61.09 | 8.59 | 57.40 | 45.64 | 15.99 |

Coimbatore
Tamil Nadu
38.55
77
IR-E-U-0080
PEC University of Technology


| TLR (100) | RPC (100) | GO (100) | OI (100) | PERCEPTION (100) |
| --- | --- | --- | --- | --- |
| 49.83 | 12.62 | 61.98 | 56.49 | 16.27 |

Chandigarh
Chandigarh
38.42
78
IR-E-C-1297
Siddaganga Institute of Technology


| TLR (100) | RPC (100) | GO (100) | OI (100) | PERCEPTION (100) |
| --- | --- | --- | --- | --- |
| 60.40 | 11.37 | 56.07 | 50.84 | 1.63 |

Tumkur
Karnataka
37.98
79
IR-E-U-0522
Jaypee Institute of Information Technology


| TLR (100) | RPC (100) | GO (100) | OI (100) | PERCEPTION (100) |
| --- | --- | --- | --- | --- |
| 47.52 | 18.18 | 56.00 | 53.57 | 15.99 |

Noida
Uttar Pradesh
37.87
80
IR-E-U-0267
Atal Bihari Vajpayee Indian Institute of Information Technology and Management


| TLR (100) | RPC (100) | GO (100) | OI (100) | PERCEPTION (100) |
| --- | --- | --- | --- | --- |
| 46.90 | 20.12 | 58.51 | 56.86 | 3.19 |

Gwalior
Madhya Pradesh
37.82
81
IR-E-U-0516
Indian Institute of Information Technology Allahabad


| TLR (100) | RPC (100) | GO (100) | OI (100) | PERCEPTION (100) |
| --- | --- | --- | --- | --- |
| 42.66 | 16.38 | 68.86 | 45.45 | 17.10 |

Allahabad
Uttar Pradesh
37.74
82
IR-E-C-27616
University College of Engineering


| TLR (100) | RPC (100) | GO (100) | OI (100) | PERCEPTION (100) |
| --- | --- | --- | --- | --- |
| 60.92 | 3.78 | 65.43 | 50.24 | 1.63 |

Hyderabad
Telangana
37.68
83
IR-E-U-0507
Dayalbagh Educational Institute


| TLR (100) | RPC (100) | GO (100) | OI (100) | PERCEPTION (100) |
| --- | --- | --- | --- | --- |
| 60.92 | 6.98 | 53.07 | 51.80 | 14.26 |

Agra
Uttar Pradesh
37.59
84
IR-E-U-0201
Shri Mata Vaishno Devi University


| TLR (100) | RPC (100) | GO (100) | OI (100) | PERCEPTION (100) |
| --- | --- | --- | --- | --- |
| 64.84 | 15.99 | 45.80 | 37.52 | 1.63 |

Katra
Jammu and Kashmir
37.32
85
IR-E-U-0489
Vel Tech Rangarajan Dr. Sagunthala R & D Institute of Science and Technology


| TLR (100) | RPC (100) | GO (100) | OI (100) | PERCEPTION (100) |
| --- | --- | --- | --- | --- |
| 53.49 | 25.53 | 37.45 | 57.83 | 2.41 |

Chennai
Tamil Nadu
37.22
86
IR-E-U-0620
National Institute of Technology Goa


| TLR (100) | RPC (100) | GO (100) | OI (100) | PERCEPTION (100) |
| --- | --- | --- | --- | --- |
| 59.23 | 12.79 | 50.17 | 48.37 | 5.80 |

Ponda
Goa
37.06
87
IR-E-C-27058
Mepco Schlenk Engineering College


| TLR (100) | RPC (100) | GO (100) | OI (100) | PERCEPTION (100) |
| --- | --- | --- | --- | --- |
| 51.38 | 16.75 | 51.01 | 48.21 | 14.55 |

Sivakasi
Tamil Nadu
36.92
88
IR-E-U-0037
Sri Venkateswara University


| TLR (100) | RPC (100) | GO (100) | OI (100) | PERCEPTION (100) |
| --- | --- | --- | --- | --- |
| 47.38 | 29.90 | 43.20 | 45.19 | 3.19 |

Tirupati
Andhra Pradesh
36.66
89
IR-E-C-36975
Government College of Technology


| TLR (100) | RPC (100) | GO (100) | OI (100) | PERCEPTION (100) |
| --- | --- | --- | --- | --- |
| 52.33 | 8.30 | 51.77 | 51.89 | 26.87 |

Coimbatore
Tamil Nadu
36.42
90
IR-E-C-42054
Army Institute of Technology


| TLR (100) | RPC (100) | GO (100) | OI (100) | PERCEPTION (100) |
| --- | --- | --- | --- | --- |
| 53.18 | 2.46 | 64.86 | 58.40 | 8.92 |

Pune
Maharashtra
36.39
91
IR-E-U-0130
Dhirubhai Ambani Institute of Information and Communication Technology


| TLR (100) | RPC (100) | GO (100) | OI (100) | PERCEPTION (100) |
| --- | --- | --- | --- | --- |
| 48.98 | 10.06 | 64.90 | 46.80 | 10.24 |

Gandhinagar
Gujarat
36.39
91
IR-E-C-41309
Bharati Vidyapeeth Deemed University College of Engineering


| TLR (100) | RPC (100) | GO (100) | OI (100) | PERCEPTION (100) |
| --- | --- | --- | --- | --- |
| 53.31 | 3.61 | 59.38 | 66.10 | 5.80 |

Pune
Maharashtra
36.14
93
IR-E-C-30045
C. V. Raman College of Engineering


| TLR (100) | RPC (100) | GO (100) | OI (100) | PERCEPTION (100) |
| --- | --- | --- | --- | --- |
| 54.56 | 4.24 | 60.80 | 53.58 | 9.59 |

Bhubaneswar
Odisha
36.12
94
IR-E-U-0454
Hindustan Institute of Technology and Science


| TLR (100) | RPC (100) | GO (100) | OI (100) | PERCEPTION (100) |
| --- | --- | --- | --- | --- |
| 59.96 | 8.47 | 47.83 | 53.23 | 6.86 |

Chennai
Tamil Nadu
36.11
95
IR-E-U-0382
Punjab Technical University


| TLR (100) | RPC (100) | GO (100) | OI (100) | PERCEPTION (100) |
| --- | --- | --- | --- | --- |
| 76.47 | 24.94 | 5.46 | 42.83 | 2.02 |

Kapurthala
Punjab
35.99
96
IR-E-C-36995
Sri Krishna College of Engineering and Technology


| TLR (100) | RPC (100) | GO (100) | OI (100) | PERCEPTION (100) |
| --- | --- | --- | --- | --- |
| 57.92 | 2.29 | 63.51 | 46.64 | 5.44 |

Coimbatore
Tamil Nadu
35.97
97
IR-E-C-36984
Bannari Amman Institute of Technology


| TLR (100) | RPC (100) | GO (100) | OI (100) | PERCEPTION (100) |
| --- | --- | --- | --- | --- |
| 56.28 | 6.59 | 53.94 | 44.92 | 17.65 |

Sathyamangalam
Tamil Nadu
35.90
98
IR-E-C-37065
Kongu Engineering College


| TLR (100) | RPC (100) | GO (100) | OI (100) | PERCEPTION (100) |
| --- | --- | --- | --- | --- |
| 58.18 | 8.21 | 48.37 | 45.70 | 17.38 |

Perundurai
Tamil Nadu
35.89
99
IR-E-C-25622
Chaitanya Bharathi Institute of Technology


| TLR (100) | RPC (100) | GO (100) | OI (100) | PERCEPTION (100) |
| --- | --- | --- | --- | --- |
| 61.07 | 2.16 | 56.80 | 51.01 | 4.33 |

Hyderabad
Telangana
35.86
100