TS 10th Class Biology Textbook pdf: Telangana SCERT (State council of educational research and training) has published 10th class all subjects Textbooks pdfs for Free of Cost. Students Can Download TS 10th Class Biology Textbook Telugu, English, Hindi, Urdu, Tamil, Kannada Medium PDFs below.
TS 10th Class Biology Textbook Telugu/English Medium PDF Download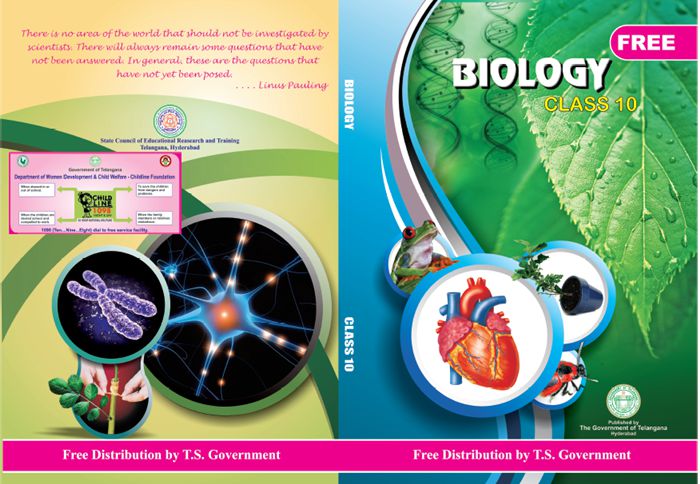 INDEX:
Nutrition – Food Supplying system
Respiration – The energy releasing system
Transportation – The circulatory system
Excretion – The wastage disposing system
Coordination – The linking system
Reproduction – The generating system
Coordination in life processes
Heredity – From parent to progeny
Our environment – Our concern
Natural resources
Download Telangana SCERT 10th Class Biology Text book for free in PDF
Note: If you are unable to view the fonts properly, then download fonts.
We believe that class-10 education is a key aspect of school education and a turning point in student's life. The present tenth class Science textbook in your hands is developed in accordance with the National and State Curriculum Framework and the Right to Education Act. This book helps the student to review various concepts that were learned through the learning experiences provided in the school and to get comprehensive knowledge about these conecepts. The lessons in the textbooks are presented in such way that they help in preparing the student for competitive examinations and also to prepare him/her for intermediate education.
The new science textbooks are specially designed with suitable pedagogy in tune with Continuous Comprehensive Evaluation (CCE) which we are right now implementing in school education. These textbooks help the teacher to assess students learning during teaching learning processes. They facilitate effective learning of various concepts of science in scientific method apart from getting knowledge about concepts. It is essential to complete the syllabus in the stipulated time as students have to write the Board Examination in class-10. But don't forget that completion of syllabus means making the students understand the concepts and trying to achieve the learning competencies. It is mandatory on the part of teacher to implement teaching strategies like, making the student to read the content of the textbook, discussion, analysis, lab activity, field trips, preparing reports, etc. Teacher must take special care to avoid the practice of rote memorisation of scientific information from guides and question banks.
The classroom teaching of science must be in such a way that it encourages children to think and work scientifically. Also, it must enhance love towards nature. Even it should enable to comprehend and appreciate the laws governing the nature in constructing so much diversity all around. Scientific learning is not just disclosing new things. It is also necessary to step forward without interrupting the interrelationship and interdependency along with understanding of the nature's intrinsic principles.High School children possess cognitive capacity of comprehending the nature and characteristics of the transforming world surrounding them. And they are able to analyze abstract concepts.
At this level, we cannot quench their sharp thinking capability with the dryteaching of mere equations and theoretic principles. For that, we should create a learning environment in the classroom which provides an opportunity for them to apply the scientific knowledge, explore multiple alternatives in solving problems and establish new relations. Scientific learning is not just confined to the four walls of classroom. It has a definite connection to lab and field as well. Therefore, there is a lot of importance to field experience/ experiments in science teaching.
Official Source: https://scert.telangana.gov.in