Telangana 10th Class Exams Cancelled, Inter Exams Postponed: TS 10th Class Exams 2021 Cancelled & Intermediate Exams Postponed (పది పరీక్షలు రద్దు, ఇంటర్ వాయిదా)
TS 10th Class Exams 2021 Cancelled & Intermediate Exams Postponed
A day after the Central Board of Secondary Education (CBSE) cancelled class 10 exams and postponed class 12 exams, a similar decision has been taken by the Telangana government as it cancelled SSC examinations and postponed intermediate exams.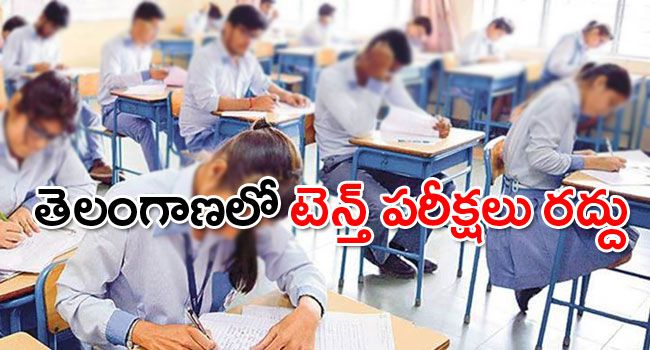 The decision was taken by the chief minister of the state after a high-level meeting was conducted with special chief secretary of education Chitra Ramachandran, commissioner and secretary of Telangana State Board of Intermediate Education (TSBIE) Syed Omer Jaleel, director of government examinations (DGE) A Satyanarayana Reddy and submitted their proposal on examinations.
TS Inter 1st Year Students Promoted Without Exams
Official Notification:
Considering the present pandemic situation prevailing in the State and also keeping in view of the CBSE notification dt.14.04.2021, Government hereby cancel all 10th class Exams to be held from 17th May, 2021. The results of 10th class Students to be prepared on the basis of Objective criteria to be developed by the SSC Board, Telangana at later date. Any candidate not satisfied with marks allotted will be given an opportunity to sit in an exam as and when the conditions are conducive.
ఇప్ప‌టికే సీబీఎస్ఈ పరీక్షలపై కేంద్రం నిర్ణయం తీసుకోవ‌డంతో.. అదేదారిలో తెలంగాణ ప్ర‌భుత్వం అడుగులు వేసింది.. ఎస్ఎస్‌సీ బోర్డు ఎగ్జామ్స్​ ను ర‌ద్దు చేసింది.. ఇదే స‌మ‌యంలో ఇంటర్ పరీక్షలను వాయిదా వేసింది.. రాష్ట్రంలో టెన్త్ విద్యార్థులు 5.2 లక్షల మంది, ఇంట‌ర్ ఫస్టియర్ విద్యార్థులు నాలుగున్నర లక్షల మంది వరకు ఉన్నారు. ఇంటర్ కు మే1 నుంచి 20 వరకు, టెన్త్ విద్యార్థులకు మే 17 నుంచి 26 వరకు పరీక్షలు నిర్వ‌హించాల్సి ఉండ‌గా.. కరోనా సెకండ్ వేవ్‌లో పాజిటివ్ కేసులు భారీగా పెరుగుతుండటంతో, పరీక్షల నిర్వ‌హ‌ణ‌పై కీల‌క నిర్ణ‌యం తీసుకుంది స‌ర్కార్. ఇవాళ జ‌రిగిన ఉన్న‌త‌స్థాయి స‌మావేశంలో ఈ నిర్ణ‌యం తీసుకోగా.. ఇవాళే ఉత్త‌ర్వులు విడుద‌ల‌య్యే అవ‌కాశం ఉంది.
మ‌రోవైపు, క‌రోనా ఎఫెక్ట్‌తో గ‌త నెల 24వ తేదీ నుంచి విద్యాసంస్థలను ప్రభుత్వం మూసివేసింది. ఫస్టియర్ విద్యార్థులకు ఈనెల1న జరగాల్సిన ఎథిక్స్ అండ్ హ్యూమన్ వ్యాల్యూస్, ఈనెల 3న జరగాల్సిన ఎన్విరాన్​మెంటల్ ఎడ్యుకేషన్ పరీక్షను ఇంటి నుంచి రాసి పంపించే అకాశాన్ని క‌ల్పించింది.. ఇక‌, ఈనెల 7 నుంచి జరగాల్సిన ఇంటర్ ప్రాక్టికల్స్ మే 29 నుంచి జూన్ 7 వరకు ఉంటాయని ఇప్ప‌టికే ప్రకటించింది. దీంతో టెన్త్, ఇంటర్ పరీక్షలు ఉత్కంఠ నెల‌కొన‌గా.. ఆ ఉత్కంఠ‌కు తెర‌దించుతూ.. పదో తరగతి పరీక్షలను రద్దు చేస్తూ.. 12వ తరగతి పరీక్షలను వాయిదా వేస్తూ సీబీఎస్ఈ తీసుకున్న నిర్ణ‌యాన్నే ఫాలో కావాల‌నే నిర్ణ‌యానికి వ‌చ్చిన‌ట్టుగా తెలుస్తోంది.
Are TS 10th Class Exams 2021 Cancelled?
Yes, Telangana SSC Exams 2021 Cancelled and students to be promoted without exams due to covid 19 situation.
IS TS Intermediate 1st & 2nd year Exams Postponed?
Yes, Telangana Inter 2nd year Exams Postponed and will be conducted after situation controls. Revised time tables will be announced later. Read more